It's here! The Diamondbacks top-10 prospect list is ready. After a ton of debate, checking my own thinking, re-reviewing the stats, checking my notes on guys I've seen, and talking to scouts and evaluators, the final ten are set. And let me say for the record: this top-10 was harder than any other. There's legitimate argument for who should be …
Continue Reading

→
The first installment of this series began with a conversation about how hard it is to rank prospects. This process was further complicated with the Diamondbacks' recent signing of Japanese right-handed pitcher Shumpei Yoshikawa. My list of the D-backs' top 30 prospects has now been adjusted to 31. Bonus for you, dear reader, but a minor complication for me, your …
Continue Reading

→
It's always prospect season, but now it's really prospect season. The Diamondbacks' farm system has grown by leaps and bounds over the last two years. Notable international signings and draft picks have helped bolster the farm, and they've even scooped up some talent on trades while shedding plenty. It's not a marquee system yet, but it's trending in a …
Continue Reading

→
The first ten rounds of the MLB first-year player draft is in the books. There are more guys that will get drafted, but the focus is at the top of the draft and that's for good reason. The value of picks drops off dramatically after round three and even more significantly after round ten. That's not to say that guys …
Continue Reading

→
Baseball is on Facebook. It's warm and sunny in Portland while cool Phoenix. The Diamondbacks are better than we ever dreamed and the Dodgers are riding the struggle bus. The world is all out of whack and no one's complaining.
In fact, there are even reasons to be excited!
Our friends from Baseball Prospectus are hosting what is shaping up …
Continue Reading

→
The Diamondbacks finally committed to at least one piece of their middle infield. After a rotation of middle infielders over the last several years, Ketel Marte figures to be a fixture for the next five. In his first season for the Diamondbacks, Marte got back to the form that had him pegged as one of the league's good, young bright …
Continue Reading

→
Like many, I started blogging as a hobby. My first blog was called The Outfield Grass and contains some less than stellar writing. I didn't know what I was doing. I started another called Hardball West where I started to really hone in on a smaller portion of baseball in covering West Coast teams. I was teaching high school in …
Continue Reading

→
On
February 23, 2018
By
Kelvin
The Yasmany Tomás saga has been a blight for Diamondbacks fans. His maladroit play in the field coupled with some pretty frustrating at-bats has only proven to make the bad feel worse. Such obvious displays of subpar play stick in the minds of fans. Understandably so.
Things didn't always seem so hopeless around Yasmany Tomás. As Nick Piecoro reminds us …
Continue Reading

→
From a distance, you can convince yourself of almost anything. That person, way over there, looks like my brother. The dimensions are about right. Ball cap, easy body language, an effortless smile. Inching closer, some of those details begin to be called into question. The size is still about right, but the clothes aren't quite. The smile is there, but …
Continue Reading

→
Last week we began a fun exercise, looking deeply at the highest ranked Diamondbacks prospects of all time. We'll keep it rolling today as we discuss prospect classes from 2008 through present with the use of Baseball America's all-time top 100 prospect lists. Let's just dive right in, shall we?
---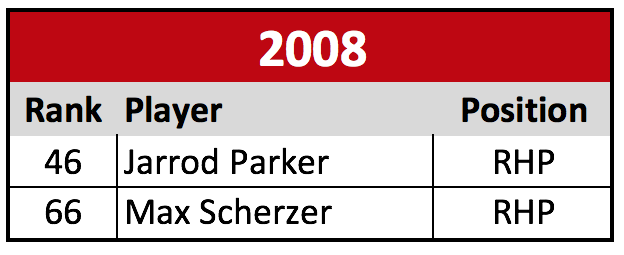 With the graduation of guys like Justin Upton, …
Continue Reading

→
Almost all of the top prospect lists are out now. They are what they are — an encapsulation of where things stand right now and certainly open to interpretation. Depending on which list you look at, the D-backs have as many as two prospects ranked inside the game's top 100. Jon Duplantier is on every list since he owned hitters …
Continue Reading

→
For a very, very long time, we've talked about how the Diamondbacks have a vortex coming. It's a financial vortex and one that's not necessarily unique. The way the D-backs are constructed, they rely on young players producing value that far outpaces the team's financial commitment in terms of salary. That means guys making the league minimum or advancing through …
Continue Reading

→
The last two posts here have focussed on extending Diamondbacks first baseman, Paul Goldschmidt. The first installment crunched the numbers to seek a reasonable figure, for both Goldy and the team, to keep the slugger in Arizona past 2019. The second installment discussed the problems with even a relatively team-friendly deal, notably paying a sum of money annually to …
Continue Reading

→