The Diamondbacks finally committed to at least one piece of their middle infield. After a rotation of middle infielders over the last several years, Ketel Marte figures to be a fixture for the next five. In his first season for the Diamondbacks, Marte got back to the form that had him pegged as one of the league's good, young bright …
Continue Reading

→
Like many, I started blogging as a hobby. My first blog was called The Outfield Grass and contains some less than stellar writing. I didn't know what I was doing. I started another called Hardball West where I started to really hone in on a smaller portion of baseball in covering West Coast teams. I was teaching high school in …
Continue Reading

→
On
February 23, 2018
By
Kelvin
The Yasmany Tomás saga has been a blight for Diamondbacks fans. His maladroit play in the field coupled with some pretty frustrating at-bats has only proven to make the bad feel worse. Such obvious displays of subpar play stick in the minds of fans. Understandably so.
Things didn't always seem so hopeless around Yasmany Tomás. As Nick Piecoro reminds us …
Continue Reading

→
From a distance, you can convince yourself of almost anything. That person, way over there, looks like my brother. The dimensions are about right. Ball cap, easy body language, an effortless smile. Inching closer, some of those details begin to be called into question. The size is still about right, but the clothes aren't quite. The smile is there, but …
Continue Reading

→
Last week we began a fun exercise, looking deeply at the highest ranked Diamondbacks prospects of all time. We'll keep it rolling today as we discuss prospect classes from 2008 through present with the use of Baseball America's all-time top 100 prospect lists. Let's just dive right in, shall we?
---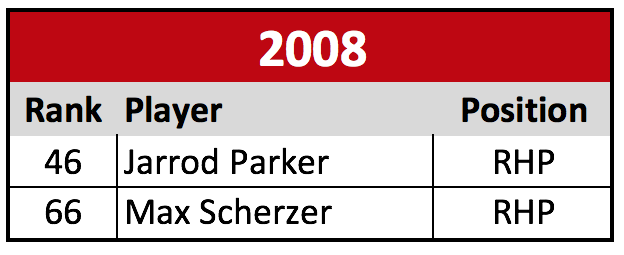 With the graduation of guys like Justin Upton, …
Continue Reading

→
Almost all of the top prospect lists are out now. They are what they are — an encapsulation of where things stand right now and certainly open to interpretation. Depending on which list you look at, the D-backs have as many as two prospects ranked inside the game's top 100. Jon Duplantier is on every list since he owned hitters …
Continue Reading

→
For a very, very long time, we've talked about how the Diamondbacks have a vortex coming. It's a financial vortex and one that's not necessarily unique. The way the D-backs are constructed, they rely on young players producing value that far outpaces the team's financial commitment in terms of salary. That means guys making the league minimum or advancing through …
Continue Reading

→
The last two posts here have focussed on extending Diamondbacks first baseman, Paul Goldschmidt. The first installment crunched the numbers to seek a reasonable figure, for both Goldy and the team, to keep the slugger in Arizona past 2019. The second installment discussed the problems with even a relatively team-friendly deal, notably paying a sum of money annually to …
Continue Reading

→
By now you've probably heard. The Diamondbacks were swept by the Dodgers on Monday night, ending their bid for the NLCS and beyond. The bats were quiet, the Dodgers didn't chase pitches out of the zone — again — and while Zack Greinke wasn't necessarily awful, he wasn't exactly good either in a time when he, frankly, needed to be …
Continue Reading

→
Maybe it's just me, but I don't think I've fully come to terms with the success the Diamondbacks have experienced this season. The team was projected to win 77 games entering the season, and after what we witnessed last year, you can understand why. There were very few changes to the squad in the offseason. It was mostly the same …
Continue Reading

→
There may be no hotter free agent this winter than J.D. Martinez. It's easy to see why. He's hit about ten million home runs since joining the Diamondbacks and has helped anchor a lineup that's been a bit up and down over the last few weeks. With his deal expiring in the near future, fans are clamoring for Arizona …
Continue Reading

→
There's never been a more exciting time to be a Diamondbacks fan in recent memory. The win streak stands at 13. The team never trailed for nearly 100 straight innings, and once they fell behind, they quickly tied the game, then beat the Dodgers for the 10th time this season. They've cut the gap between them and Los Angeles in …
Continue Reading

→