Earlier this month, the Diamondbacks called up Evan Marshall from Triple-A.  Since being called up, he has been placed in a variety of high-leverage situations and succeeded at a high level: in 8.2 innings, Evan Marshall has yet to give up an earned run. This level of run prevention is not sustainable, but Marshall clearly has the chance to become a quality major-league bullpen option.
Marshall was a 2011 fourth round draft pick as a reliever, and has not started any games as a professional. He dominated at every level of the minors until reaching Reno last season, where he tallied a 4.34 ERA in 58 innings. But he turned things back around at the beginning of 2014, giving up just the one earned run in 16.2 innings with a 2.26 FIP. In the majors, Marshall's FIP has risen somewhat (2.93), but his success (no earned runs) has already led manager Kirk Gibson to put a high level of trust in him.
Marshall already leads D-backs relievers in Win Probability Added, which credits players with any change in win probability between the beginning of their pitching stint and the end (for position players, it's done per plate appearance). Marshall's 0.79 WPA beats even Brad Ziegler's 0.48, and in a much shorter time frame. Tom Tango's Leverage Index can help us interpret and compare how leveraged a pitching situation is; the statistic gmLI tracks the average LI score for all of a player's game entrances. By gmLI, it looks like Marshall has already been trusted for the highest-leverage situations. His 1.88 gmLI is higher even than Addison Reed's 1.65, and well ahead of Ziegler's 1.27.
Evan has used four pitches in his time in the majors:  a sinking fastball, four-seam fastball, changeup and slider. He throws a variation of the fastball about two-thirds of the time, and the changeup a little less than one-third of the time, with the occasional slider. It's very difficult to draw statistical conclusions with small samples, but certain inferences can be made. Marshall may never be a standout strikeout pitcher (7.93 strikeouts per nine innings in the minors, 8 in 8.2 MLB innings so far), but as Ziegler has shown, a pitcher can be very successful despite a low strikeout rate if he sports a high groundball rate. And that's exactly what Marshall has done.
In his short time with the big league club, hitters have hit groundballs 59.1% of the time, with a groundball/flyball ratio of 2.40. This alone is not enough to be confident that Marshall will get grounders, but his minor league ratios (groundball/flyball ratio of 2.92 in 154.1 innings) and the location, speed, and movement of his pitches allow me to infer that it is sustainable.
In order to induce groundball outs with regularity, there are two prerequisites. A pitcher needs to get the batted ball to hit the ground at a low launch angle, and he needs it to be weak contact so the groundballs have a high chance of being corralled by infielders. A lower pitch is more likely to be a groundball, and Marshall has consistently pounded the lower part of the strike zone since his call up to the majors, as shown by the chart below.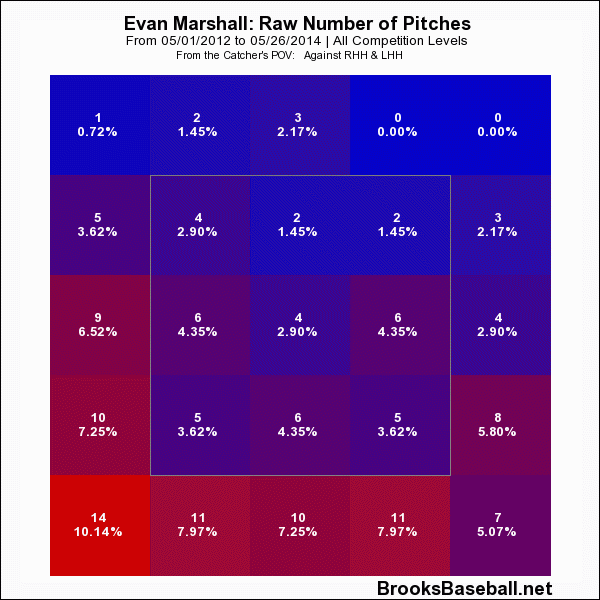 Just to make sure I'm making the correct inference, I looked at the groundballs per balls in play for different parts of the strike zone.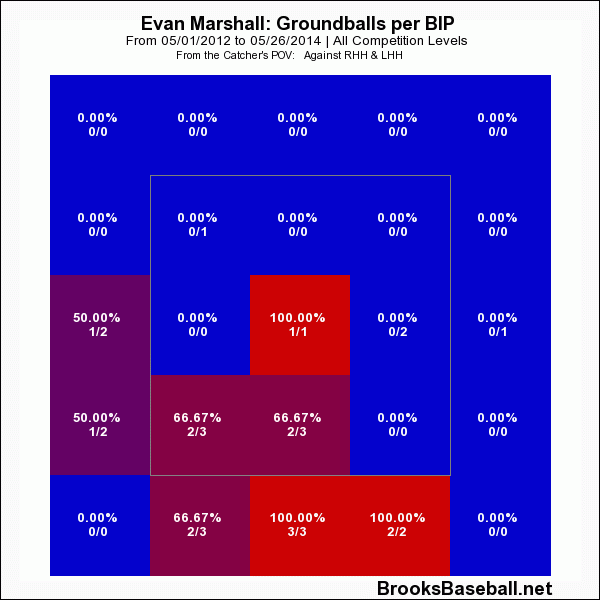 This is tough because the sample sizes are small (and even nonexistent in the higher quadrants), but the same chart for Trevor Cahill illustrates my point.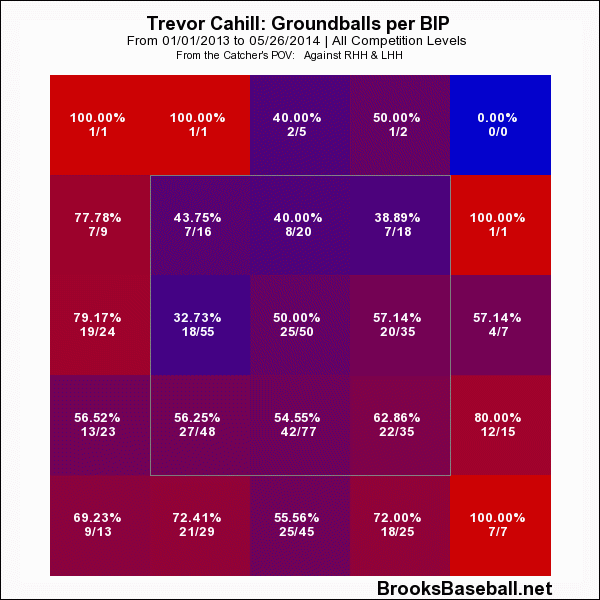 A point could be raised about selection bias here, namely that Cahill throws his pitches that are more likely to induce groundballs lower in the zone. I can put these concerns to bed; I looked at the same chart, but just for Cahill's sinker, and the trend was largely the same. The lower the pitch, the more likely it is to induce a groundball.
The second part of getting groundball outs was producing weak contact. Well, the movement and speed of his sinker indicate that his stuff is hard to square up. Marshall's average sinker is nearly 95 mph.  Combine that with 8.61 inches of tailing action, and weak contact will ensue. One example of what can happen when one of these sinkers is perfectly executed can be seen here.
Combine that sinker with a changeup that has similar horizontal movement and a bit of downward action, and I think Evan Marshall will continue to produce groundball outs for the foreseeable future.