The D-backs aren't poor, but they aren't rich. The 2014 Opening Day payroll of $112M isn't likely to be repeated any time soon. And as we've previously explored, staying in the team's stated $80M-$110M payroll bracket for next year would not leave a whole lot of room for new salaries; even if Cliff Pennington is non-tendered or traded, current players and commitments will leave the team around $92.9M unless the team eats money to move Trevor Cahill or Aaron Hill.
And yet, the pitching staff is in dire need of some kind of upgrade. There are five men in line for the April rotation: Wade Miley, Josh Collmenter, Chase Anderson, Vidal Nuno, and Cahill. The number 6 guy would be either Randall Delgado or Andrew Chafin, and after those two, the team would be forced to take its chances with a Mike Bolsinger type again. We think Archie Bradley and Patrick Corbin and Daniel Hudson are options later in the season, but without some kind of starting pitcher that can throw in April, the D-backs could be weak even without a spring injury, and completely broken if they suffer one (or two!).
And I'm not quite done stating the obvious (bear with me). Max Scherzer, Jon Lester and James Shields are all out of reach for the D-backs. The Dodgers may take a pause this offseason, but all three will be courted by several other teams with money to burn, like the Red Sox, Yankees, and (now) the Cubs. Each of those teams has a non-zero chance to sign two of those three first-tier guys. And the last thing that the new front-office-by-committee is going to do is devote $20M-plus salaries for several years to any pitcher. As it should be.
The second tier of free agent starters does not inspire much awe. Second-tier guys are, sort of by definition, unlikely to give consistently above-average performances. These are guys who are consistently average in the rotation (and average is a valuable thing), flashing above and below. Few of these guys will receive qualifying offers, although Ervin Santana probably will and Francisco Liriano has a good chance. We can put Gavin Floyd, Jason Hammel, Jake Peavy, Justin Masterson, and old friend Brandon McCarthy here. These are guys who can act like extra gluten to your team's pitching staff bread, keeping things together when the loaf otherwise might not rise.
And as we saw with the Bronson Arroyo signing last winter, signing a second-tier free agent means that you can lose on the deal, although you can't really win. You might get what you pay for, but the pitcher is unlikely to prop up a staff even if he makes the bread more chewy. And you might not get what you pay for.
Enter the third tier of free agents. Rest assured, we will look at some of the other guys closely and weigh every option carefully before we publish our Offseason Plan. But chances are it's the third tier we will be looking at most closely. Third tier guys have significant injury issues or a checkered past or just aren't very good. The "not very good" guys are like Second Tier Lite; you can't really win with those, even though they might help you avoid Bolsinger. The other members of the third tier, though, represent the greatest chance of making out well on a deal. And if you sign, say, two injury risk guys, you might come away with one above-average performer at a cost lower than Arroyo.
In the coming weeks and in preparation for that Offseason Plan, we may take a closer look, then, at some of the more enticing pitching targets on the edge of that second- and third-tier line. Pitchers like Tsuyoshi Wada, Colby Lewis, and maybe even Roberto Hernandez offer some possible upside as compared to their probable salaries. Worth repeating: the only way for the D-backs to contend next season is if a lot of things go right, and you can't win the 90-win jackpot if the bets you make only add up to 80 wins at the most.
A poster child for the third tier might be Chad Billingsley if his option is declined, but as we explored last week, whether he matches with the D-backs is a difficult question now that his Facebook relationship status with GM Dave Stewart is "it's complicated." My favorite third-tier of all, however, is a guy that's dealt with a significant injury history, especially lately, but who has a strikeout repertoire that can dazzle on any particular day.
Start Me, Maybe
Brandon Morrow is 30 years old. Brandon Morrow has started thirty games in a season just once. Brandon Morrow has a career ERA of 4.28.
But Brandon Morrow is projected by Steamer for a 3.51 ERA in 2015 (solidly above average). They see him as a reliever, and he has pitched almost half (108) of his career games (231) in relief. He might be a reliever. Maybe he's both.
The Blue Jays attempted to move Morrow to the rotation after trading for him in the 2009-10 offseason, sending Brandon League and a minor leaguer to the Mariners to get him. And the results were pretty good: 3.6, 3.4 and 2.5 WAR in his first three seasons, making 77 starts. His ERAs weren't always much to look at, but his Fielding-Independent Pitching marks made him look like a solid #2 starter in disguise.
Things didn't go nearly as well in the last two seasons. A compressed radial nerve in his forearm limited Morrow to just 10 starts in 2013, and when he successfully returned from that this spring, he made just six middling starts before a finger tendon injury cost him most of the rest of the season. He was lights out in relief in September (visions of Daniel Hudson), enough of an indication that he could return to a setup/closer role if starting doesn't pan out.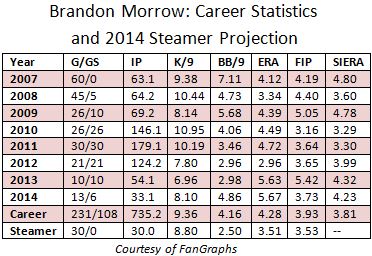 One particularly good thing about strikeout pitchers: it doesn't matter as much what their defense is like. Last season, the D-backs defense was, inexplicably, decidedly mediocre — especially considering how well they did in 2013 (the dropoff of Gerardo Parra figured prominently, it seems). But the D-backs defense could make Morrow a good fit.
At 42.1%, Morrow's career fly ball percentage is high enough to characterize him as a fly ball pitcher. Had he had his career rate last year and qualified, he would have ranked 10th in fly ball percentage among starters in 2014 (among 88 qualified pitchers), just behind Max Scherzer and ahead of Shelby Miller. A recipe for success might involve earmarking Morrow pitch days as Trumbo rest days (especially if the D-backs were facing a right-hander), and even the occasional Goldy rest day (with Trumbo moving to first).
An Inciarte-Pollock-Peralta outfield alignment should rank near the top of the majors in outfield defense, especially if Peralta continues to make strides (pun not intended, but not eliminated). An outfield defense that strong could help Morrow outperform his peripherals, perhaps making him more valuable to the D-backs than to other teams.
Morrow is not a free agent right now: the Blue Jays hold a $10M option on him with a reasonable $1M buyout. The Jays seem unlikely to exercise that option, however, and if Morrow hits the market, he'll have suitors that see him in different roles. Given his injury history, it seems foolish to think that anyone would offer him more than $4M per season to pitch in relief, and it remains to be seen whether Morrow will try to land somewhere as a starter.
The D-backs can almost definitely offer him a chance to start. If he's good to go in April (and for the rest of the season), he's likely enough to be helpful that the team would make room, even if it meant putting Nuno in reserve or Cahill or Collmenter in the bullpen. If he's not good to go in April, well then the team is no worse off (other than the $8M or so it might take to sign him), and they might have an asset in relief to dangle at the deadline or help them push for a playoff spot.
The most likely scenario with Morrow, though, might be that he starts the season in the rotation but then gets hurt. That smells like a good fit for a team likely to have Patrick Corbin, Archie Bradley and possibly Daniel Hudson (and less possibly, Bronson Arroyo) in position to join the rotation midseason. The D-backs may prefer to use the little money they can spend on surer things, but while signing Morrow might be a bet, I think it's a good one.
***
By the way: Brett Anderson is almost the same guy as Morrow, but with a greater injury history (if also a better history of success). But no Anderson, please. He's a poor man's version of Morrow in this offseason, but his injuries have been more frequent (32 starts over the last 4 seasons, compared to 67 for Morrow) and more alarming. It would take a salary in the $2M or $3M range for a team like the D-backs to even consider Anderson, I would think.