The season kinda already started and that's good. I mean, the Diamondbacks have beaten a good college team and the Rockies. There's a joke in there somewhere, I'm just not interested enough in finding it. The team is 2-0, or 1-0, but really they're 0-0 because Spring Training absolutely doesn't matter from a wins and losses standpoint. And has been revealed time and again, Spring Training stats don't really matter either. Peter O'Brien and Oscar Hernandez had three hits, an RBI and a run scored yesterday, but that's not about to change the fact that the Diamondbacks have the worst catching situation in the majors by a mile right now. In fact, there are some other worrisome trends if we want to go there.
FanGraphs released their "final" preseason projections earlier this week and you know what that means: facing the music if you're a D-backs fan. Comprised of a 50/50 blend of two highly-regarded projection systems (Steamer, ZiPS), these projections are basically as reliable as anything you'll find (as we discussed recently). Just to get some of the heavy stuff out of the way, let's just talk about where the team ranks in relation to the rest of the league. See the handy chart below for the deets: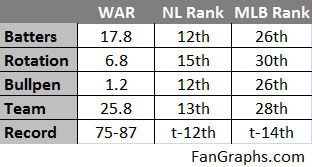 That's not exactly encouraging, and while some readers will collectively groan about the abstract meaning of projection systems, know that we've covered all of that before and then some. Also know that projection systems do a pretty good job of doing their job, by and large. And I guess this kind of feels right. The Diamondbacks are better than a couple teams and worse than most, at least as things stand right now. If you want to quibble with where they fall on the spectrum by a couple of positions, that's fine, I won't stop you. All it takes a little break here or break there for things to change, but right now, we're stuck with this.
Positionally, things are a little better than they appear overall. Let's look at the breakdown, then discuss.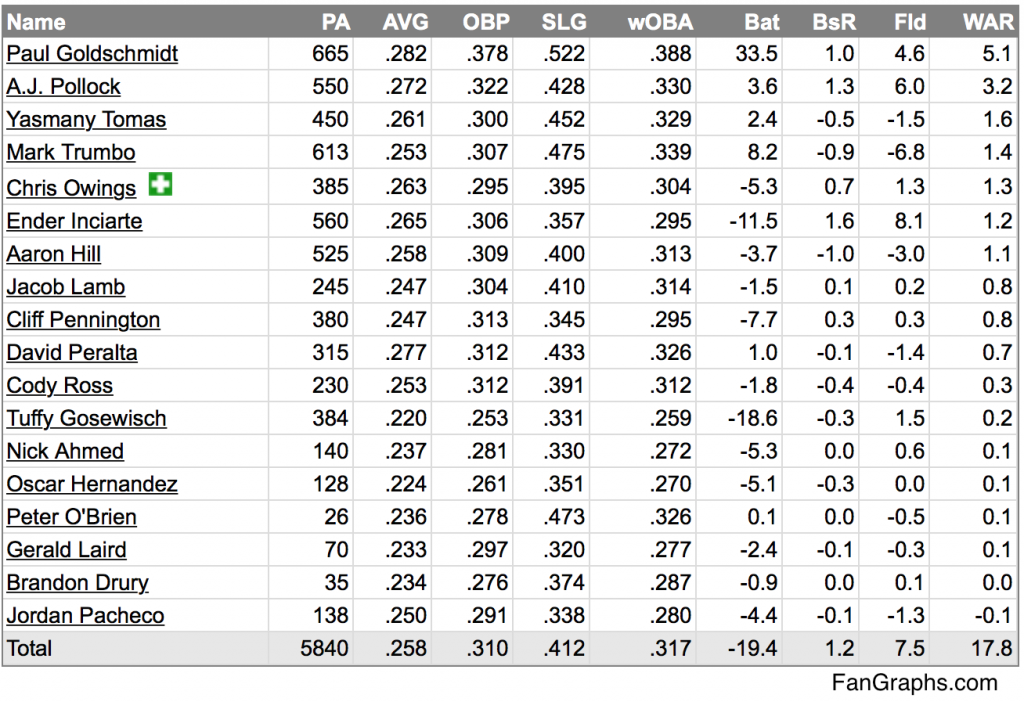 Paul Goldschmidt is projected to be nearly as valuable as Miguel Cabrera. That's good. Some combination of A.J. Pollock and Ender Inciarte is in the top quartile. Okay, I guess that's about the only good news. The middle infield looks paltry, the corner outfield spots are spotty and Yasmany Tomas, albeit extremely difficult to project, doesn't appear to move the needle much at this point. The catching situation is Tuffy Gosewisch. That's all I want to say about that.
But it's not all dreary. I think there's a case to be made that Aaron Hill, Chris Owings and some combination of Tomas and a little Jake Lamb could outperform their projected 4.4 WAR. Of course, Owings will have to stay healthy and maybe walk a little bit. Tomas' power will have to show up and he'll have to control the K's. Aaron Hill just needs to turn it around after a confusing 2014. I'm not all that optimistic about David Peralta and I'm concerned that Ender Inciarte, the team's second-most valuable outfielder, won't get a lot of reps. How Mark Trumbo rebounds has us all captivated and he could concivably double his projection. Then again, he could post a season similar to 2014, so put me in the who-the-hell-knows camp on that one.
A breakout or two, plus maybe a rebound, might just make this team better offensively than projected. But, the projections already account for the most likely of outcomes, so any kind of major move forward would be an unforeseen stroke of luck. That doesn't mean the performance aren't real, it just means that they'd unexpected. We should all be hoping for the unexpected. We shouldn't be expecting the unexpected.
Because we have to, let's turn our attention to the rotation. More charts.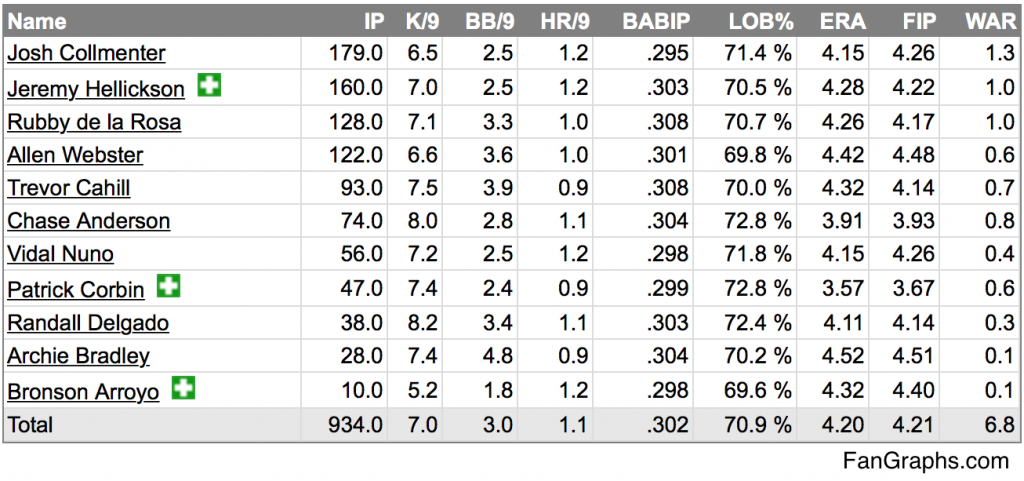 None of the starters are projected to be even really average. I think the systems are too low on Josh Collmenter. They have a hard time with outliers and we know by now that he's clearly one of those. Jeremy Hellickson, Rubby de la Rosa and Allen Webster are all guys who've not been very good recently, and while it's reasonable to think either de la Rosa or Webster will grow and take a step forward, it's also completely reasonable to think that they won't. Jeremy Hellickson looks like a poor fit for Chase Field. There's not a lot to get excited about here.
Trevor Cahill's projection isn't terrible and if he's a starter all year at the rate he's projected, that could be okay. Same goes for Chase Anderson who, if he logs another full season, could be a 2-win guy. The biggest questions revolve around how many innings Patrick Corbin throws and how easily Archie Bradley transitions when it's his turn. Those are really the only two areas to hope for dramatic-ish improvement. Otherwise, expect a lot of meh, which comes as no surprise.
The bullpen looks a little better. A little. Last chart.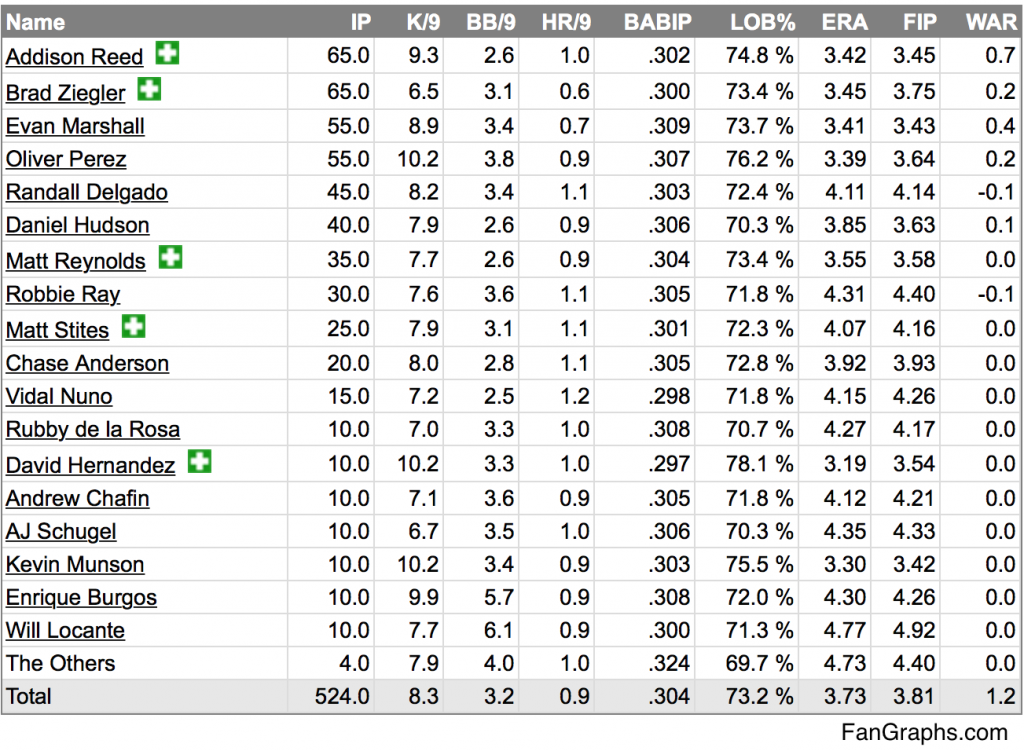 The projections think Addison Reed is okay, and he really kinda is. If he can improve his home run propensity, then he could do some good stuff. He's really not as bad as it looked at times last year. I'm not sure why Brad Ziegler is projected so poorly. Even coming off the injury, I'd expect more value there. Oliver Perez, too. No reason to think he can't be worth closer to half a win. The projections like Evan Marshall and so do we. Since those four will see the bulk of the important innings, that's a palatable situation.
Projecting some of the other bullpen pieces is difficult. Who is Randall Delgado? At times he's looked good, especially in relief, then terrible at others. A little consistency could go a long ways. And what about Daniel Hudson? That's a tough one to call. He looked good last season in his return and his 2015 role and workload are total mysteries right now. There's some hope with him. We'll probably see a young reliever or two at some point in the season with plenty of depth in the bullpen. Should someone catch fire and supplant someone who's struggling, maybe there's a little added value there. Then again, betting on bullpens is literally the worst idea imaginable, so there's that.
And that leaves the Diamondbacks in a tough spot. There's reason to think that they could do some good things and exceed these expectations by a small margin, but that's what we said at this same time last year. We don't need to go over that again. But it serves as a good reminder that just as much as we'd like to believe that the team will push the ledger forward there's just as much of a chance for it go completely the other way. Getting better-than-expected production from the rotation will make the biggest difference, but when Josh Collmenter is your Opening Day starter, you're not in a great place to be overly hopeful.
Currently given a 1% chance of making the playoffs, any extra value will be welcomed. It won't be enough to see postseason baseball unless something historic happens, but it's all about positioning for the future right now. New television money is on the horizon and there are plenty of experiments to runs, so let's just get this thing underway already and let the chips fall where they may. It won't be pretty, but dammit, there will at least be baseball again. And for now, that's going to have to be enough.