The Dan Warthen Slider Could Be the Missing Piece for Robbie Ray
If you read everything Eno Sarris writes (recommended), you already learned about the Mets and the Dan Warthen slider about 10 days ago (required). If you don't and/or haven't, go do that. I'll still be here when you hopefully get back. And actually, knowing the title of this piece, I'm pretty sure you'll come back if you do go do that. You'll know what I mean.
Impossible to know if the Warthen slider is easier on the arm, but regular sliders aren't exactly that friendly to elbows anyway. If the Warthen slider can offer a bit more safety, then it is especially compelling — although I am reminded of another Eno Sarris piece on velocity drops and cutters, which, you know, maybe this time just open in a new tab for later. But it's not injury risk that should really engender interest in the Warthen slider. No, what should really set our imaginations ablaze is the unexpected levels of effectiveness enjoyed by that group of Mets pitchers throwing it, headlined by Jacob deGrom and Matt Harvey. The Dan Warthen slider is a harder slider. The Warthen slider seems to make at least some pitchers harder to hit.
A superior fastball seems to be a key piece of the puzzle. I mean in terms of effectiveness, sure; Matt Harvey has averaged just under 97 mph on his fastball as of late in terms of Brooks Baseball's calculation of release speed, and deGrom is right there at just over 96 mph. I also mean that they correspond; after hard throwing RHP Mike Foltynewicz was traded from Houston to Atlanta earlier this year (they've been loading up on toolsy young pitchers, by the way), apparently the Braves told him that because he did throw that hard, he should consider throwing a harder slider.
What we can't do is find some similarities between Harvey, deGrom and others that have found success with the Warthen and pronounce that it would also result in a breakout for some D-backs pitchers sharing those traits; what we can do, however, is point to pitchers who might stand to benefit. It may be that the Warthen would be a good idea for a whole handful of D-backs pitchers. The reason I'm writing this, though, is that it seems like an insanely good fit for one in particular: Robbie Ray.
Ray is undergoing… changes. This is his third organization in under three years, and despite the success he's enjoyed this year in the majors on a staff where every pitcher seems to struggle more than you expect, he simply is not done developing. When he returned to the majors in June, he brought a new sinker with him, it appears; and five starts ago, he started throwing it a lot more. We had a little blip on the radar here when he only threw one in his last start before the All Star break, but he was right back to firing those two seamers with that crazy arm side run for almost 20% of his pitches on Friday.
Not a whole lot has changed since I wrote about Ray's sinker a couple of weeks ago and worked in an update in the never-ending saga that is the nature and break of Ray's breaking ball. Recently, it's been more of the slider variety. But although he did show up in spring training with a much more consistent version of the breaking ball he'd thrown in the past, the pitch still eludes steady classification, and the results are less than inspiring. On the 21 iterations that were classified as a curveball at Brooks, opponents have slugged just .200; that's not terribly meaningful (basically, one single on five balls in play), but at least it's not like half of them went over the fence. The 117 that have been classified as sliders were not so lucky; opponents have slugged .455 off the pitch, making it Ray's least effective, by far.
Ray uses the breaking ball as a show-me pitch about 10% of the time against right handed hitters, but he still relies on it 25% of the time when facing LHH. And that's kind of the trouble, because while it's not used as a show-me pitch against LHH, it still probably is one; LHH seem to handle it pretty easily, slugging .667 off of it, maybe because it's coming a quarter of the time, because it's slow and not difficult to pick up, and because Ray's other pitches are really pretty good. That slugging mark is the equivalent of a double every third ball in play, or a home run every sixth. We're still at the Small Samples Station beginning of Ray's journey in the majors, but again, not inspiring. The look of the pitch and Giants hitters' feel for it had Steve Berthiaume and Bob Brenly referring to it as a "hangerball" last Friday, and that might actually be a better name for it than "slider." In the piece a couple of weeks ago, you can see that the break on the pitch has a fairly wide variance; average it all together, though, and it comes very close to the theoretical 0,0 spinless pitch at the center of PITCHf/x scatterplots.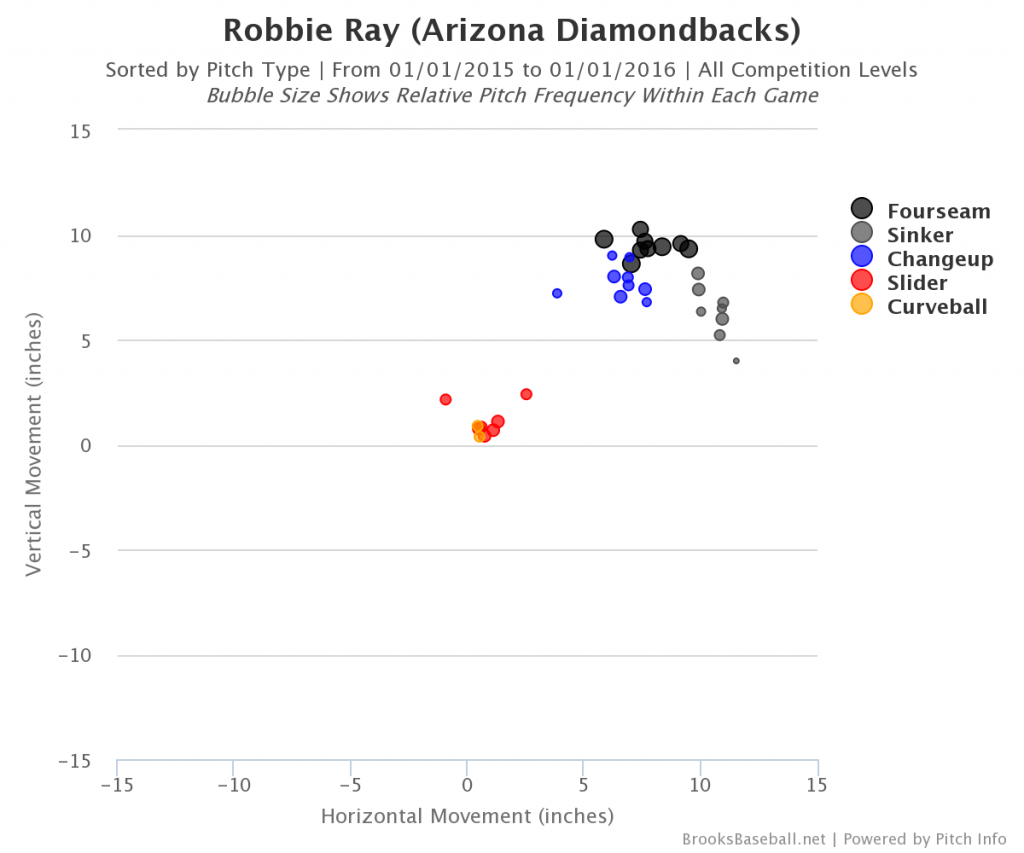 But back to the issue at hand: the Warthen slider. Both Matt Harvey and Jacob deGrom have seen their slider average over 90 mph, and both have it about 4 mph faster than their changeups and 6 mph slower than their four-seamers. Ray's four-seam is a little slower than those guys' at just over 94 mph on average, but his change still comes in just under 86 mph; he's still a pretty hard thrower, especially for a lefty. Ray's breaking ball has sometimes hung out at 87 mph, and has hit 88 mph; but generally speaking, it lives at 84 mph and 81 mph, depending on what kind of shape it has.
Ray is far from the first pitcher to have a slider slower than his changeup; in fact, based on looking around, that's exactly how it is for most major leaguers. But what's to lose? Normally you wouldn't screw around with a pitcher who was having success and trying successfully to gain traction in the majors, but Ray has struggled with the breaking ball for a long time. He's demonstrated an ability to pick things up, throwing as he now does this sinker, which is basically just a different grip on a fastball even though the movement runs horizontally. To hear it from Sarris and his piece, the Warthen slider is pretty close to a fastball grip, and unlike other breaking balls, you're not looking for the wrist snap. Ray would know better than anyone else, but given the quick adoption of the sinker and the command he's displayed, I think we can come pretty close now to a solid inference that it is the thing that has been different about that one pitch — the wrist snap part of the breaking ball — that Ray just happens to find challenging. I wondered if Ray could make use of both versions of his breaking ball, the way that Adam Ottavino has had success throwing three different versions of his slider — but Ray does not appear to be able to summon different versions of the breaking ball at will. That's not the answer.
Add those ingredients in with a season that is quickly getting the rubber stamp of "get ready for next year" and it's hard to come up with a reason why Ray and the D-backs shouldn't give this recipe a try. No one is saying that Ray is one pitch away from being the next Jacob deGrom. Would it really be such a surprise, though? Ray has the command, he has most of a dominant repertoire, and like a stool missing a leg, he seems one adjustment away from a completely different kind of stability. Right now, he's trying to sneak one of the majors' worst breaking balls past hitters because his changeup isn't quite plus and you can't get by as a starter throwing just two plus fastballs. What if Ray threw a slider as good as his change? I have no idea if the spin would be something a hitter could still pick up, but if a pitch is coming in around 90 or faster, hitters facing a Warthen-equipped Ray might have to decide if they think it's a four-seam that seems to have good lift and arm-side run, a sinker that drops more and almost a foot of arm-side run, or a Warthen slider that's a little slower but breaks to the glove side. Oh, and hope you have it timed, because the spin on the changeup looks the same as the fastballs. Good luck.
***
I expected to make a pitch here for Randall Delgado, as well; like Ray, he's working with some stuff that is definitely better than fringe, but like Ray, he has at times seemed like he didn't quite have the repertoire to succeed as a starter. Delgado, though, is having some success with the garden variety slider he brought back about this time last year, and trying something new might only make sense over the winter or in spring training — for a team trying him out as a starter one last time.
How about Chase Anderson? Not to kick dirt on someone who is hurt, but Anderson was hoping increased reliance on a sinker would help him take a step forward this season, and that really hasn't worked out to plan. If you wanted to leave Anderson's fastballs alone, a Warthen slider could be added to Anderson's repertoire as if it were a cutter, not reducing his curveball percentage (after all, in Sarris's piece he made a convincing case that keeping a curve along with the Warthen was a pretty great move for deGrom). Anderson's career may resemble Bronson Arroyo's when all is said and done, which is a pretty decent outcome.
This month notwithstanding, Rubby De La Rosa actually has had tremendous success with the vanilla slider he's featured more this season, and the Warthen might be more like the cutter he experimented with last season than a true breaking ball. Josh Collmenter is also kind of an interesting case; opponents have slugged over .900 on the curve that he worked to incorporate this season, but I have no way to know how different a Warthen slider would be from the cutter that he throws as his fastball, and he would be the farthest thing from the hard-throwing model the Mets have followed. Archie Bradley might make some sense for a lot of the same reasons as Ray; he has incredible run on his fastball and the Warthen might give him a way to claim a new part of the plate, but that might be the exact pitch he showed off in the Arizona Fall League, and why he stopped throwing it is shrouded in mystery. It seems like a pitch Jeremy Hellickson could command, but it's hard to recommend a fifth pitch for anyone. And while I have no reason to think a Warthen slider would be more effective for Allen Webster than the slider he has (which has graded well in the past), the D-backs soon may reach the point of trying it with Webster just because it's something they can try.
What do you think? Ray is probably not the only D-backs pitcher who could consider the Warthen slider as soon as this year, and maybe you have an idea that I don't. But the point is not necessarily that this isn't real life, or that we can just redesign reality; it's just that where Ray is right now seems very close to the most compelling case possible for adoption of a Warthen slider. I really can't think of a reason why the D-backs wouldn't try this with Ray, even if it meant doing so while the season is ongoing. I know it's unusual, and unconventional, and a lot depends on Ray himself. But this is what a good option looks like.