With the improved play of the Diamondbacks this year, it's easy to focus on what's taking place in the majors. There are a boatload of compelling storylines, like Yasmany Tomas' transition to the majors, Jake Lamb's emergence (and Ryan's subsequent adoration), Archie Bradley's ups and down, Paul Goldschmidt's battle with Bryce Harper for NL bragging rights, A.J. Pollock's All-Star bid and so much more. We could throw guys like Chase Anderson and Nick Ahmed into that conversation, too. Considering what happened last year, this has already been a far more enjoyable year in Arizona.
Hopefully you noticed something about the bright spots mentioned above. All those players, save Tomas, are homegrown talents. The D-backs drafted Goldschmidt, Lamb, Pollock, Anderson, and Bradley, plus have largely raised Ahmed and the eventual Brandon Drury. Eleven of the players on the 25-man roster are homegrown players and 14  of them got their big league start in the desert. The Diamondbacks as you know them have been built from within. The core that's powering this squad is young and largely Arizonan in professional nature. In fact, one could argue that it's the big league guys traded for who have weighted the squad down in recent years.
And we can make a bevy of jokes about Kevin Towers and Dave Stewart, but some of their moves have been good (Goldschmidt's contract, the Gregorious trade). Still, neither has seemed to properly value young talent. There are major holes in how each has apparently forecast the worth of their prospects (Skaggs and Eaton for Trumbo, Toussaint with Arroyo to Atlanta), and I do believe it will start to catch up with Stewart like it did with Towers. The reaction is delayed, but there will be one.
Over the winter, I broke down the 2015 D-backs Top 30 Prospect List in detail. At this point, I think it's a good time to re-evaluate the list and see what's going on, especially since I plan to release the Midseason Top 10 in the coming days. I've covered every affiliate at least once this year and you may already have an idea of who you should be watching this summer (I'll provide the links to the previous write-ups at the bottom of this post). You can look at these names a number of ways. They're either the next wave of homegrown talent, the next guys to get traded for other players or maybe they'll just disappear into the prospect void. Either way, you should know who they are and where they stand. So with that in mind, here's my Top 30 from the winter and not on how their stock has changed to date in 2015.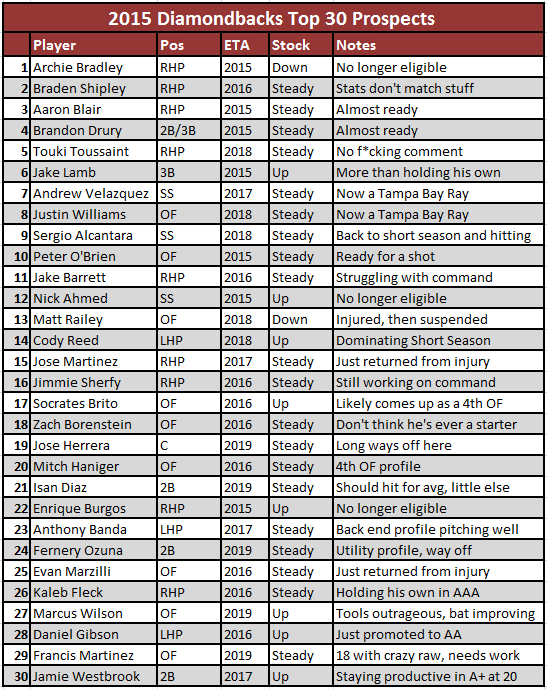 Climbing the Ladder
As sometimes happens in life, there's good new here. Although Jake Lamb and Nick Ahmed aren't eligible for the next prospect list, they have seen their respective stocks soar. Very few people thought Ahmed could be a top five NL shortstop and if it weren't for an injury and his own teammate, Jake Lamb might have gotten some rookie of the year publicity by this point. We could say similar things about Enrique Burgos who jumped from High-A to Double-A straight to the majors after a good showing in the Arizona Fall league. Since coming to the majors, all he's done is just strike out everyone in sight. And if you're catching on here, a good way to get promoted to the majors is to exceed expectations in the minors.
Speaking of those guys, Aaron Blair continues to lead the way. We can argue about his ceiling all day, but there's no denying that he's remained a development freight train. He's found some tougher sledding in the PCL, but take that with a grain of salt. Of course, Brandon Drury has joined him there and after a horrid start to the year, he earned a promotion to AAA and hasn't looked back. He's splitting time between second and third base, but was primarily playing second in Mobile. We could see him alongside Nick Ahmed before the year is out.
Cody Reed has been a revelation since starting his 2015 campaign as he's dominated short season hitters in the Northwest League. Socrates Brito has done a decent job of making contact although he still has work to do. I was too low on Wilson initially, but after seeing him in person, I can see why he draws the praise he does. He's a major project at the plate, but he has as much upside as any position player in the system. Daniel Gibson continues to progress as a lefty reliever and Jamie Westbrook, despite being young for the level, has held his own yet again.
Holding Steady, Or Not
Braden Shipley headlines this section and there will be more to talk about with him when it comes time to rank prospects. For now, the results don't match the stuff, but there may be a valid reason for that. There are guys who are ready for a chance in the near future in Peter O'Brien, Kaleb Fleck, Jake Barrett and Jimmie Sherfy. Each has work to do, but they're getting close to audition time. There are some future role players, too, in Evan Marzilli, Zach Borenstein, Mitch Haniger, Fernery Ozuna, Anthony Banda and others. These are guys with limited major league upside, but upside nonetheless.
Archie Bradley has seen his stock drop some after a white-hot start to his 2015 campaign. The peripherals didn't match the results and, sure enough, the results started to line up with what he was really doing. Getting hit in the face with a comebacker probably didn't help. He could realistically spend the rest of 2015 in the minors as he'll have to earn his way back into the rotation and I'm not sure he can do it at this point, not with the team dreaming of a wild card birth. Joining him here Matt Railey, a toolsy outfielder who's inaugural season ended prematurely following a torn hamstring, then his 2015 hasn't gotten going yet thanks to a PED suspension. He's still a very talented player with major upside, but this hasn't been the start anyone had hoped for.
New Additions
This list is just a starting point for the impending Midseason Top 10 list. There are names that have been added to (and subtracted from) the system since the Top 30 was revealed while other guys have put themselves on the map since the season began. Yoan Lopez still exists. Victor Reyes is doing some things. Dansby Swanson and Alex Young are dudes. Colin Bray is turning heads. So is Wei-Chieh Huang. Touki's not around anymore (#RIPTouki). You get the idea – the landscape has already changed in a major way and that will be reflected in the next set of rankings. So keep your eyes out for that and feel free to leave your thoughts in the comments below.
Previous Minor League In-Season Works
Toussaint Debuts for the Cougars
Rawhide Pitching Their Way to the Top
Aaron Blair Stealing the Spotlight in Mobile
New International Signs Debut for the Diamondbacks