It took three days, but the MLB Draft is over. After like nine million picks (it was actually just 1,215), it's all said and done. The Diamondbacks didn't draft anyone who'll be joining the club down the stretch, and though it's a rarity, that actually does happen on occasion. Brandon Finnegan pulled it off a few years back for Kansas City and J.B. Bukauskas has a chance this fall for Houston. It's pretty safe to say that Arizona won't be getting any contributions from its latest draft class in 2017, which is no big deal. With the team entering Wednesday's game at 41-26, 15-games over .500, it doesn't look like they need the help.
But, you see, here's the thing: they might actually need some help after all.
For a few years now, the focus has been on making the Arizona Diamondbacks better. Mike Hazen, Torrey Lovullo, Mike Fitzgerald, hell, the whole crew, has done that. We're seeing smarter approaches, minor refinements and some key acquisitions pay off. The team is good — this isn't a mirage. Going 7-3 in your first ten games isn't that big of a deal. Going 41-26 in your first 67 games is. The season is nearly half-through and the D-backs could lose six more than they win over their remaining games and still finish with 90 wins. They've benefitted from a favorable schedule thus far and August looks brutal. All you can do is win your games, however, and their doing that. The pitching has been far better than advertised and fans have gotten a lot of free tacos thanks to Paul Goldschmidt's best start ever and a supporting cast that's done more than just support him.
Look, you never want to count your chickens before they hatch, and injuries could derail things, but this team looks legitimately good. Their playoff odds are at a season high of over 75%. See below.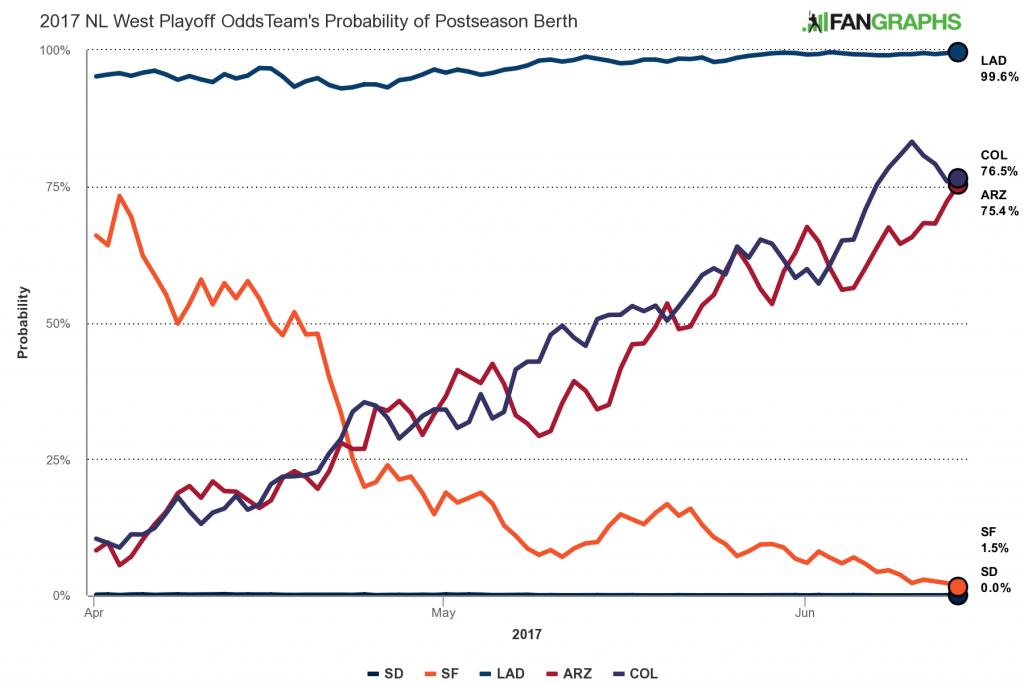 We're all about the numbers around here and this point, you have to like the team's odds. The Cardinals (28%) and Mets (18%) represent their biggest threat for a wild card spot. Even factoring the remaining schedule, the team is sitting pretty.
That should cause a change to our thinking. Rather than trying to figure out how to make the team good, it's now about making a good team better. More importantly, it's about adding to a core to ensure that there's no breakdown along the way and that, should the D-backs actually make the playoffs, that they're geared up for a run. The Contention Window is here and the team is contending, so now it's time to refine the roster. What might the Diamondbacks need…?
A quick look at the team's production informs the areas of need.

The deficit that jumps out is at catcher, but FanGraphs' version of WAR doesn't account for pitch framing. Arizona ranks fifth in the majors in framing runs added (third in the National League) with 4.6 runs added via pitch framing, and they can mix and match with Mathis and Iannetta, prioritizing either defense or offense based upon the situation. It's unlikely they do much to change the situation at catcher, aside from perhaps letting Chris Herrmann catch a bit less often.
Center field looks like an issue, but with A.J. Pollock set to return soon, that's an area where they'll stand pat. Left field hasn't been much better, but by getting Pollock healthy, they can shift Gregor Blanco (who has produced at the plate as well as Pollock thanks to his OBP) to left more often and avoid playing Rey Fuentes at all, solidifying the outfield. Yasmany Tomas will be back at some point and, with the team pushing for October, he may see his role reduced in favor of Blanco. Still, these are internal fixes that don't require an obvious external solution.
Shortstop lags some, but Chris Owings has been fine there an even Nick Ahmed has produced by seeing fewer chances against right-handed pitchers. With the outfield getting healthy, Owings will be needed there less often, allowing him to focus on solidifying the infield. Ahmed should basically never see a right-handed pitcher and the team will be in a position, once the outfield is healthy, to shield him even further from righties.
David Peralta has rebounded nicely in right field, Jake Lamb has crushed all righties and Brandon Drury has caught fire yet again. Peralta is perhaps more likely to sustain the progress, but Drury's production of late has been a shot in the arm for the club. The club could look to add a veteran bat to the infield mix should either Drury or Lamb scuffle a bit in the next six weeks. With Drury's ability to play third, the team could strongly consider a right-handed bat capable of playing second base should they choose to mix and match a bit going forward, benching Lamb against some lefties. While his growth against left-handed pitching is a worthy cause, they're soon going to be in a place where they must choose production over growth. A short-term rental could be the answer there.
The starting rotation has been incredibly solid. Hell, solid is the wrong word. They've been downright dominant this season, leading all other clubs in fWAR by a fairly large margin. The D-backs have largely avoided massive blowup starts this season, getting considerable length out of their starters most nights out. Zack Greinke and Robbie Ray are as good as any 1-2 punch in the game right now, Taijuan Walker is back and showed yesterday that he's capable of pitching like an excellent mid-rotation option. Zack Godley has been very good in that role and Randall Delgado filled in admirably as a starter. Torrey Lovullo has a decision to make now that Walker is healthy. Does Patrick Corbin finally move to the bullpen? Does Godley or Delgado head back to relief? This is a good situation to be in as the team has more starters than necessary at the moment. Should the D-backs make the playoffs, they won't need a fifth starter, and barring further injuries, they're well-positioned to run with what they've got.
The bullpen was the biggest concern entering the season, but the unit has been quite good through the first third of the year. Fernando Rodney put his early struggles behind him, and while he's due to give up a run any day now, he's now stretched his scoreless appearances streak up to 15, something that seemed unfathomable in late April. He hasn't allowed a run since April 29th, striking out 14 and walking six since that time. Andrew Chafin and Archie Bradley have been dominant. J.J. Hoover and Jorge De La Rosa have been solid, and T.J. McFarland has been a revelation, albeit without convincing stuff. Shifting Delgado, Godley or Corbin to the mix could enhance the depth even further, and don't forget Jake Barrett and Rubby De La Rosa are in AAA waiting for their turns. There are plenty of options here.
The question becomes how much faith the team has in the group. For all of Rodney's success, he's running a BABIP of .267, suggesting he's had some luck on batted balls. Hoover has had some trouble over the last two weeks and De La Rosa's early season success has taken a step backwards. Relievers are all the rage come the trade deadline and the D-backs could look to audition a AAA reliever or one of their current starters before deciding to push for another late-inning arm or two. They're unlikely to add a marquee piece (David Robertson comes to mind) but could be in the market for a less expensive option as a rental to bolster the bullpen before the deadline.
Injuries notwithstanding, the Diamondbacks are in a great spot. They've pulled a sizable lead over their main competition nearing the halfway point in the season for a wild card berth. Should that lead hold over the next six weeks, the team will find themselves searching for ways to strengthen a solid squad. They could look for a right-handed bat in the middle of the infield, preferably one with some pop. They could add some more reliable depth to the back of the bullpen on a short-term basis. Hell, they could even inquire on the price for starting pitching, making a formidable rotation even stronger and deeper. Pitching is the most predictable place for an injury, so adding arms makes sense. Then odds are good, the Contention Window is wide open and it's time to refine the roster for a playoff push. This feels good.