The Inside the 'Zona Offseason Plan: 2013-2014
The D-backs are in a tough spot this offseason.  Payroll constraints will limit the club's access to the free agent pool.  Even if the team is willing to reach the $100M mark, we've projected the current roster to cost $99.8M next year.  That limitation, as well as logjams at shortstop and center field, have led us to conclude that trading players is the best way to upgrade the team and its ability to win games.
For a relatively young team, Arizona has a relatively cemented roster.  Despite the CF and SS logjams, upgrades may have to come on the pitching side, as pitching is more fungible.  The team may also have to consider trading away some young players that haven't yet reached their ceilings.  Uncertainty about Cody Ross's status puts a significant cloud over plans for the outfield and at third base.
What follows is the Inside the 'Zona Offseason Plan: suggestions for the Arizona organization for the 2013-2014 offseason from the Inside the 'Zona writers.  For context, take a gander at the club's top prospects (1-10, 11-20, 21-30) and breakdowns of the likely roster should the team make no moves (outfield, infield, rotation, bullpen).
We've seen the first moves of the offseason in the additions of Matt Tuiasosopo and Ryan Rowland-Smith.  Here are the other transactions we recommend:
Trade SS Chris Owings, OF A.J. Pollock, RHP Chase Anderson, and RHP Anthony Meo to the Cardinals for RHP Carlos Martinez
Trade LHP Tyler Skaggs, C Stryker Trahan, SS Nick Ahmed, and RHP Zeke Spruill to the Cubs for RHP Jeff Samardzija
Trade RHP Trevor Cahill
Sign RHP Brad Ziegler to an extension, 3 years, $13M
Sign OF Gerardo Parra to an extension, 3 years, $21M
Non-tender LHP Tony Sipp
Release RHP Heath Bell
Sign LHP free agent Manny Parra, 1 year, $2.5M
There are a number of moving parts here, but these are the moves we think are most realistic and most helpful out of the dozens and dozens of possibilities we came up with.  Explanations for the "why" of these moves are in each of the sections below (Rotation, Bullpen, Position Players), but because the trades we urge impact all three of those sections, we'll cover that first.
Trade with St. Louis Cardinals: SS Chris Owings, OF A.J. Pollock, RHP Chase Anderson, and RHP Anthony Meo to the Cardinals for RHP Carlos Martinez
Martinez showed himself to be a beast down the stretch and throughout the postseason this year, but we've been hot for him since July (skip to the very end).  As great a pitcher as he appears to be – here's a pretty thorough explanation from FanGraphs on the eve of his first ML start – there's some concern about whether he can hold up as a starting pitcher year-in, year-out.  The best aspect about Carlos Martinez as a trade target is that his floor is pretty high.  If he doesn't cut it in a rotation, we're looking at a brilliant reliever, rather than a mediocre one.  Either way, whether he reaches his ceiling or not, he's an impact pitcher.
It's not news to anyone reading this that Arizona has a glut of defense-first shortstops – but it may be news to readers that we prefer keeping Didi Gregorius if a shortstop is to get traded.  We think it's a close call, but that the defense Gregorius has shown is worth a bit more than the offensive upside of Owings.  We also think that Gregorius's bat will improve with time.  Owings has more value as a trade asset – with the (non-minor) caveat that that's only true if the other 29 major league clubs agree.
What makes this trade possibility fascinating might be the inclusion of A.J. Pollock.  Last season, the Cardinals used a 4-man, 3-position time share between OF Matt Holliday, OF Carlos Beltran, OF/1B Allen Craig and 1B Matt Adams.  After Craig went down with a foot injury, Adams showed himself capable of being a real offensive force with more playing time.  Even if the Cards do not re-sign Beltran, they're going to have another time share on their hands – and the thought for some is that uberprospect Oscar Taveras will be given playing time in CF (although RF is the better fit).
In 2013, the Cards' center fielder was Jon Jay, at least for most of the season.  He's been a league-average hitter or better, which is great (104 wRC+ in 2013; wRC+ between 115 and 117 for the previous three seasons).  But he's not an ideal starter in center, because his defense was well below average in 2013 (-10 DRS and -7.3 UZR) and he's only ever profiled as a decent defender at that position.  He is also about to get expensive, as he is eligible for arbitration for the first time this offseason.
Unfortunately for the Cardinals, Jay is also left handed.  This is a problem, because a Holliday-Craig-Taveras-Adams-Jay time share will devote almost full playing time to the first three of those players, probably in descending order.  It would be great if you could essentially platoon Jay and Adams, while playing them both on days that one of the other three players gets rest; but both Jay and Adams hit from the left side.  Pollock would be a huge addition in CF defensively, more than making up for the gap between he and Jay in creating runs.  He hits from the right side, is familiar with less-than-full playing time, and is cheap.
In Chase Anderson and Anthony Meo, the Cardinals get two former top prospects who have stalled somewhat in the Diamondbacks' system and would likely benefit from a change of scenery.  Anderson has bounced between starting and relieving and his stuff has played up when he's pitched out of the 'pen.  His changeup is phenomenal and the Cardinals can decide how he best fits for them.  While Anderson's '13 numbers aren't the prettiest, he was playing in Reno and was a victim of the dreaded desert air. Meo is still a flamethrower with his heater in the mid-90's but control is an issue.  The Cardinals have a knack for "fixing" pitchers and Meo presents a great buy-low for them.  At this point, he's most likely a bullpen arm but one with the raw stuff to excel in short stints with a few adjustments.
Trade with Chicago Cubs: LHP Tyler Skaggs, C Stryker Trahan, SS Nick Ahmed, and RHP Zeke Spruill to the Cubs for RHP Jeff Samardzija
This trade is not so much of a leap because of the rumored conversations this year at the deadline and again recently.  The sticking point in negotiations over the summer is said to have been Archie Bradley; we don't want Bradley moved in a Samardzija trade, and we don't think Towers will actually do that.  But Chicago will certainly want prospects back.  Would they take Matt Davidson?  Doubtful; they have Kris Bryant as a long term answer, as well as Mike Olt, who was acquired over the summer from the Rangers in the Matt Garza trade (and who loses a lot of his value if he's moved off third base).  Complicating matters at third even more is that former top prospect Josh Vitters is still banging around, that Chicago may want to try out Mat Gamel this year, and that top shortstop prospect Javier Baez may need to get moved to the hot corner eventually.
Baez is also a reason why Chicago may be unwilling to cash out some of Samardzija's value in the form of Owings, especially with Starlin Castro installed at short for the foreseeable future.  Still, we think Nick Ahmed may be a fit because he's certainly going to stick at SS (his manager at Mobile recently said Ahmed was one of the best shortstops he'd ever seen), he's priced appropriately in this trade, and Ahmed's floor might be as a utility infielder with a superb glove (which is still helpful).
Chicago is also set in the long term in the outfield, at least with good defenders who might not have the bat to match (probably ruling out Pollock).  We do think that Adam Eaton is the type of player Theo Epstein is likely to covet – that's part of why, we believe, we're hearing the name Nate Schierholtz (as part of a swap for Samardzija that includes Eaton, we're guessing).
We prefer trading Pollock to St. Louis to trading Eaton to Chicago, however, and in Tyler Skaggs the D-backs may have a way to keep Eaton while still landing Samardzija.  Skaggs's star has fallen since mechanical issues (staying too tall in his delivery) hurt his command and velocity this season.  The risk that he never gets fixed does discount his value, but in the trade above, Arizona would still be getting about 75 cents on the dollar.  Stryker Trahan helps Chicago get to where they want in terms of value, and although he is several years away from the majors, the Chicago system is thin on catching.  Zeke Spruill may not add a lot to this trade, but as roster filler with a bit of upside, Chicago could try him out in a few different roles until they figure out what they have.
Trade Trevor Cahill
This suggestion is incomplete because we can afford to have it be incomplete.  Cahill should have several suitors on the trade market this year; the salaries of back-end starters have crept up beyond the $10M/season mark, and Cahill is controllable at that level for a mere 2-year commitment.  Should the team fail to sign LHP Manny Parra, Cahill could get traded for LHP relief help (such as to Kansas City in a trade for Will Smith).  If the price is right, Towers could also find a fit with the Angels (for Mark Trumbo, the power bat Towers is looking for) to shore up their pitching shortage.  There may be some interest in Randall Delgado this offseason, but it's probably Cahill who would get moved to create room in the rotation for Carlos Martinez, Jeff Samardzija, or Archie Bradley.
Rotation
The Arizona rotation is full as it's currently constructed. Youngsters Corbin, Delgado and Wade Miley are all on the league minimum, making them very affordable. Brandon McCarthy is a free agent after this season while team holds an option on Trevor Cahill for 2016.  Here's how the contracts break down:

Clearly, someone has to move out of the current rotation if the team is going to add a starter (or two).  We recommend the Diamondbacks start by trading Trevor Cahill.  Depending on what they are willing to receive in return for Cahill, the team could have to eat a little bit of salary, but we're going to assume that Towers would rather take a lesser prospect or two and move the whole salary.  Durable number four starters are valuable around the league, particularly in light of San Francisco's two-year, $23 million deal with Tim Hudson.  There should be suitors for Cahill, and depending on how the rest of the offseason goes, Cahill could get traded for a needed major league player in lieu of prospects.
Trading Cahill makes room for our suggested additions of Carlos Martinez and/or Jeff Samardzija, although those pitchers aren't necessarily the only additions that Arizona can make.  We think the Diamondbacks will kick the tire on Max Scherzer, as Detroit is apparently willing to listen on him – but the price tag will be huge.  Chris Owings could interest Detroit as a replacement for Omar Infante at second base if he is not re-signed, but Detroit would almost certainly insist on getting Archie Bradley.  That's just not going to happen, and we don't see how Towers could make that work although Scherzer is exactly the type of pitcher the Arizona needs.
Eliminating Scherzer and ruling out David Price leaves Jeff Samardzija as the next-best starter available this winter via trade.  He's better than a lot of other pitchers, but unfortunately he's really not a huge upgrade over Trevor Cahill, the man that we moved out of the rotation.  Samardzija is likely a one- to two-win upgrade, which is still helpful, even if it's nowhere near the upgrade that Scherzer may have been.
Samardzija is much more affordable, projected to make roughly $5 million in arbitration this year.  That's a $3 million savings from Cahill in terms of the 2014 payroll, and the savings in 2015 is likely to be similar.  In terms of talent, it's not clear just what the Cubs want in return; still, our suggested trade stops short of mortgaging the farm even though it might be the most aggressive offer the Cubs might receive.
As noted above, Carlos Martinez would also be a strong option to open the year in the D-backs' rotation.  If Tyler Skaggs is moved to Chicago, Martinez takes over as the next man waiting in the wings.  If one of the other five starters we project in the rotation faces an injury issue, or if Randall Delgado struggles in spring training, we see Martinez getting a tryout to see how effective he can be as a major league starter.  If he really forces the club's hand, someone else (McCarthy?) can get moved at the deadline.
Archie Bradley, then, becomes a mid-season shot in the arm.  Should a rotation spot open up in April or May, the team may determine that they'd rather get Bradley more of a chance to address his ability to repeat his delivery (and improve his command).  If he can show the improved control he exhibited at the beginning of 2013 while starting in Reno, he can do it in Phoenix.
We think Bradley will likely make his Arizona debut sometime after the All Star Break.  Just how the club decides to use him will depend on the situation, but look for them to bring him along somewhat similarly to how the Cardinals managed Michael Wacha this year.  They'll limit his innings in AAA and have him ready for a post-season push in the second half.  He could be a flame-thrower in the 'pen or he could take a turn every fifth day.  Either way, he should be an instant upgrade, because by that point in the season someone could be hurt, or, if he's added to the bullpen, he would most likely replace the worst performer in that group.
Adding Martinez and/or Bradley to the mix next season is likely to add one extra win, if not two, to the totals from last season.  There's obviously room for fluctuation here, but the raw talent of those two will make a difference.  Combining that upgrade with the likely lift from Samardzija, we're looking at an improvement to the rotation of 3-4 wins based on the moves outlined above – at a net salary savings of at least $3 million.  Less money for more production is a good thing.
Bullpen
The biggest change required in the bullpen is the removal of Heath Bell.  In our list of transactions, we suggest an outright release.  The truth is that there's little reason not to pitch him in spring training, at the very least.  Bell can't do anything but improve his perceived value based on spring training performance.  If the club is lucky, Arizona will find someone willing to pay $1 million of his 2014 salary, meaning that the team would still pay $5 million while writing Bell off as a sunk cost.  If he can't find a taker, Towers should swallow hard and release him.  If a team picks him up at that point, they will only pay him the minimum salary – but that would reduce the amount Arizona owes him, if by only about $500,000.
We also urge Towers to address the need for a strong left-handed option in the bullpen.  Based on his track record, we support tendering Joe Thatcher a contract.  There is no rhyme or reason to pay Tony Sipp close to $2 million in 2014, however, and Sipp should be non-tendered (his failure to improve after his trip to Reno seals the deal).  Still, the team can do more to make sure that it doesn't relive 2013 in struggling to get lefties out.
Enter Parra.  No, not that Parra, although one wonders if Gerardo might have been the most effective lefty on the club last September – we mean Manny Parra, fresh off a deal with the Reds.  Once Manny was taken from #5 starter/swing man purgatory in Milwaukee, he was absolutely brutal on lefties in shorter stints with Cincinnati.  If the Reds had been a bit smarter with his usage, they might have limited his exposure to left-handed batters in 2013.  Since they weren't, Parra represents a good value play with limited risk.
We think a one-year deal works for both sides.  By saving him for key lefty matchups, the Diamondbacks can maximize Parra's value and have a reliable pitcher for those tough, late-game outs.  He could be worth half a win more than the club's other lefty options that could get paired with Thatcher (Sipp, Eury de la Rosa, Joe Paterson).  If the Parra deal didn't work out, it would only have consequences on the 2014 payroll; and if it did, Arizona would probably have Matt Reynolds and/or Andrew Chafin ready to take over in 2015 anyway.  The deal could also work for Parra.  If Parra can be reborn as a very good lefty specialist, he could be in line for a three year deal in the $4M AAV range a year from now.
We recommend a move for Parra despite feeling strongly that Arizona should commit to building cheaper, more flexible bullpens from within.  Undervalued commodities should always be considered as options, even in a context when most commodities are overvalued.  As discussed last Friday, Brad Ziegler probably falls into the same category (we'll continue to call that category the "Ziegler exception").  As previously discussed, we think Ziegler's ground ball skills are so helpful that they will be undervalued, even at an annual salary in the $4-$5 million range.  Under control for one more year of arbitration as a super-two player, we hope that Ziegler can instead be signed to a three-year deal in the $13 million range.  He's the most effective and reliable option for the Diamondbacks and there's no reason not to keep him in the fold.
The big conundrum may be what to make of relievers Jake Barrett and Matt Stites.  Barrett certainly has the highest ceiling as a reliever, but Stites is not far behind.  We expect and endorse the use of J.J. Putz as closer to start the 2014 season – he was much, much better in 2013 from midseason onward, throwing the slider he had tabled for a few years.  If Arizona can ride him in that role for most of the year, so much the better; if the wheels come off early in the season, they might turn to Ziegler to be a bridge again; if Putz becomes less effective around the All-Star Break or later, it's possible that Barrett or even Stites will have proven enough at the big league level to get installed in the closer role.  Arizona can't transition to a predominantly young bullpen overnight, and we understand that.  But if the team fails to make real steps in that direction soon, it may doom itself to mediocrity, and do so without the flexibility to make changes.
We think cutting Heath Bell, non-tendering Sipp, tendering Joe Thatcher (ultimately signing him in the $2 million range), extending Brad Ziegler and signing Manny Parra are the appropriate moves in the bullpen this offseason.  In combination with possible contributions from prospects, these moves could result in an increase of 2.5-3 wins, assuming Bell's replacement contributes something.  Ziegler does not play a role in the increase, but a small bounce-back from Thatcher does.  Manny Parra could be the key change in terms of additions – and the worst-case scenario with Parra is not so bad, because the financial and time commitments would not be significant, and because he can always be returned to swing man purgatory to free up Josh Collmenter for higher-leverage situations.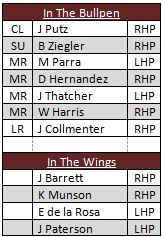 Position Players
One of the least expensive ways to add marginal wins on a team's roster is to limit the number of plate appearances that go to true backups.  Sure, the 2013 D-backs gave a handful of PAs to Wil Nieves (especially when Miguel Montero went down) and Willie Bloomquist and Cliff Pennington, but Towers was better than most at avoiding black holes in 2013, largely through time shares in the outfield and third base.
Barring several trades, the 2014 roster will also feature a few timeshares in the lineup and on the field.  This has two serious drawbacks.  First, it means that in fighting to finish better than .500 next year (preferably at 90 wins or a playoff berth), the D-backs can't make up more of the gap by further limiting PAs to backups.  Second, a team full of average performers is particularly difficult to upgrade; looking ahead to next season with the current roster, there's no below-average performer that can be replaced with an above-average one (at least, none without a young player in place to whom the team is committed).  Replacing an average performer with an above-average one does not have a great effect on win expectancy – and it can be very expensive, in terms of dollars or controllable talent.
It is for that second reason, in particular, that we have not recommended a free agent splash or the trade acquisition of a significant offensive player.  There is no Nelson Cruz here, and no Chase Headley trade.  Call it unfortunate, but the Cody Ross situation does mean that only so much can be done in the outfield.  We think Parra holds down full-time duties in right, and while Ross gets eased into duties in left for at least the first few months of the season, Martin Prado fits perfectly there for the additional starts (off days for Davidson with Ross starting will often turn into the insertion of Davidson for late-game defense).  The right half of the infield is also already set.
Shortstop is the opposite of set, however.  Cliff Pennington is no starting shortstop at this point, but Arizona might have trouble finding a trade partner to take on his entire $2.75 million salary for 2014.  More than likely, Pennington will be needed anyway, because more than likely, Didi Gregorius or Chris Owings will get traded.  As discussed above with regard to our suggested trade with St. Louis, we think Owings may bring more value, and we slightly prefer Gregorius anyway.  No, Arizona probably can't contend if it opts for defense over offense at every position.  But a run saved is a run earned, and if both shortstops would have about the same effect on the team winning games, it's probably better to move the guy who would fetch a better price.
That leaves center field and third base.  We have doubts about how good Adam Eaton's defense will prove to be in center field, but because he has the required speed, perhaps he can become better with more time – and the possibility of having very good on base percentages at the top of the order is a rare opportunity that could pay enormous dividends.  If A.J. Pollock can get moved, especially in a bigger trade for Carlos Martinez, the team will be well served.
If Pollock goes, Eaton starts about 90% of the time, and while Parra would play at least 90% of the time as well, part of Parra's playing time would come as Eaton's backup in center, where we believe he can play just as capably as Eaton.  Ross would then play sparingly in right field, meaning he could start close to half the time overall while still giving Prado about 70% of the starts in left field and Davidson about 80% of the starts at third.  This situation would require some juggling by Gibson, but it seems clean and easy compared to what would happen without a trade.
If Pollock stays, we will end up with the most complicated time share we can think of, featuring Gerardo Parra, Pollock, Eaton, Ross, Prado, and Davidson, six guys for four spots.  Parra would start close to full time, Pollock and Eaton would share center while pitching in at the other outfield spots, and Davidson would suffer through starting only about 60% of the time while Prado moved around and Ross started about half time.  It would be ugly, but so long as Kirk Gibson can juggle it well, it could work.  If Ross proved up to increased playing time by July, a midseason trade of he, Pollock or Eaton could alleviate some of the pressure.
If you're wondering why we don't question the propriety of starting Parra every day, consider this: Parra was worth 4.6 Wins Above Replacement last year, per FanGraphs.  If more of his value came from hitting, he'd be an unquestioned All Star selection.  In the last ten years, the D-backs have had only four other 4-WAR seasons from outfielders (Justin Upton in 2011, 6.1, and 2009, 4.6; Chris Young in 2011, 4.5, and 2010, 4.1).  In 2013, only 9 of 110 outfielders with at least 300 PAs were more valuable.  Exactly why would you want to screw with that?
We concluded last week that signing Parra for his last two arbitration years and a single free agent year should cost about $21 million.  We recommend making that move, because Parra's skills are still somewhat undervalued at $9M per free agent season (especially if Marlon Byrd is worth $8M per season).  A four-year deal in the $30 million range would also make sense for the club.  At salaries of $10M or more per free agent season, however, the D-backs would probably be better off waiting out the next season.  As we concluded last week, a good season in 2014 would not significantly increase Parra's salary demands, while a more average one could lower them.
Conclusion
The 2013 D-backs were all about being average, and we're not just talking about the 81-81 record.  But the D-backs are not very far off from having the materials to contend.  With its current roster (making only subtractions), both Jeff and Ryan believe that some regression to the mean brings the 2014 club up to the 82-84 win range.  If you're wondering what it looks like for a mid-market team to need to make a push – it looks exactly like this.
The problem, however, is that Arizona's "average-ness" was more than skin deep.  With only one or two exceptions, the team's players are average across the board, and it costs a lot more to upgrade from average at any one position than it does to upgrade from below average.  For that reason, Inside the 'Zona is recommending only a measured approach to transactions this offseason.  Signing Manny Parra is a strong value play, and turning the center field and shortstop logjams into assets for 2014-2015 (Samardzija) and beyond (Martinez) helps the club now while setting it up for continued success.
We realize that many of these moves are easier said than done.  Maybe Manny Parra demands $3 million, and is no longer worth it (although $2 million is just as possible).  And in terms of suggesting trades, it takes two to tango.  So long as the team commits to a transition to youth in the bullpen, however, and doesn't subtract strong position player assets (e.g., Gerardo Parra) for players with lesser but different profiles (e.g., Mark Trumbo), Arizona could be set up for a 2-5 year period of sustained success.