It's Friday and where I come from, Friday is supposed to be fun. So I think we should kick the weekend off early and have a little fun by playing a familiar game. It's called "Guess That Power Hitter!" If you haven't played before, the rules are simple. Read the career stat line of each player and guess who it is. Sounds fun right? Let's have a go, shall we?
Hint: Player A and Player B are current professionals and neither plays for Arizona.
Guess who Player A is: .242/.334/.434
If you guessed that Player A is Ike Davis, you win! Actually, if you guessed that Player A is Ike Davis, you know way too much about Ike Davis. Moving on…
Guess who Player B is: .233/.329/.464
If you guessed that Player B is former Diamondback great Mark Reynolds, you win again! Recognize the low average and the high slugging percentage? It's vintage Reynolds. He was fun to watch because although he struck out a million times, you never knew when he was going to obliterate a baseball into the Chase Field seats.
Now let's add Player C. Just so you know, Player C is on the Diamondbacks' roster.
Guess who Player C is: .253/.312/.473
Player C is none other than, Mike Jacobs. You know, the toiling-in-the-minors veteran Mike Jacobs, formerly of the Marlins, Royals, and Mets? It's no wonder he's in the minors with that low average and on-base percentage. The power is the only thing that jumps out and really was his only calling card.
Because it is Friday and we're trying to have a good time here, we'll conclude with Player D. As was the case above, this player is also on the Diamondbacks' roster.
Guess who Player D is: .250/.299/.459
Ok, you probably saw this one coming. That's Mark Trumbo, the newly-acquired first baseman who will be running around in the outfield for the Diamondbacks next spring. If we're just looking at this group of four, Trumbo has less power than Jacobs and less OBP than all three. As it currently stands, Davis and Reynolds are viewed as spare parts and Jacobs is organizational depth being held in AAA purgatory. In case it's not clear, this is not the kind of territory you want to be in.
We all remember Mark Reynolds' prime, though, and it was exciting. You might not remember Mike Jacobs' prime, and that's because he never really had one. But how did these guys age? Take a look at the graph below and then we'll discuss.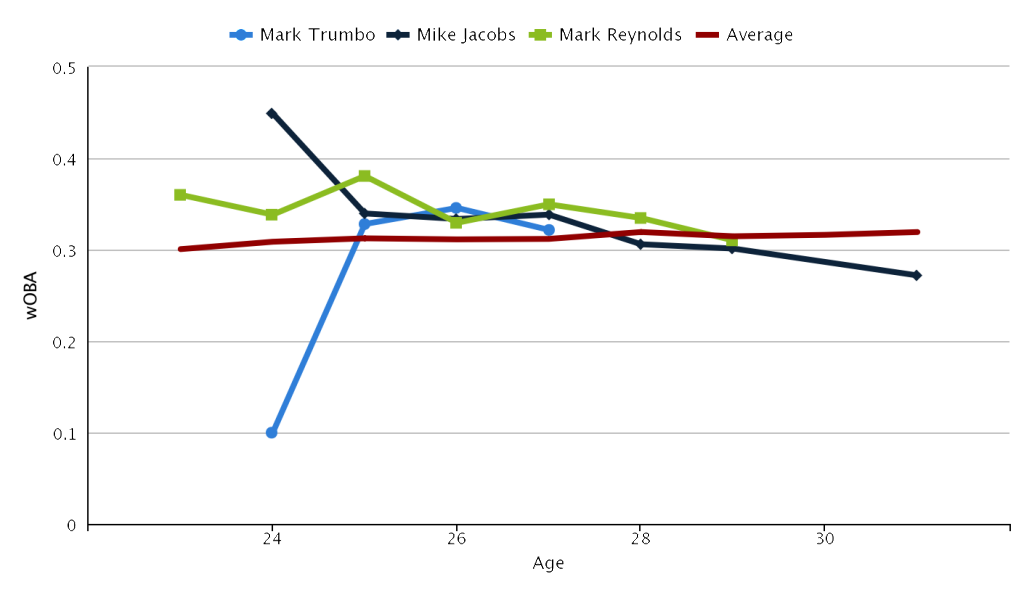 As you can see, these guys are hardly above average to begin  in terms of wOBA and we know that any surplus production is purely a function of power. By the time these guys hit their late 20's, production starts to trend down. Why? Check the next graph.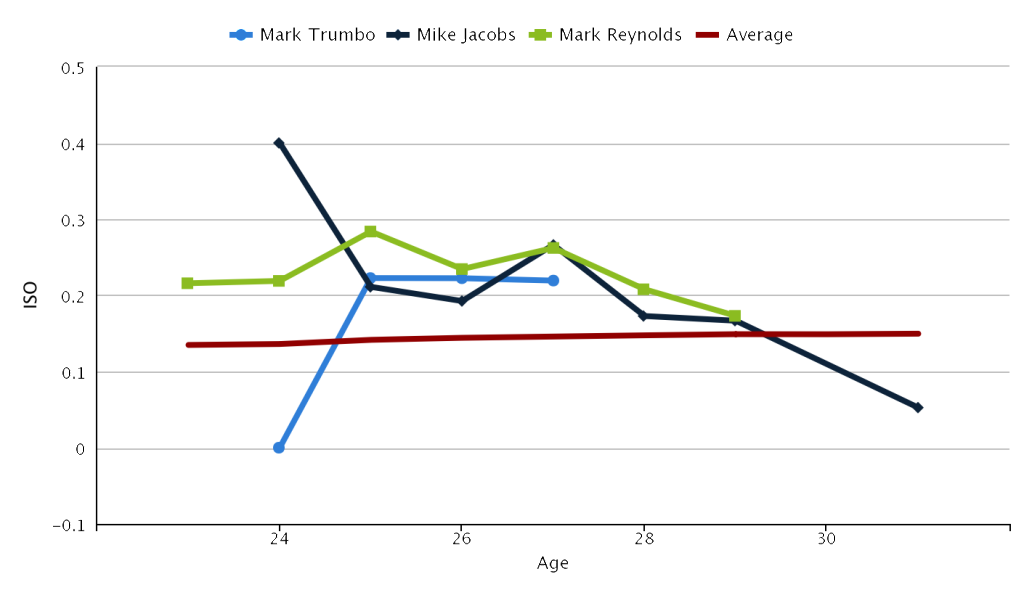 Like most players when they age, the bat slows. For a power hitter who relies on bat speed to generate that power, as the bat slows the power declines and the overall value diminishes quickly. These guys don't have defense or on-base skills to carry their value, so once the power goes (here viewed as ISO), so does the value. Trumbo's not that old at only 28, but as Jason Collette pointed out yesterday, he has already shown signs of struggling to make contact with pitches in the zone. This could be just who is and will continue to be, or it could be the start of the decline. We don't know for sure, but failing to make contact in the zone is a scary indicator.
Perhaps the most important aspect of this is in terms of contract status. Kevin Towers made comments about trying to work out a possible extension with Trumbo after the team acquired him. Because of the trends above, an extension right now seems like a bad idea. Trumbo's under team control for the next three years and an extension would cover at least that much time and probably give him an additional option year. I'm not comfortable, at this point, with locking the team into Trumbo for the next four years. He could stay on the pace he's currently at, which already isn't spectacular, or trend down like the players I compared him to. There's limited room for growth given his age and track record so an extension puts all of the risk on the franchise.
How the Diamondbacks choose to handle Trumbo will make all of the difference in how we remember this acquisition. If they take him year-to-year, at least to start with, they can protect themselves. If they extend him immediately and he declines, it makes a bad trade look even worse. Let's hope Arizona does the right thing.
*Note: charts used with permission from FanGraphs