Competing Factors to Brandon McCarthy's HR Struggles
Brandon McCarthy is allowing more than one in five of his fly balls to turn into home runs. Think about that for a second. That means when you are watching McCarthy pitch, whether at home from your TV or live in the stands, any time the ball flies off the opposing hitter's bat, and the camera angle adjusts towards the outfield or your eyes set on the outfielder locating the baseball, nearly one in four times that ball ends up over the fence. McCarthy's HR/FB rate of 22.7% is four percent higher than the second highest rate among qualified pitchers this season. It is also more than double what he posted last season at 10.3%.
So what is going on? Why is McCarthy serving up home runs like a batting practice machine?
There are a few competing factors that are important to note in McCarthy's game this season and how they have impacted his home run total.
He is throwing his sinker more often and producing more ground balls because of it. Yet, he is allowing more home runs.
Part of his game is to get ahead in the count by throwing first pitch strikes, but one third of the home runs he has allowed have come off the first pitch.
First, his sinker. McCarthy entered the league relying mostly on a fourseam fastball mixed with offspeed stuff. He has essentially exchanged his fourseam for a sinker. After throwing the sinker in the 30% range between 2011-2012, he jumped to 44% usage last season, and a career most 55% this season. He throws it both to righties (61%) and lefties (59%), and to both when ahead in the count.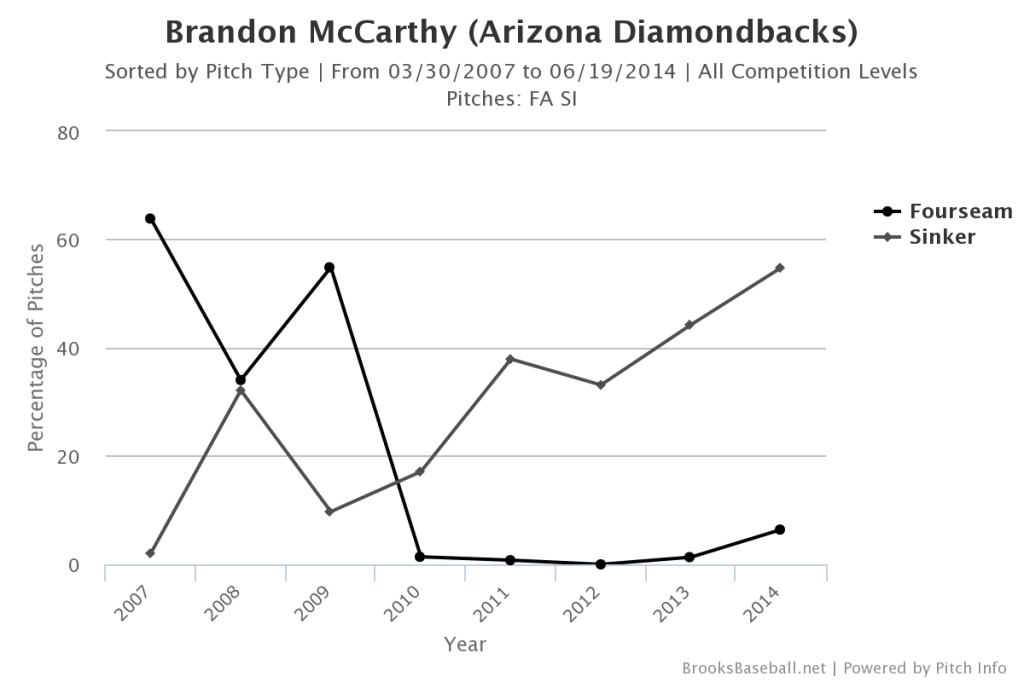 By using his sinker more often than ever, McCarthy is generating ground balls at a career high mark. In fact, he produces ground balls at a rate that puts him eighth best among qualified pitchers in baseball this season. More ground balls mean less fly balls. Part of his uptick in HR/FB rate this season is the drop in the denominator. Having allowed as many as 46.8% of batted balls to be fly balls early in his career, he is allowing only 22.8% this season. But that doesn't absolve him of the problem. His 15 home runs allowed still ranks fourth most in baseball this year.
A sinker is effective in producing ground balls because it is usually thrown down in the zone, based on the break. A sinker over the middle of the plate becomes as ineffective as any pitch in keeping the ball on the ground. Of the 15 home runs McCarthy has allowed this season, nine have come off his sinker. Of those nine dingers off the sinker, five were on pitches that were down the middle or middle-right of the plate. McCarthy is throwing his sinker more often to produce ground balls, but is giving up more home runs; the story really goes that when he throws his sinker over the middle of the plate, he pays for it.
Another competing factor hurting McCarthy is his tendency to throw first pitch strikes. Pitchers want to get ahead in the count. Looking at the list of top 15 pitchers since 2012 to throw first pitch strikes – the names of Cliff Lee, David Price, and Clayton Kershaw are there. So is Brandon McCarthy, who ranks eighth most frequent at 66.3%. The problem with throwing first pitch strikes is that it alerts hitters to be aggressive. Five of the home runs McCarthy has allowed this season have come on the first pitch (second most in baseball), four of those being sinkers, which could explain why many of those sinkers saw more of the plate, as get ahead in the count early pitches rather than stay low in the zone pitches. Looking at starters who use the sinker or two-seam fastball with regularly, none throw theirs in the strike zone as often as McCarthy does on the first pitch.
Of course, not every pitch is made by design. What we don't know for sure is how often McCarthy tries to throw his sinker down in the zone, but misses. What we see is that not only are pitches in the middle being crushed, but pitches that miss up in the zone have been sent over the fence too. Against right-handed batters, he has given up home runs on pitches up and away from the hitter, a few being sinkers that we can guess missed on their location.
We can see from the charts below how often McCarthy throws his sinker down in the zone to righties, and where in the zone they find power.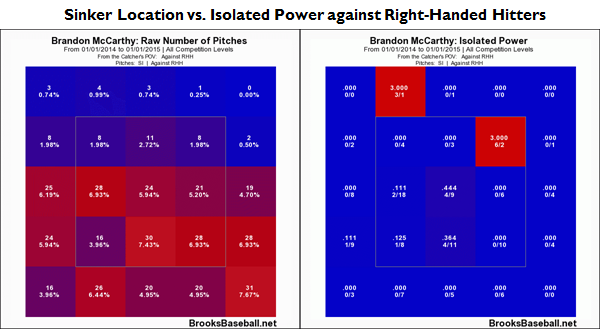 Interestingly, both righties and lefties have had success hitting home runs this year against McCarthy – for lefties, mostly when the pitch is left over the inner-middle of the plate. Again, nine of the 15 home runs allowed have come off the sinker, at a 28.1% HR/FB rate. We can see in the chart below where in the zone hitters have connected against the sinker for a long ball.
Brandon McCarthy is doing two things well. He is using his sinker to generate more ground balls and he is throwing strikes, particularly on the first pitch. Yet, he is allowing a ridiculously high HR/FB rate because too often his attempt to get a first pitch strike turns into a hittable pitch over the middle of the plate and it appears against righties his sinker sometimes doesn't hit its spot. Lastly, and ignored for the purposes of understanding how his sinker has been victimized by the long ball, his cutter has also been homer prone. McCarthy uses the cutter chiefly against lefties, but righties have driven his HR/FB rate on the pitch past 30%. He doesn't use the pitch as often as his sinker, which is why the majority of home runs have come off the sinker.
Now, what does this all mean?
The important thing to remember is that there is a difference between why McCarthy has given up a lot of home runs of late and whether that means he will continue to give up home runs at that pace. We know from a large sample of data, between 2007-2013 his HR/FB rate vacillated between 5.6% and 10.3%, that his current 22.7% performance seems out of whack. Over 881 innings of career work, McCarthy's HR/FB rate is 10.2%. The numbers tell us that his propensity for serving up long balls this year should eventually return to normalcy.
Brandon McCarthy is throwing his sinker more than ever, churning lots of ground balls, and because of that, not as many fly balls. When he leaves his sinker over the middle plate, as one would guess on any pitch, hitters are crushing it for home runs. Because he doesn't allow as many fly balls and he is giving up home runs on the ones he does, his HR/FB rate has skyrocketed. For fans worried about this, don't be. We have good reason to believe that things will return to normal, and by generating more ground balls and throwing plenty of strikes, he is doing the right things to be an effective pitcher.
All statistics courtesy of FanGraphs, Baseball-Reference, Brooks Baseball, and Baseball Savant.
@outfieldgrass24

The box score doesn't accurately reflect Kevin Ginkel's night. I think he pitched much better than it'll show. #Dbacks

,

6 hours ago

With that kind of changeup, Paddack can get away with some middle-middleish fastballs. Doesn't hurt that he's pumpin' gas...

,

9 hours ago

Bumgarner sitting 89 here in the first for #Dbacks

,

9 hours ago