If the D-backs Become Sellers, What do They Target in Return?
It's easy to get lost in Diamondbacks' 16-12 record over the last month. The schizophrenic nature of the season has left fans scratching their heads, but I'm sure it's also caused quite a problem for the Diamondbacks' brass. What' the true ability of this team? If they won 16 of every 28 games played for an entire season, they'd be a 92-win team. Then again, they went 10-19 over the first month of the season, which is a 56-win pace that can't be ignored. Where's the truth lie? As always, it's likely somewhere in the middle; we knew they weren't as bad as they played early on, but this doesn't look like 92-win team, either.
In fact, I still believe that this is a team whose true talent is somewhere in the 76-80 win range. That's obviously not good enough given the organization's expectations of making the postseason, and the fact of the matter is, the roster as currently constructed lacks the true talent to be a serious contender. And it's not about to get any better, either, as a large core of players are on the hook for 2015 and beyond. It's the same issue the D-backs faced this winter: their roster is clogged up at a number of positions with average players and they can't, without blowing the budget, upgrade.
So, at some point, the team has to start over. I know I can speak for the rest of the Inside the 'Zona crew when I say that this appears to be the year for the team to start that process. Last week, Ryan laid out the team's best trade assets and this week we're going to look at the team's greatest needs. Before we can identify their needs, however, let's take a look at the picture of just who's on board right now, including the MLB-ready talent on the farm.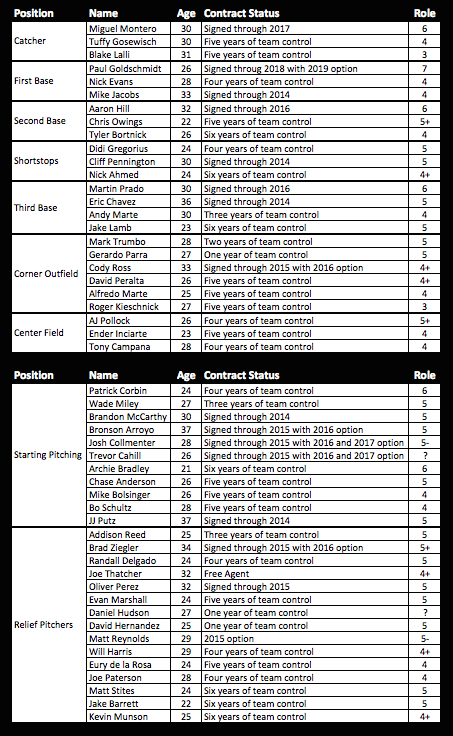 *Age/contract info via Baseball Prospectus, service time projected for the end of 2014
*Roles are shorthand for impact: Role 4: up-and-down guy, Role 5: average MLB player, Role 6: above average MLB Player, occasional All-Star, Role 7: regular All-Star, occasional MVP candidate, Role 8: all-time legend
Right off the bat, we can see the Diamondbacks don't have any major weaknesses. They're essentially average or just slightly better across the board, with Paul Goldschmidt being the one true outlier. What that should tell us is that the team doesn't have any gaping holes that need to be filled. Instead, if they're looking to add, they should be searching for impact depth; young guys with a chance to pay big dividends. These aren't going to be close to the majors guys, but instead players who come from the low minors who likely have unrefined skill sets but are considered high ceiling players if they develop fully.
Speaking of what the D-backs could hope to receive in a midseason trade, let's first examine the most notable trades from the last two Julys. The non-waiver trade deadline is always July 31st, so that's the cutoff for both of the years below.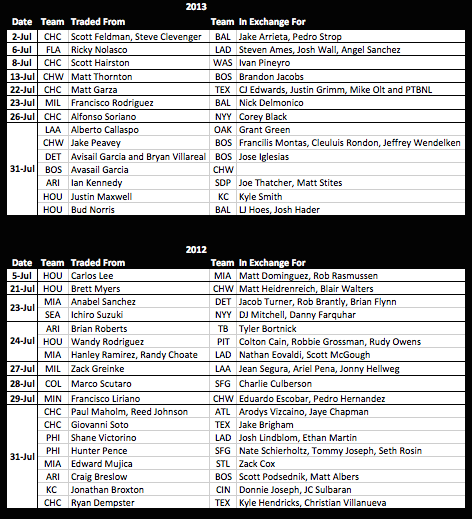 Examining past July trades gives us a great point of reference. We can see that that there haven't been too many outstanding prospects dealt in the last two years. Organizations have seemingly pulled back from years past and are playing the prospect game much more conservatively. No one wants to be the GM who deals the big prospects for the immediate upside, only to get burned by it (insert obligatory Kevin Towers joke here). The best prospects surrendered in the last two years were Jean Segura by the Angels (2012), Nate Eovaldi by the Dodgers (2012), Matt Dominguez but the Marlins (2012), Jacob Turner by the Tigers (2012), CJ Edwards and Mike Olt by the Rangers (2013), Avisail Garcia by the Tigers (2013) and Jose Iglesias by the Red Sox (2013). On their own, that's not a bad group of players. Unfortunately, the Diamondbacks don't have a Zack Greinke, Matt Garza, Carlos Lee, Anibal Sanchez or Jake Peavy to move, meaning they can expect significantly less of a return for whatever pieces they can deal away.
Let's say the Diamondbacks are able to flip Bronson Arroyo to a contending team who is searching for someone to fill out their rotation. Considering what Arroyo is owed, the team would likely have two options: either kick in some money and receive a decent prospect package in return, or kick in no money and receive virtually nothing of value. A similar argument could be made for players like Trevor Cahill and Aaron Hill. How willing is Arizona to absorb some salary? We can't know, but the team hasn't done much of this kind of wheeling and dealing in the last few years.
But back to the areas of need, we can see some thin spots at catcher and in the outfield corners. Of course, the team could also use pitching of all sorts, but if given a preference, a left-handed starter prospect would be at the top of the list. There isn't player X or player Y that the team should be targeting, but rather taking a crack at acquiring a number of upside options. Yesterday, Ryan put it like this, and I couldn't agree more:
I happen to love Cody Ross as a player and a human, and there's every reason to give him more time to put things together at the plate. Come deadline time, though, Ross should get moved at whatever price (he may be attractive as a lefty-killing bench option), not so much because moving him would net a nice return, but because moving him also moves him out of the way. That's what 2014 is now. It's all about folding on the gambles that can only ever pay even money, instead gambling on options that may have a chance of paying out.
This is so spot-on it isn't even funny. The team isn't devoid of talent, but they don't have enough to be contenders. Rather than being in a position to simply add to the team and make it a contender, they're going to have to get worse (at least from a pure talent perspective) before they can begin contending again. The Diamondbacks can't have their cake and eat it, too. Trying to win-now didn't work and now they're faced with rebuilding. If they're smart, they've recognized this and will start exploring trade options in earnest later this month. They'll have to do what they did in the draft, which is take the best player(s) available and continue to build depth, hopefully that of the impact variety.
For what it's worth, here are several team that could use upgrades in areas where Arizona could be a conceivable trade partner, but remember, the returns on these potential deals can vary wildly.

These potential trade partners were chosen based on 2014 performance at each position. Particular teams may be more or less inclined to make moves based on their internal expectations. But by examining the trades that have gone down in the last few years and acknowledging what the Diamondbacks may have to sell, I don't think we should get overly excited about the return on Arizona's potential cast-offs. Rather, as Ryan pointed out, they need to clear space for new opportunities and free themselves of the roster logjam that's been plaguing them for the better part of two and half years now. My advice for the organization would not be to target a particular prospect (unless they know something we don't, which has a high degree of likelihood), but to rather obtain as many lottery tickets as possible and see which ones pan out. Remember, this team is going to get worse before it's going to get better, but if they can hit on a prospect or two while clearing some salary and opening the door for young players to get up to speed, then I'm all for it.