When Ian Kennedy was traded to the Padres last summer, the main, known quantity the Diamondbacks received in return was veteran lefty Joe Thatcher. After all, the D-backs at that point were hoping to hang with the Dodgers in the division and were making win-now types of moves. While Thatcher was once again sent packing over the weekend, the other player received in that deal has progressed nicely: Matt Stites.
The quick run-down on Stites is that he's a short, right-handed power arm who's a reliever all the way. When Arizona acquired him, he had been tearing up AA for the Padres before an injury ended his season. He didn't pitch for the Diamondbacks until he opened the 2014 season in AA Mobile, picking right up where he left off. The 24-year old was promoted to AAA Reno after only 12 appearances. Although the PCL is a hitter's haven, Stites held his own. He struck out 15 batters in 16 innings, walking only five and surrender only 13 hits. On June 19th, he got the call to the majors.
Since being promoted to the big leagues, Stites has flashed some serious heat to go along with a nasty slider. He routinely sits 95-96 with his fastball and can touch 98. The fastball has a lot of movement despite being classified as a four-seamer. It is not a flat offering as it has some serious movement and sink, making it difficult to square up. For comparison's sake, let's compare Stites' four-seamer to Addison Reeds.
Matt Stites Four-Seam Fastball: horizontal and vertical movement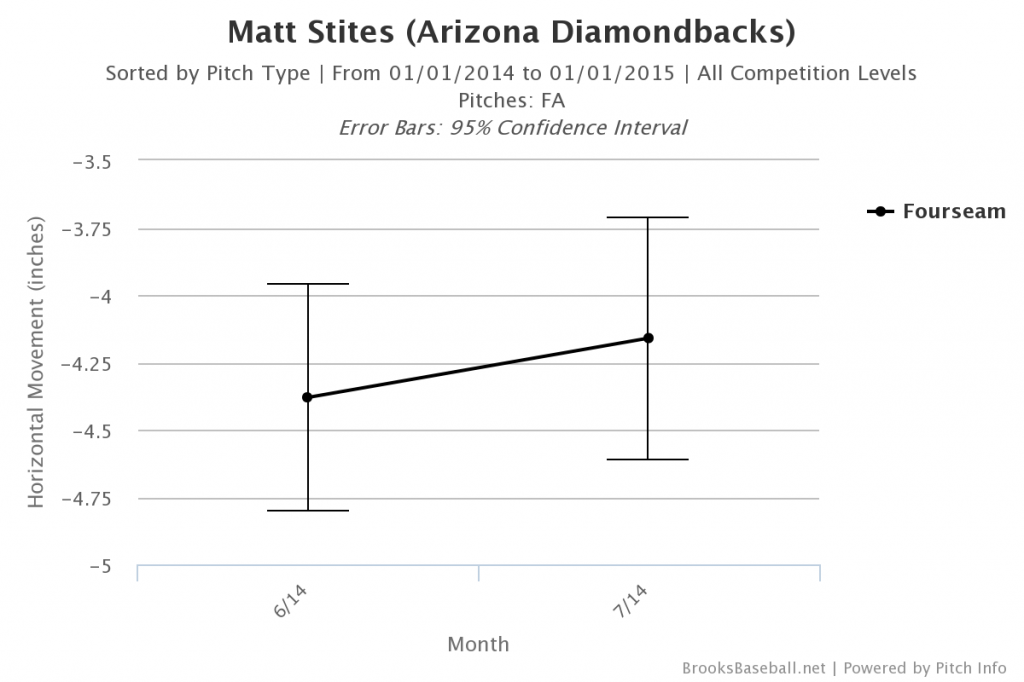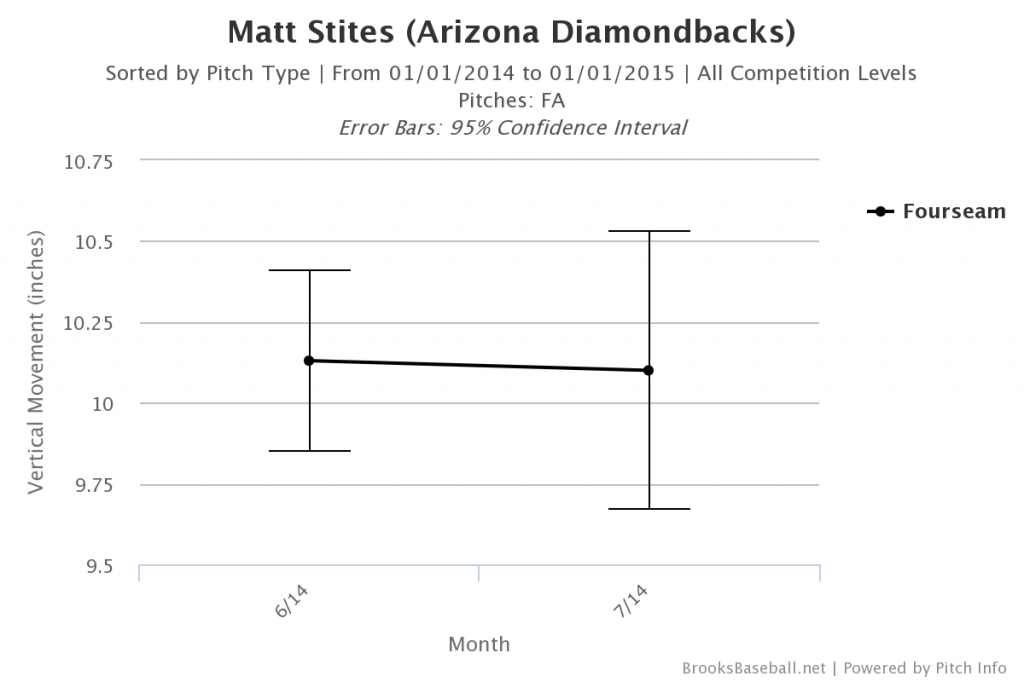 Stites is averaging about 4.25″ of arm-side run on his fastball, breaking in on the hands of righties and away from lefties. He's also generating over 10″ of sink on the pitch, meaning that as it's breaking in or away, it's also fading down in the zone.
Addison Reed Four-Seam Fastball: horizontal and vertical movement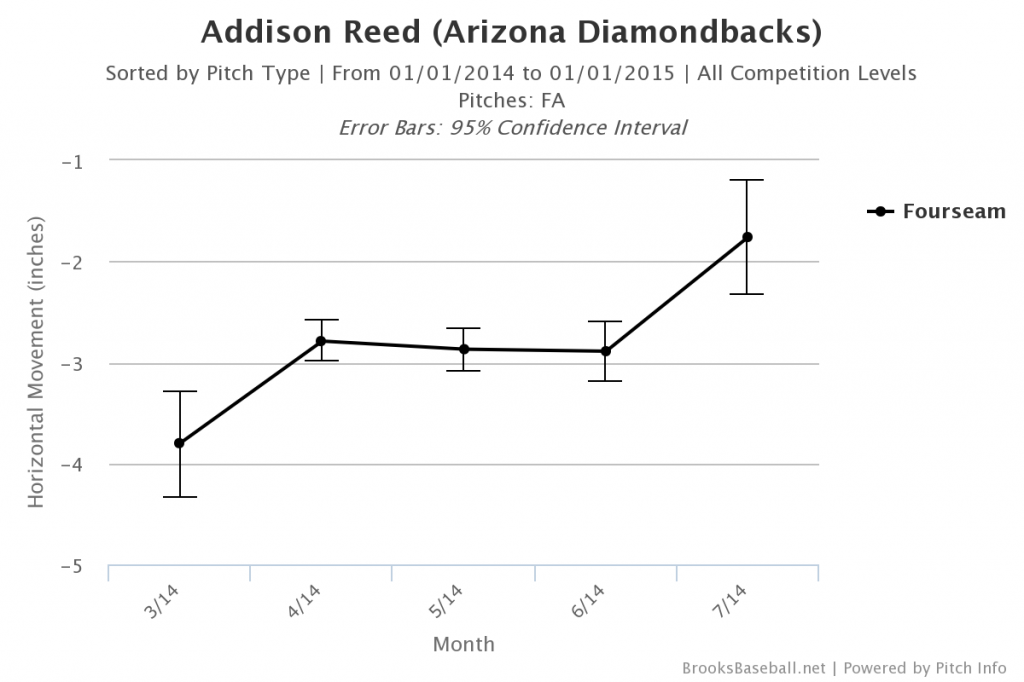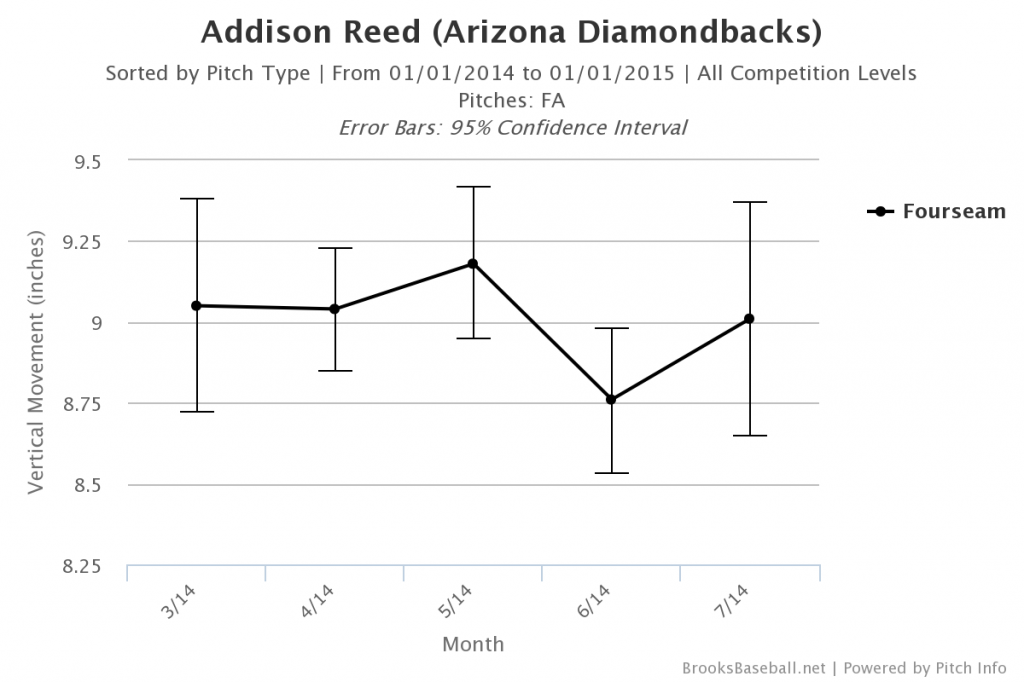 We can see that Reed's four-seamer's horizontal movement has varied quite a bit this season, and at present, he's generating less than 2″ of horizontal run on his heater. In the sink department, he's sitting right around 9″ of movement.
Considering that Stites and Reed throw the four-seam fastball with roughly the same frequency (about 70% of the time), it's easy to see that Stites owns the better heater. It moves more and has the added benefit of 4-5 miles-per-hour of velocity. Combined, this should play in Stites' favor. But there's one other factor at play here: location.
If there's a weakness to Stites' game at this time, it's that he has trouble locating. While he's struck out eight batters over 8.1 innings, he's also walked five and given up ten hits. Why the trouble? He still struggles to command his pitchers and keep them out of the middle of the zone. For comparison's sake, let's check the heat maps of Stites and Reed for all pitches this season.
Matt Stites Heat Map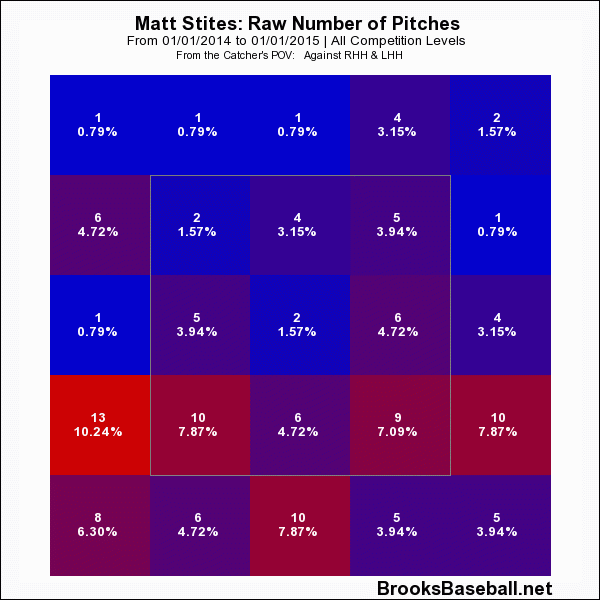 Addison Reed Heat Map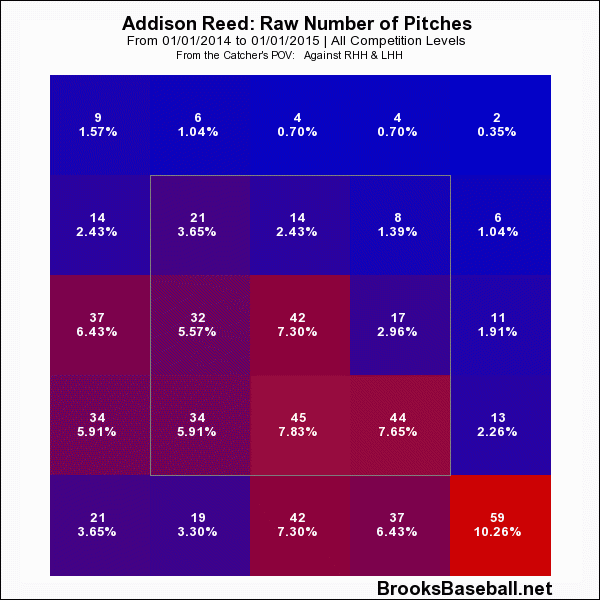 Comparing the two, we see that despite Reed's home run problems, he's doing a better job of keeping the ball down in the zone. It's a small sample to deal with when it comes to Stites as he's only thrown 127 major league pitches, but so far, he's caught the middle part of the zone too frequently. And when he misses, well, big league hitters have a way of doing damage just like Justin Upton did on Saturday. It was Stites' first home run allowed in the majors and probably a good dose of reality as to what major league hitters can do, even with quality offerings, when they aren't located properly.
And this could become the bugaboo with Stites. While it's clearly a small major league sample to work with, even throughout the minors he's been a fly-ball pitcher. No Diamondbacks fan wants to hear the dreaded-words "fly-ball pitcher," especially out of the D-backs' pen. Even with a plus-plus heater and a plus slider, Stites just doesn't generate a lot of grounders, and if minor league guys weren't putting the ball on the ground with a high frequency, major league hitters probably won't either. His changeup is a work in progress and lags behind his other two pitches, but shouldn't be expected to generate a ton of ground balls as it's likely to induce some whiffs and pop-ups.
So what is Matt Stites? At this point, it's probably premature to draw a hard conclusion, but if I had to venture a guess, I'd put him in the mold of David Hernandez: a flamethrower that can strike hitters out and induce a lot of swings-and-misses but is prone to getting hammered when he misses his spots. The movement and velocity on his fastball are nice, but when they aren't located properly, big league hitters rarely miss. Stites will learn this and his command will sharpen in response. If it does so, look out, because he has the raw stuff to be very effective. As you watch him this season, look for him try to command the bottom of the zone more and don't be surprised when even 98-mile-per-hour heat gets turned around if it's up over the plate. They don't call it The Show for nothing.