If Money Truly Reinvested in Payroll, Deadline Trades Reasonable
If you're like me, you were underwhelmed by the minor leaguers that the Diamondbacks received in return for Gerardo Parra (Brewers) and Martin Prado (Yankees). But that doesn't necessarily mean the trades were bad for the club. We learned last week from Tony La Russa (via Steve Gilbert) that the D-backs were open to the possibility of putting "more money in the war chest." It looks like that's exactly what the D-backs did.
Consider the trade of Martin Prado to the Yankees. Keith Law described Peter O'Brien as "a poor man's Mark Trumbo," and since Mark Trumbo is something of a poor man's left fielder, that doesn't inspire much confidence. Our Jeff Wiser noted that "[a]t best, he profiles as a backup, but there's something to be said for a backup catcher who can put the ball over the fence." Totally agree, and O'Brien is a nice little bonus if trading Prado was really a salary dump — which it appears to be.
The fringe status of O'Brien as a prospect and the fact that the D-backs didn't have to eat money to unload Prado's contract suggests that Prado, set to make $11 million in both 2015 and 2016, is essentially not an asset at that salary. I like Prado as part of a roster with movable parts (which is what the Yankees roster is right now, and what it may be next year), but that's fine. The D-backs didn't trade Prado for a gain, but they didn't trade him at a loss, either.
At the time of the Justin Upton trade, I had my doubts that Martin Prado was actually an asset, with one year left on his deal. But it also makes sense that getting the chance to work out a contract with a player you particularly like is worth something (I suppose it's worth O'Brien). Nick Piecoro has made the point that trading Prado rather than doubling down on the return for Upton is something for which the D-backs do deserve credit. I agree. The D-backs looked to unload Prado, and O'Brien and not eating money was the best return. Players signed in free agency are seldom trade assets, because 29 other teams could theoretically have had the player for a penny more; the free agents who do turn into assets are players whose value fluctuate significantly, like relievers having unexpectedly good seasons and players recovering from injury.
So I have little issue with the Prado deal. Eliminate him from the ledger. And Gerardo Parra?
That trade is different. Unlike the Prado deal, which carries a financial commitment through 2016, Parra is technically signed only through this year ($4.85M), and is eligible for arbitration for the fourth time this offseason as a super two player. The Parra trade is more of a baseball trade, and while the return of Mitch Haniger and Anthony Banda may not be great, one cannot think of this trade as the Brewers taking on a hefty financial commitment as part of the return. Piecoro notes that one AL executive thinks Parra is a non-tender candidate. I kind of doubt that would happen, but as I noted in pitching a Parra trade last Wednesday, if Parra is a fourth outfielder, he's somewhat incompatible with an outfield that will also feature fellow lefty (and fellow former southpaw) David Peralta.
Not being impressed with the return for Parra doesn't mean I think it's a bad trade. It's a neutral trade. And with A.J. Pollock returning, moving Parra means Peralta gets a more prolonged tryout (what wasn't known at the deadline is that Paul Goldschmidt would have his hand broken the next day, potentially moving Mark Trumbo to first base for the rest of the season). Still, for the Parra trade to make the D-backs better, that goodness would have to come from Haniger and/or Banda.
***
As Piecoro noted, that's $2M saved with the McCarthy trade, $1M by trading Thatcher, and maybe $3M for this season from erasing Prado. Just short of $1.5M from erasing Gerardo Parra. That's about $7.5M for the "war chest," if the team does indeed keep that money for player payroll.
Because whether or not to tender Parra a contract for 2015 was up to the D-backs, I hesitate to say that a commitment to Parra was cleared from the books for 2015. Still, it's not there, and the $11M owing to Prado is also not there. In advance of the deadline, I took a look at whether the D-backs could use free agency to help them retool for 2015. Then, I concluded that if the D-backs kept the 2015 payroll at 2014 levels, they'd have no money to spend in free agency.
Time to take another look. Borrowing data from Cot's Baseball Contracts, here are how the 2015 financial commitments stack up: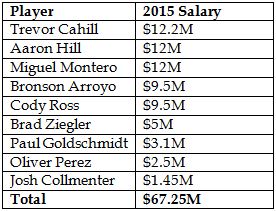 First thought: holy shnikes, that's a lot of essentially dead money for Cahill, Arroyo and Ross ($31.2M). Second thought: that's it? Well, no. The D-backs have a handful of players eligible for arbitration: Mark Trumbo (second time), Cliff Pennington (third), David Hernandez (third), Daniel Hudson (second, technically), Addison Reed (first), Wade Miley (first), and Jordan Pacheco (first).
Mark Trumbo may be due something in the order of $7M, even after missing a big chunk of 2014 (we don't know what he'll do before the end of September). Reed may be looking at a salary in excess of $3M. Miley is more likely to be in the $5M even in his first year of arbitration, because he's got counting stats to beat the band.
The other players could be considered non-tender candidates. Pennington is the most obvious of these. Nick Ahmed hasn't shown us much at the plate, but the man can field. And although we don't know how the rest of the season will play out (and whether Didi Gregorius and Chris Owings both get injured), there's no realistic way that the D-backs decide in the offseason to install Ahmed as the team's starting shortstop — not with Hill still around to play second base. That makes Ahmed a candidate to be a utility infielder, and makes Pennington redundant.
Jordan Pacheco would have to go completely nuts at the plate for the rest of the season to warrant a contract, but he may just get the chance to do so at third and first base in the wake of the Prado trade and the Goldy injury. Last offseason the D-backs showed a taste for a multi-positional backup, and like Matt Tuiasosopo, Pacheco doesn't need to play middle infield to take on that role. That said, Tuiasosopo didn't stick… watch for whether Pacheco actually gets time at catcher for the rest of the season and whether he embarrasses himself there, as that could be the key to whether he gets tendered. If he does get offered a contract, expect him to settle in the $1.2-$1.5M range.
David Hernandez and Daniel Hudson present much more difficult cases. I think Hernandez will get a contract, ultimately making about $3M in his final year of arbitration. For Hudson, it all depends on whether he is able to really show something (rather than pitching just a few innings) before the end of the season. In both cases, expect the D-backs to settle before the non-tender deadline in early December, but to put off reaching deals until just before that time. Depending on health (Hudson) or rehab progress (Hernandez), the team could end up committed to anywhere between nothing and $4.5M.
The Diamondbacks won't necessarily have the luxury of resolution with Hudson or Hernandez before the free agency period begins, and neither do we now. Let's use the $4.5M figure for those two players but drop Pacheco and Pennington (who would probably make $4.5M or so, but no less than $3M, by the way), and assume the arbitration players will cost the D-backs exactly $20M.
That's $87.25M earmarked for the current roster, but toss in 10-15 league-minimum salaries to round out the roster with everyone from Patrick Corbin and A.J. Pollock to whoever makes the squad as a fifth outfielder. Let's call it $95M in committed payroll.
All of a sudden, not having financial commitments to Parra or Prado makes a pretty huge difference. This season, the team had an opening day payroll of about $112M. Before, I concluded that pushing the payroll to the $120M range couldn't net the team one of free agency's top pitchers. Now, $112M (an extra $17M) could possibly include James Shields. And pushing the payroll to $120M (an extra $25M) could fit Max Scherzer. Any of these pitchers would be a bit of a stretch
I have very sincere doubts that the D-backs can sign a starting pitcher from the top tier this winter, a club that may include Shields, Scherzer, Jon Lester, and Hisashi Iwakuma. The Yankees are still desperate for pitching with internal options (including C.C. Sabathia) dwindling, and the Red Sox have now cleared the rotation and payroll space to make a run at at least one of those guys. But the D-backs have the room in their payroll to afford one of them, and they may have learned from Bronson Arroyo — the pre-injury Arroyo — that half-measures don't make much of a difference.
It seems to me that the D-backs won't miss Parra next season (the 2014 version, anyway), but in Prado's absence, production out of third base may suffer. Pablo Sandoval isn't going to happen, and signing Chase Headley would be the equivalent of signing Arroyo all over again. Considering, then, that the deadline trades will likely lesson production from position players a bit in 2015, landing a significant rotation upgrade in the winter with the "war chest" may make the difference between whether or not the D-backs' handling of the 2014 trade deadline will actually help the club.