Yesterday, I explained that while the D-backs could use some rotation help to start 2015, the fact that Patrick Corbin and Archie Bradley and others may be available as the season progresses means that paying for consistency or bulk innings really just isn't necessary. Injury risk guys are cheaper, and third-tier starting pitcher free agents may be all that the D-backs can afford or fit into their long term plans.
It seems, though, that when the D-backs focus on free agent options, they should look more closely at pitchers who offer quality as their upside, rather than quantity. Don't read that as me saying "get the high reward ones." It's about fit, and for some teams, the bulk innings are more important. For the D-backs, it's less so. An injury-prone starter with upside who seems likely to be healthy to start the season might be worth more to the D-backs than to other clubs. And there can be even more to it; yesterday, I suggested that Brandon Morrow might be a particularly good fit for the D-backs for the reasons above, but also because he's a fly ball pitcher, one behind whom the D-backs could play Ender Inciarte in the outfield instead of Mark Trumbo.
But injury risk isn't the only thing that could cause us to doubt that a pitcher could keep up a good performance all season. A pitcher with a spotty track record could also give the market pause, enough to make a pitcher with very good 2014 results treated as a third-tier option.
Wada Turnaround
Tsuyoshi Wada didn't pan out well for the Orioles when they signed him to a two-year, $8.14M deal with a $5M option for 2014. In fact, Wada pitched just 2.2 innings for their Triple-A club in 2012, following that up at the same level next year with a solid 4.03 ERA, 3.93 FIP effort in the minors in 2013.
After the Orioles declined the 2014 option, the pitching-hungry Chicago Cubs pounced with a minor league deal. Wada pitched to an obscene 2.77 ERA in Triple-A for 113.2 innings before getting the call up to the bigs — and contributing 13 starts with a 3.25 ERA.

After Wada's early success, Jeff Long (now of Baseball Prospectus) broke down how Wada was doing what he was doing for Beyond the Box Score. I also took a long non-published look at Wada just after that for purposes of an expansion draft simulation, and I can say that if that simulation were real, the Charlotte Divide would have been poised to target Wada this offseason as a potentially strong contributor to the starter-by-committee staff the Divide was putting together.
Wada is a mystery; that helps put him in the third tier of free agents. But Wada has also demonstrated that his mixed-bag arsenal can achieve above-average performance, despite an uninspiring fastball that sits around 89 mph. We don't have anything close to the normal array of evaluation tools for Wada that we would normally have for a pitcher his age, given he's thrown less than 70 innings with PITCHf/x. But, acknowledging that his 2013 stats were unspectacular and that we can't trust conclusions from a sample this small, here's what we learned in 2014.
Wada's fastballs do not get punished, and given their velocity (slightly below average, even for a lefty), it's shocking that its pitch value was only slightly negative in 2014. In fact, his fastballs get by quite well with a little help from their friends.

I give you the raw pitch value numbers because there is some disagreement; Wada didn't throw many curveballs (46, or about 5% of pitches), but as classified by the PITCHf/x system, they weren't so hot. Really, all of these numbers are remarkably close to average.
And that slightly-negative-value fastball? It's really two fastballs, a four-seam and a sinker, according to Pitch Info and Brooks Baseball. The two pitches' average velocity is nearly identical (90.18 mph for the four-seam, 89.60 mph for the sinker), but there is a more than two inch difference in their horizontal movement (5.88 inches for the four-seam, 8.29 inches for the sinker). The four-seam runs two extra inches vertically (10.29 inches versus 8.13 inches for the sinker), so there is a clear difference; one runs in or away, the other falls a bit more than expected. And there's a good chance they look pretty similar the whole way to the plate.
Whether Wada actually throws a changeup at all is a question of semantics. Pitch Info and Brooks Baseball classify it as a splitter, and it does have about 8 mph difference in velocity between it and the average velocity of Wada's four-seam fastball. Its results were fairly good, but obviously the effectiveness of Wada's split/change or curveball cannot be gleaned from this small a sample.
Given the number of fastballs he's thrown, we can trust that it's unlikely to be either particularly good or particularly bad going forward. But like with Wada's less frequently thrown pitches, there aren't enough batted balls in Wada's MLB body of work to feel confident that what they say will continue (and while he seems to have been a fly ball pitcher in his MLB stint, his Triple-A stats suggest he's leaned heavily in the ground ball direction).
It may be that Wada's greatest asset is deception. Here he is throwing a slider for a called strike against Charlie Blackmon in July: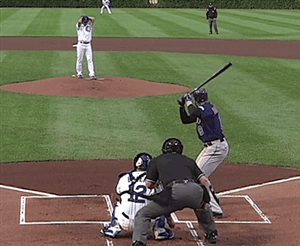 Wada seems to hide the ball well. His arm action may look to the batter like he's a three-quarters slinger, but just before release, he snaps the ball down instead of rolling it out of his hand at an angle. There aren't too many pitchers like that, and that can be its own benefit (Exhibit A: Josh Collmenter), but in addition, there is evidence that mixing up different looks can make everyone more successful.
And what's the downside, exactly? In the rotation Wada might tax the bullpen a bit more than most; of his 13 starts last year, only a couple were stinkers, but only three had him lasting more than six innings. The D-backs aren't short on long relief options, but there's a decent chance he could be a good one (that's also a good way to describe Yusmeiro Petit, and what would Petit make right now in free agency?). What's more, even though righties were a little above average offensively against him (which is par for the course for a decent pitcher), he was lights-out against lefties (.177/.245/.184 is ridiculous).
Wada is a wild card, because he will be 34 before the beginning of next season and last season he had to settle for a minor league deal. A three-year, $20M deal is not outlandish, but neither is a one-year, $4M deal. It's up to the market, and with the Cubs' needs, one might guess that 1) the Cubs will bid for Wada, and 2) if they get outbid for Wada, the winning team might not be getting what they think they're getting.
But the D-backs can at least make sure that Wada doesn't sign on somewhere for free. He's at least as Nuno as Vidal Nuno, and if that can be had cheaply, it's an asset. Let's say he could be had on a one-year deal for $6M or a two-year deal for $11M. There's little chance to get burned, because it may be that in the worst-case scenario, the team would have an overpriced but particularly effective lefty matchups guy. Sign me up.