Roundup: Kendrick Nixes Montero-Ethier Deal; Tomas to Try Third Base; Gregorius Trade Reaction
Toward the end of Episode 8 of The Pool Shot, Jeff and I talked through some sixteen left-handed "middle of the order" bats, guys who had hit a decent number of home runs against right-handed pitchers in 2014 and who could conceivably (in my mind) be available. We left out a few first basemen who couldn't play elsewhere, but otherwise didn't pay attention to position played — since the D-backs are still stocked everywhere on the field, even after trading Didi Gregorius. We found a few that might be fits (Josh Reddick, Juan Francisco, Carlos Gonzalez), but overall, the review led us to believe that adding a left-handed bat would be very difficult. That exercise was prompted by this tweet from Fox Sports's Jack Magruder:
#Dbacks will not move Trumbo, Stewart said. Still in market for left-handed power bat to hit in@middle of order, Stew added

— Jack Magruder (@JackMagruder) December 5, 2014
The hardest part is finding a position to upgrade; the D-backs have an overflowing outfield crew that includes two lefties with potential (David Peralta, Ender Inciarte), although just one, Peralta, is likely to be viewed as a "middle of the order" bat. That's part of why we talked about Juan Francisco despite my love affair with Jake Lamb; if Lamb starts the season in the minors but Yasmany Tomas is also being tried out in the minors at third base, there could potentially be some room there. And if Tomas doesn't look like a long-term third baseman, Francisco could stay in the mix and be a helpful pinch hitter off the bench, a lot like Eric Chavez was when he did so well in 2013 and 2014.
But here's the thing: the D-backs already have one of the most outstanding, arguably middle-of-the-order left-handed bats in the game at one position: catcher. Yes, maybe one regrets a bit that most of the team's top hitters bat right-handed. But if you've got Miguel Montero in the mix, with help from David Peralta and possibly Jake Lamb, performance against right-handed pitching isn't likely to be a weak spot.
Unless, of course, Montero is traded. Ken Rosenthal wrote Saturday night that the Dodgers and D-backs had agreed to a trade that would have sent Montero and "lower-level prospects" to Los Angeles for Andre Ethier, Tim Federowicz, and some cash to help defray the difference between Ethier's salary and Montero's. Rosenthal also reported that it was D-backs ownership that stopped the trade in its tracks, and it's been rumored that Kendrick did so because he likes Montero.
Who knows how close this was to happening, and if it was really Kendrick who nixed the deal. That's one way to kill a deal when you have second thoughts, without losing face with the people you negotiated with. Just ask Theo Epstein, who had Larry Lucchino fall on the sword to prevent a Kelly Shoppach to Colorado deal because Epstein had agreed in principle but then found a better swap.
But if Kendrick really did step in of his own accord, that really flies in the face of what we thought they were building with Tony La Russa at the helm as Chief Baseball Officer. The idea, I believe, was to give CEO Derrick Hall and Kendrick an interpreter of sorts; I would have thought that by handing over the keys to La Russa, they were entrusting him with final say over baseball moves. Two years from now, this non-move could be cited as the first incident in a series that led to an ugly divorce. Or it could be that Kendrick just has a favorite player, a lot like Orioles owner Peter Angelos did with Nick Markakis.
In terms of the baseball decision to not make this trade, though, I think Kendrick got this one right.
I'm not Montero's biggest supporter, although he has been fantastic in the pitch framing department. Considering we've seen the pitching staff underperform so consistently, though, any change might be a good idea. I don't yet have the data to suggest that it was rigid pitching plans that has caused pitchers' downfall, but something is going on. To the extent there's a chance that pitch calling is to blame, trading Montero is a good idea.
It's the return that is curious. If the D-backs are determined to add a left-handed bat, Ethier is not the worst idea. But that doesn't make it a good idea. When I was scanning for players for that exercise on The Pool Shot, I stopped at Chris Coghlan, who had a lowly total of 9 home runs last season. That's why I didn't even detect Ethier, who hit all of four home runs in 2014. It was just 380 plate appearances, but still — prorate that, and you get six bomb. In 2013, Ethier played more and hit 12 home runs. There is every reason to think that Ethier will be an above-average hitter next year (Steamer projects a 111 wRC+), especially since 2014 was Ethier's first season below a 120 wRC+ mark since 2007.
But what would the D-backs have done? Played Ethier every day? If so, they would have dealt with his weakness against left-handed pitching: career 75 wRC+. The only reason to acquire a left-handed bat for the outfield is to think doing so would make for an upgrade over David Peralta. That was the yardstick that Jeff and I agreed to use on The Pool Shot, and I can't think of a reason to abandon it. Peralta has played so little in the majors (or, indeed, in organized baseball) that projections are going to regress to the mean for him more than for the average player. But he's still projected to be an above-average hitter next year, if barely (Steamer: 102 wRC+).
Another way to look at this: Ethier's projection is a 111 wRC+. In 2014, Peralta produced runs to the tune of a 110 wRC+. One point of wRC+ is a rounding error, not a reason to ditch Miguel Montero.
We may have dodged a bullet here. Although it would have been fun to have Tim Federowicz (I am very impressed with the D-backs' effort to acquire him), especially after that game last season in which he was called for catcher interference twice with Paul Goldschmidt at the plate (in the same game!). One of the results was… not so good. Note how Goldy's bat shoves Federowicz's glove out of the way: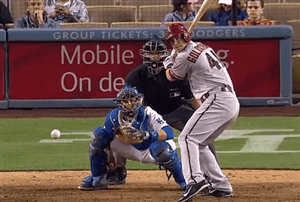 On to the links:
We also discussed this on Episode 8 of The Pool Shot (partly, answering a Twitter question from Dustin Dietz): the D-backs will reportedly try Yasmany Tomas at third base, as Nick Piecoro writes. We do think it'll increase the odds of Tomas starting in the minors, although a bit of time there can't hurt anyway, especially if that gives Jake Lamb more of a chance to show who he is. There's no data to say he can't play third, and hopefully if he can't, he won't (although the team seems intent on filling up the outfield enough to make that very difficult). I'm skeptical, but if he can play even fringe-average defense, third base is probably a wise idea — especially if that means more playing time for Ender Inciarte in the outfield. The quote from an "executive with an AL team" is perfect.
If you want another reminder of how spoiled we are to have Nick Piecoro covering the D-backs, I encourage you to give all of his offseason overview piece from Saturday a thorough read. Hall's payroll comments seem unrealistic, but not alarming. The only thing that worries me is Stewart's comments about how adding to the outfield without subtracting is possible because Peralta and Inciarte can be optioned. What exactly was 2014, if not some good evidence that both guys could be worthy of starting roles? My ideal outfield would have Inciarte playing almost every day, and Peralta platooning against RHP. And as noted above: any lefty addition to the outfield had better be a significant step up from Peralta, who is not an All-Star, but who can still be an above-average hitter, especially if Cody Ross sticks around.
Bob McManaman thinks Didi Gregorius will fail with New York. That may be true, but that doesn't mean McManaman has the faintest idea what he's talking about. Some (including Steve Berthiaume, apparently) regularly accuse sabermetricians of cherry-picking numbers to suit an argument. That's ugly and despicable, and I think wrong. Sure, you might get a research idea in a vacuum, and there is a selection bias for writers because if the research shows that something just isn't a big deal, you might not write it (although you might). But that's not intellectual dishonesty, that's intellectual honesty. You let the numbers tell you what the conclusion is. Here, McManaman commits the sin of cherry-picking, citing not just Gregorius's batting average, which is only slightly below league average (which he doesn't know), but his atrocious average against lefties. Bob, that means he's got a good batting average against righties. Which kind of undermines your conclusion, especially with your assumption that the Yankees will use him as an everyday player.
Jeff Sullivan analyzed the three-team deal that sent Gregorius to New York, with a number of interesting D-backs notes. Like I did, Sullivan focuses a bit on Robbie Ray's drops in strikeout rate as he climbed the minor league ladder, although he brings up a Buster Olney tweet that I had missed, reminding us that the D-backs recently added Mike Russell from the Tigers, who probably knows a thing or three about both Ray and Domingo Leyba. That's a good sign. Not as good: Sullivan thinks the D-backs didn't get ripped off, but that they got the "worst exchange" of the three teams. Sullivan makes a lot of great points, but the main thing I'd add is the position of the D-backs. Sullivan may prefer Shane Greene to the Ray/Leyba package, but does he prefer Greene to Jeremy Hellickson? The D-backs have a number of Shane Greenes, even if Greene ends up being better (a good chance of that, considering Greene is the one that won't be pitching in Arizona). Lottery tickets like Ray are worth more to the D-backs than to the average team, maybe.
According to Adam Rubin and GM Sandy Alderson, the D-backs didn't have extensive conversations with the Mets about Gregorius, but the did reach out about a swap for Noah Syndergaard. Sure, that would have been great, but I would have been shocked if the Mets had gone for that. Maybe it was a starting point, with the D-backs prepared to kick something else in. I'm sure there are dozens of other offers that don't get reported, but the Mets folks were probably sniffing around with that team an obvious fit.
Blake Beavan's star has fallen quite a bit, but he is one of a handful of minor league signings "with major league potential" identified by Baseball America's Matt Eddy ($). Also signed: catcher Blake Lalli, who was the club's fourth-string catcher last year, after Montero, Tuffy Gosewisch, and Bobby Wilson. Apparently right-hander J.C. Ramirez has intriguing stuff. Also signed were third baseman Jamie Romak, journeyman shortstop Ronald Ramirez, and outfielder Carlo Testa, who signed out of independent ball.