As we recently discussed on the latest edition of The Pool Shot, it's prospect season right now. Some prospects will be making their first Spring Training appearances in about a month, hoping this is the year that they make the 25-man roster right out of the gate. Those opportunities are rare, and for the Diamondbacks, there's very little chance that a prospect or two will vault himself onto the Opening Day roster, with perhaps the exception of Jake Lamb and, just maybe, a relief prospect or starter should someone go down in camp. For the most part, the prospects you've seen written about all winter long will open the year with their assigned minor league affiliate and continue their journey to, if all goes according to plan, the majors.
But there's not usually a whole lot of agreement about who the top prospects are. I mean, there are some that clearly stand out, but underneath the more obvious choices, there's a lot of movement and variance. Some may find that confusing; I find that intriguing. Everyone ranking prospects has his or her preferences, be it upside, proximity to the majors, positional bias, whatever. None of that's wrong. It's a choice that reflects that particular moment in time, not something that's meant to last forever. Sometimes new information becomes available, sometimes a prospect's performance level changes dramatically, sometimes prospects get hurt and, as the Diamondbacks have surely experienced, sometimes prospects get traded.
If there's one word that I'd caution everyone looking at prospect lists to keep in mind, it is this: fluid. The landscape of the prospect world is always changing, always evolving. Take the trade of Andrew Velazquez and Justin Williams, for example. I had them 8th and 9th, respectively, in my original top 10, then poof, they were gone. That was a completely unpredictable move that caught just about everyone off-guard. But, the organization has added to the ranks with Yoan Lopez, Domingo Leyba and Robbie Ray in the last several weeks, perhaps actually strengthening the system since before the offseason began. In short, you never know what's going to happen and that's the beauty of the whole exercise.
And with those aforementioned additions to the system, my rankings have changed. Obviously Velazquez and Wilson are gone and have been slotted out of the system. In their wake came the new guys and I've slotted them in, replacing the traded prospects, re-arranging some others and ultimately bumping Peter O'Brien out. My new top-10 can be seen below.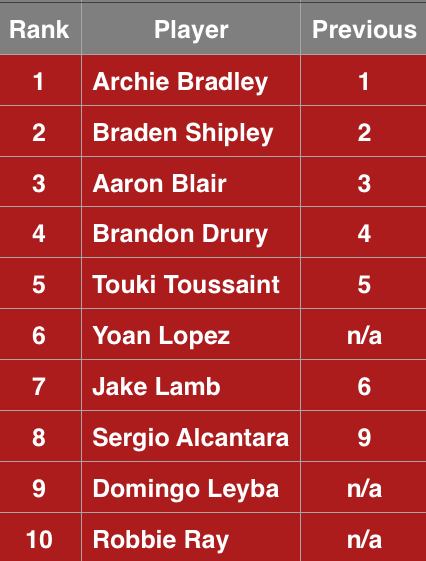 So yeah, fluid. There's clearly been moment in the latter half of the list due to the imports and exports of the winter. How I've chosen to weight those additions are completely subjective. Yoan Lopez presumably has a #2 or #3 starter upside based on a few of the comps that came from scouts after he signed. Then again, some saw him as a future reliever because they were unsure he could make the necessary adjustments to his delivery. I can't speak to how coachable the kid is, but this tells us that there's clearly a worthwhile upside mixed with some legitimate risk. That's completely understandable as that's essentially what $16 million on the international market buys you these days. Still, I'll take the upside arm, for now, just a tick over Jake Lamb, partly (80%) because I'm legitimately worried about how much swing-and-miss Lamb may showcase in the majors and partly (20%) because Ryan loves him and I'd do just about anything to ruffle Mr. Morrison's feathers.
In speaking with Jason Parks, formerly of Baseball Prospectus and now with the Chicago Cubs, he was quite fond of Sergio Alcantara and the reports I've heard since last winter have been nothing but encouraging. Although he's just the age of your average 2014 high school draftee, he's already has two minor league seasons under his belt. Excellent plate discipline suggests that he understands the strike zone and has the ability to work counts in his favor. He'll never hit a ton, but the defense should be more than ample at shortstop. He's got a major league regular upside should he fill out his frame and add some strength.
The new guys from the Tigers, Domingo Leyba and Robbie Ray, round out the list. While both guys come with their question marks, I prefer Leyba since he's younger and ultimately may have the higher upside should the future grades and reports about the hit tool come to fruition. He's limited to second base, and that hurts some, but if he can prove the feel he's shown with the bat is real, then he could be something. Then again, he strikes me as having a high bust potential, so I'm just not that confident in him at this juncture. Similarly, Ray is a guy who's got his feet wet at the major league level in 2014, only to get crushed and jettisoned back to AAA where things weren't a whole lot better. At 23 and on his third organization after a series of trades, Ray still has time and should start his 2015 campaign in Reno and look to bounce back after the toughest season of his career. He could be a solid #4 if things click and would be a nice addition to the crop of young D-backs arms. Then again, he's got to prove he can overcome the hurdles that derailed his 2014 campaign first.
Those are my changes now that, by-and-large, the prospect landscape has settled. It's late in the process for a trade to occur, although it's still definitely a possibility. But my changes aren't the only newsworthy prospect tidbits, because as I previously alluded to, it's prospect season and by now every major publication has their prospect rankings out. There's plenty of agreement and plenty of disagreement among ESPN's Keith Law, Baseball Prospectus, Baseball America, FanGraphs' Kiley McDaniel, Jim Callis and Jonathan Mayo of MLB.com, and, humbly, myself. With all of these lists now available, I felt it wise to compile and develop a composite ranking of D-backs prospects. So, without saying too much too soon, here's the composite list followed by a handful of observations.
Notes
The Big Three are pretty much a solid bloc at this point with only Keith Law having Shipley ahead of Bradley and only MLB.com having Blair out of the top three. Essentially, this group is a triumvirate of right-handed awesomeness that's universally recognized.
Things start to deviate a bit after The Big Three as Toussaint and Drury were close to one another with Jake Lamb not far behind. There's risks with each: Toussaint has a long ways to go, Drury's breakout may not be considered "for real" yet and Lamb might have trouble making contact against major league pitching.
Depending on the timing of each particular list being published, Yoan Lopez is missing from several of them. But he should be considered in the Drury/Lamb range depending on what you think of all three guys and how you think his Cuban game will translate to the states.
Sergio Alcantara, Peter O'Brien, Robbie Ray and Domingo Leyba form another chunk of the system although all four have start differences from one another. Those who prefer defense will like Alcantara, those who prefer raw power will take O'Brien, those who like close-to-the-majors production will like Ray and those who buy a one-season breakout may choose Leyba. Pick your poison, there's plenty to love and hate with each member of this quartet.
Nick Ahmed got some love, and rightfully so. He's got the defensive chops to remain relevant for a long time. Can the bat improve at all? Even if it doesn't, he's a major leaguer as a bench player, and that's not nothing.
The Baseball Prospectus team liked what they saw in the AFL from a handful of Diamondbacks prospects and put it to use by inserting both Jimmie Sherfy and Kaleb Fleck into their top 10. I'm not a big fan of ranking relievers that high, but then again, I could make a strong case for bumping a couple of lottery tickets from my top 10 in favor of some guys who appear likely to contribute in the near future. No matter the preference, it's a good sign when scouts love your prospects.
A pair of 2014 prep outfield draftees snuck onto the list in Marcus Wilson and Matt Railey, although he two are vastly different from one another. Wilson can absolutely fly, was one of the youngest players drafted in his class at just 17 and is extremely raw at the plate. He doesn't project to hit for much power despite his lanky 6'3" frame. Railey, on the other hand, was old for a high school selection at 19 but flew a bit under the radar and had scouts and analysts praising the D-backs for getting him in the third round. He projects to have at least average power and plus speed with an adequate arm, making him an option all over the outfield defensively.
It's good to see where the rest of the industry rates the Diamondbacks' prospects, and after seeing it, I feel good about my list. But my list is just that, a list that reflects this moment in time. It'll change, things will shift and by midseason, I'd suspect that I'll have a new order. But that's part of the prospect allure and I'll be glued to the minors all year long to see how these players progress. I'm already giddy with anticipation of affiliate rosters being released and catching glimpses in Spring Training. Can baseball just get here already?