Raking Jamie Romak Could Fit Into Impending Roster Puzzle
Jamie Romak is 29 years old. There, now that we've gotten that out of the way, we can marvel together: Romak currently has a .301/.381/.570 line at Triple-A. If it's OPS you like, that's a .951 — which ranks him fourth in OPS at the Triple-A level, including both the Pacific Coast League and the International League. Romak isn't a prospect in any sense, but he doesn't have to be to contribute at the major league level — we've seen that with Tuffy Gosewisch recently, and it will happen again. Thanks to an unusual contract clause and some trade deadline tension, Romak's situation may get resolved sooner rather than later.
Rolling at Reno…
That .951 OPS and 4th-overall ranking isn't the result of Aces manager Phil Nevin picking Romak's spots well and getting him the platoon advantage frequently. Romak is 7th in plate appearances in Triple-A, and no one else in either Triple-A league really comes close to his combination of OPS and total PA.
Romak has poured it on more and more as the season has progressed. According to mlbfarm.com, Romak has slashed .333/.429/.736 in the last 30 days, with an eye-popping 8 home runs in just 87 AB — and 14 walks. Pitching prospects on MLB.com Top 20 lists have posed a bit more of a challenge to Romak; in 171 PA against them, Romak has slashed .273/.333/.520.
As resumes of 29 year olds in Triple-A go, it's about as strong as you can see. This is the third season in which Romak has played mostly in Triple-A, and things have gone well.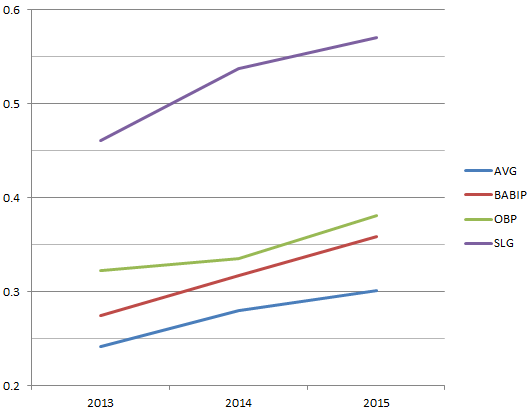 But that's the trick; Romak has been mostly at Triple-A for three seasons. And mostly at Double-A for three seasons. And mostly at High-A for four. And they aren't necessarily in a clean order, either. Comparing Romak to league average for the PCL, he started above average (104 wRC+), got there solidly in 2014 (120 wRC+), and now stands among the league leaders (150 wRC+). Based on the pace of Romak's progression to date and that last number, if there were a Quadruple-A, he'd be promoted there right now.
…All the Way to Phoenix?
There is no Quad-A, unless you decided to think of the Nippon Professional Baseball league that way. If you had thought of that already, you weren't the first person. From earlier this month at MLB Trade Rumors:
Pursuant to an upward mobility clause like the one we explained yesterday, the Diamondbacks have notified the rest of the league that infielder/outfielder Jamie Romak is available to any club that is willing to add him to its active roster, MLBTR has learned. The 29-year-old is obviously hoping for a chance at big league playing time, but has also asked the team to sell his contract to a Japanese or Korean club if an MLB job is not available.
This is the first I'd ever heard of an "upward mobility clause," I'm not ashamed to admit. It's a little like the type of clause that caused the D-backs to make a roster decision by June 1 with Jarrod Saltalamacchia or risk losing him as a free agent; the D-backs had to offer him around the league in kind of a pseudo-Rule 5 situation, and put him on the roster or move him if they found a taker. This can't have been something that Romak could trigger whenever he wanted; most likely, like the Salty situation, there was a date on which this upward mobility right vested. Since the news broke on July 1 and that's a nice round number, maybe we can go ahead and guess that's when it vested.
This clause was a nice innovation for a player like Romak; I'm not sure whose idea it was, but for a guy in his second go-round as a minor league free agent, Romak had to be looking hard for a fit that might see him get back to the majors. The D-backs signed Romak all the way back in mid-November, at a time when they had to know their roster was going to be in flux. Much of the offseason's doings were yet to happen from Romak's perspective, too, and I think from his perspective, there would be a tough balancing test between not staying out on the market too long and trying to know enough to know who to sign with. This clause speaks directly to that balance, and it seems like something the D-backs might have used to get Romak (without which they may not have), and something Romak was able to avoid losing a precious year to unforeseen roster variations.
The D-backs's machinations didn't stop there, either. This is the same organization that has tried half a dozen other players at positions other than their natural position. They moved Brandon Drury from third to second, and had started to see that pay off in November of last year. Natural OF Yasmany Tomas got a chance to stick at third. 2B Aaron Hill and SS Chris Owings saw their roster value increased by adding another infield spot to their repertoires. 1B/OF Peter O'Brien got multiple chances at catcher, and moved Jarrod Saltalamacchia to catcher from his natural position, free agency. True to form, the D-backs had Romak diversify his own portfolio, getting him a significant number of starts at second base at the beginning of the Reno season.
At this point, Romak is playing third base most games, but Nevin is still plugging him in occasionally at first, second, left, and right. Just like Chip Hale hasn't been able to give Paul Goldschmidt many games off, Romak's bat has been tough for Nevin to leave off the lineup card. Getting those extra starts around the diamond are a big part of why Romak is 5th in the PCL in plate appearances. The flexibility that allows that could be what puts him over the hump in terms of the D-backs' major league plans for the rest of the season.
A Small but Decent Experiment
Romak is still in the D-backs organization, which means maybe we can infer that no team indicated they'd trade for Romak and put him right on their 25 man. Somehow, they've avoided putting him on the Active Roster themselves, too — although these last 30 days in particular have put a toll on the 40-man roster. With four players currently on the 15-day DL, there are just 11 players on the Reserve List (40 man) who are not on the Active Roster (25 man): Enrique Burgos, Will Locante, Evan Marshall, Kevin Munson, Addison Reed, Matt Reynolds, A.J. Schugel, Allen Webster, Brandon Drury, Socrates Brito, and Danny Dorn.
That's a relief-heavy mix of players, and that may not stay that way. We also don't know what kind of roster move the D-backs will make now that they've announced Zack Godley will start tomorrow. If the D-backs do trade or cut an infielder soon, though, it's far from a sure thing that Phil Gosselin will be ready to step in. A position player would be added, and with Brito far off and a Drury promotion a Big Decision that may not depend on these kinds of moves, it may mean that someone new is added not only to the 25 man, but to the 40. That could easily be Romak.
Why not? Depending on who got moved, there's little incentive to add a player who can play shortstop; right now the D-backs have three active, and they can get by with two. Meanwhile, pinch hitters are in shorter supply, especially with Oscar Hernandez appearing ineligible for that kind of thing and Salty on the DL. Maybe Romak can hit a little and maybe he can't; I'm not sure there's a major distinction between he and Dorn that way, but I'm also not sure there's a major distinction between Romak and Nick Evans, last year's Romak, who did manage to do some damage with MLB at bats.
If Romak can play some second base and the team continues to be comfortable with moving fellow PCL standout Owings back and forth in the middle infield, then Romak could be the de facto backup at seven different positions. That has some appeal for a team that may be looking at rostering three catchers for much of August. A look at the depth chart right now: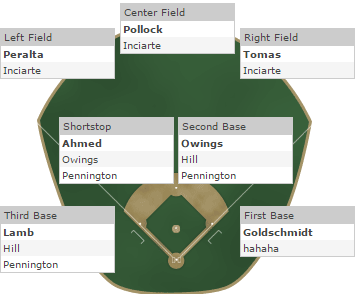 We'll get back to the topic of backup first basemen at another time, but it does matter now. Carrying thirteen pitchers, the D-backs continue to make do with just four OF and have the middle infield covered thoroughly. Let's say Pennington was traded and Hill was cut. Here's how Romak could fit: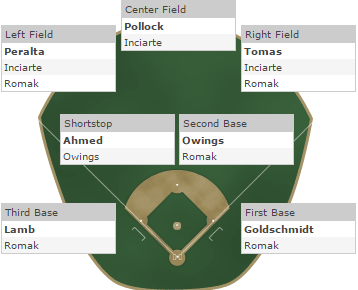 Thin? Definitely. But what you're looking at is just 9 players covering 7 positions at least two levels deep. You could add nearly anyone to that, or you could carry 3 catchers and still work with a 13-man pitching staff. If it were this and 3 catchers, well then Castillo and/or Salty is your guy as a pinch hitter to go along with the one of Peralta/Pollock/Tomas/Inciarte that hadn't started that day. Romak would stay mostly in reserve for a rainy day. If you added someone in more of a hit-first capacity like a Peter O'Brien or an Evans or a Dorn, Romak still works mostly with versatility and gets more of his time as an occasional starter than as a daily pinch hitter.
But if you added Phil Gosselin to this mix or Pennington or Hill stayed on the roster, well then Romak takes over that hitter role, and maybe that's not such a bad thing. Double switches could be brought back into Hale's repertoire. It could work.
It's not ideal, sure. But it's an unusual roster, one for which we thought Jordan Pacheco might actually work, since having a third catcher wouldn't hurt if one was Oscar Hernandez — unusual positional flexibility made Pacheco a viable option even though he seemed like a pretty good bet to finish at or below replacement level. Maybe Romak is in a similar spot.
And maybe this is worth doing, if just for next season. The team doesn't need Pacheco next year; a solution may come from outside the organization, or Gosewisch and Castillo may split time, but there's no abnormal roster pressure cause by Oscar Hernandez, who may spend all of next season in the minors (and would only be on the roster to actually play, otherwise). The team also will not have Pennington next season unless he signs a new deal, and by the end of spring training, it's hard to see Hill in Sedona Red. Maybe you'd prefer Phil Gosselin's glove to Romak's, but maybe you'd prefer Romak's bat — it's not a bad backup plan. A team can always find a Dorn or an Evans, but if a player can play in a middle infield spot (or third base, really) without being a black hole on offense, he's probably on a major league roster somewhere. Adding the OF/INF flexibility is a bonus for a squad that projects to have four starting-caliber outfielders and little desire to have to work in another player there just to carry another bench bat.
What we don't know, though, is how to evaluate Romak's bat at the big league level, or whether his skills would survive intermittent playing time. That may or may not rise to the level of "factor" in the D-backs' decision making as the trade deadline approaches. Either way, if a promising deal for Pennington and/or Hill surfaces in the next 9 days, Romak will be ready for the opportunity.