In the first year of collecting exit velocities, we'€™ve uncovered a few truths. The first and most important, although also the most obvious, is that the old adage of "€œhit the ball hard and good things will happen" is consistent with the data that'€™s been recorded. When the ball is blasted to virtually any field, the odds of a good outcome increase tremendously. And by blasted, we'€™re talking about balls hit more than 110 miles per hour. Very few batted balls meet or exceed this threshold, but the ones that do are consistently valuable producers of offense.
Chase Field has always been a hitter's park. Just ask the bevy of middling starters that have been chased out of Arizona for pitching to career lows, or the journeyman hitters who have €œ"discovered" success in a Diamondbacks uniform only to slip back to medicority once they play elsewhere. Park factors suggest that it'€™s one of the five toughest places to pitch most years, but if you'€™ve watched closely, it sometimes seems even more brutal than that. You won't hear the hitters complaining, of course, but it's worth acknowledging the funky effects that the park produces.
In 2015, there have been some excessively hard hit baseballs at Chase Field, and with just a few days of the season left, we'€™d might as well have a look at the hardest hit balls in Arizona this season. Below are the awards for the those hits, starting at 114 mph.
Honorable Mention
First up, and just missing the hardware, is former Diamondback Justin Upton with an absolute crush-job off of my main man Jhoulys. I mean, if there's something to be mad about, it's that he messed with JC. Forget all that other nonsense. Nobody messes with JC. Okay, Upton just did.
Bronze Medals
Carolos Gonzalez singles off of Rubby De La Rosa – 115 mph – July 5, 2015
In the top of the second, CarGo laced a RDLR two-seamer back up the middle. It was fielded by A.J. Pollock deep into center field. Looking at the zone breakdown, it's not hard to see why it was ripped. The ball was up in the zone and it got punished.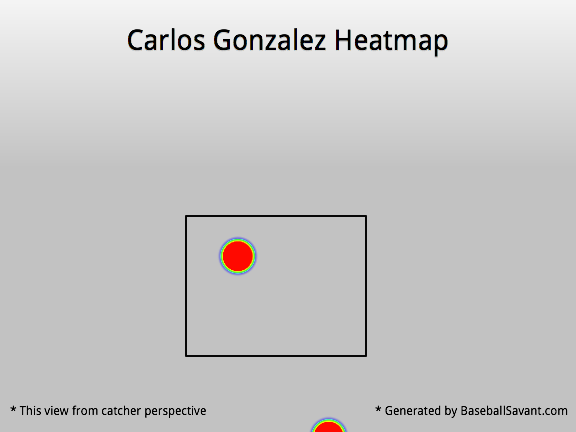 Carlos Gonzalez singles off of Archie Bradley – 115 mph – April 28, 2015
This is the infamous "break Archie's face" hit, and unfortunately for Mr. Bradley, the pitch was absolutely smoked. You don't need to be reminded of the play, and I'm not going to embed it out of respect for the skull of Arizona's promising young hurler, but you can look it up if you want to. Of particular note, that pitch, this time a changeup out of Bradley's hand, was not hung. Instead, it's the bottom pitch on the heat map above. Yes, that ball was way down out of the zone and barely visible on the chart, but it was inside and if there's a spot you want to stay away from to lefty swingers, it's down and in. Cargo somehow dropped the bat head on that pitch and the rest is, admittedly gory, history.
This was the first time we caught a real glimpse of the new-and-maybe-improved David Peralta. Early in the year, this homer was a contender for hardest hit ball in baseball. The 91.4mph four-seamer got completely obliterated off of Ryan Vogelsong and ended up deep in the seats. When it's smoked from Peralta, you know it's smoked. Observe:
Silver Medals
Ah, Mr. Trumbo, the gift that keeps on giving. Prior to his departure to Seattle, there was a #trumbomb sighting thanks to this 92.2mph four-seamer from the eclectic Sammy Solis (note: I have no proof that he's eclectic, but his name is Sammy Solis, so…). Check where Solis left his one: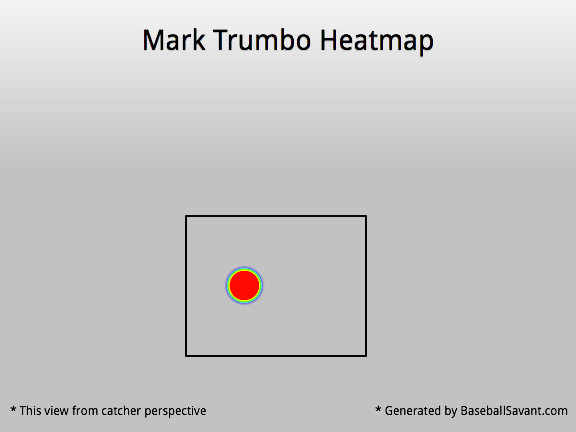 Now, I'm not real smart, but I don't think that's a good place to pitch Mark Trumbo. As you've maybe heard, he's got some raw. You can see where it started above and below you'll see where it ended up.
Bryce Harper doubles off of Rubby De La Rosa – 116 mph – May 12, 2015
Rubby is the only repeat-offender in the pitching category on the list and it's not hard to figure out why. He's not particularly filthy and he's struggled against lefties all year. Both Bryce Harper and Gonzalez swing from the left side, and when you hang 'em like this, bad things happen: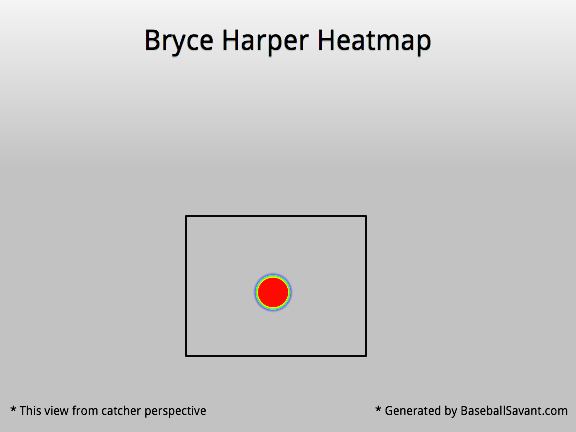 Luckily the ball stayed in the yard and only went for a double. The two-seam fastball registered 95.8mph on the gun, but Harper just didn't care. Maybe that's why he's the eventual MVP. Either way, it was too many misses for Rubby this year and too much trouble against lefties. When you miss your spots in the majors to elite hitters, there is no forgiveness.
Gold Medal
Mark Trumbo singles off of Nick Martinez – 117 mph – April 21, 2015
Now I know what you're thinking: how did Paul Goldschmidt not take home the gold? It seems unjust, right? But Trumbo's gonna Trumbo and when he runs into one, man, there's just no one this side of Giancarlo Stanton who's going to hit it harder. Back in April, Nick Martinez grooved a two-seamer out over the plate and Trumbo got extended. Fortunately for the Rangers, Trumbo didn't lift the ball and instead hit the frozen rope to end all frozen ropes:
The ball, at its peak, is never more than nine or ten feet off the ground. It registered a launch angle of zero degrees, which is probably to say that it wasn't technically launched at zero degrees, but the angle was so small that it didn't register on StatCast. This tells us the bat hit the ball at nearly the exact same angle that it crossed the plate. With how hard Trumbo swings, that resulted in a bullet that Leonys Martin fielded about twenty feet from the warning track. He took two steps to his left and scooped it up. Think about it: the ball was hit so hard, and so low, that it traveled all the way to deep center on two short hops and the center fielder fielded the ball like a second baseman on slow roller in the infield. That thing had some hair on.
Departing Thoughts
This was kind of fun, but we can also take something away from this little exercise. First, I miss Mark Trumbo dearly; now all I have to complain about are the pitchers. Second, every pitch that was hit at Chase Field at 113+ resulted in a hit. There were a few others from Jorge Soler, Gregory Polanco, Mark Reynolds and others that didn't make this list, but they all went for hits. All of them. So when you hit it on the screws, you're luck tends to be pretty good (although Archie Bradley may disagree).
That isn't going to come to a surprise to many people – everyone wants the dudes who rake. But being able to quantify it is something new, and if there are any nuances to the data, as there are sure to be, there may just the opportunity to find undervalued hitters. That's something we may explore as we roll into winter, but for now, sleep with sweet dreams of blistered baseballs from David Peralta and 2016 will be here in no time.