Once upon a time, the Diamondbacks were a relevant baseball team. If it seems like that was a long time ago, it's because it kind of was. If it seems like that wasn't a long time ago, it's because it kind of wasn't. I don't really know what that means – it was a middle amount of time ago? The amount of time ago isn't all that important, but what is important is realizing that it did happen, and then something else happened.
But let's go back a lot or a little to August 23rd. On that day (it was a Sunday if you're curious), the Diamondbacks had a winning record. They were 62-61, placing them just five games back of the division-leading Dodgers. A four-game sweep of the lowly Cincinnati Reds facilitated the big jump in the standings and even I thought to myself, "hey, maybe there's a glimmer of hope here." Then I got smart and looked at the schedule and saw something I didn't like:
8 games left against the Dodgers
6 games left against the Giants
6 games left against the Padres
4 games left against the Cardinals
3 games left against the Cubs
3 games left against the Astros
3 games left against the Athletics
Now, I'll grant you that San Diego and Oakland are not great teams, but they're roughly the D-backs' equals. The Dodgers, Giants, Cardinals, Astros and Cubs are far better. The games against these seven teams made up 31 of Arizona's final 38 contests. The only games in which the Diamondbacks would surely be favored were the seven against the Rockies, a team that the D-backs own a 9-6 record against on the year. Of the remaining 38 games, I figured the Diamondbacks would win about 17 of them. If that were to come true, since destiny is at my peril, Arizona would finish 79-83.
Unfortunately, I was being too nice, it appears. A tough schedule has apparently been tougher than even I imagined. Since that glorious day resting on a perch above Mt. Five Hundred, the D-backs have lost 15 of their last 22 games. They are currently making a pass through the entire NL West before finishing with a three-game set against the first place Astros of the AL West. FanGraphs currently projects the team to finish with 77 wins, but as things stand at the moment, I might prefer to place my bet even lower, probably in the 75 or 76-win range.
And that's because the rotation has simply run out of gas. Let's see how the rotation has performed since August 23rd.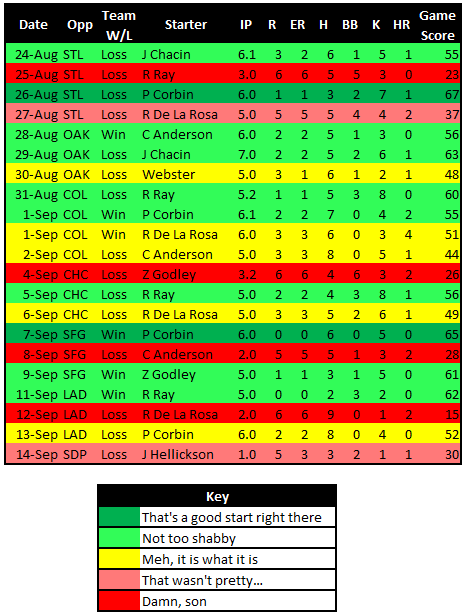 There are five starts that are just downright bad (red). There aren't any repeat offenders, but five different pitchers have thrown clunkers in the last three weeks, which I guess isn't completely terrible but bad on the whole. Another five starts have been just okay, not qualifying as particularly good but not falling into the bad category either (yellow). Rubby De La Rosa owns a pair of them, which matches the eye test. Seven starts are good, but not excellent (light green) and Robbie Ray owns three of them. Two starts are excellent (dark green). Unsurprisingly, the team's best starter, Patrick Corbin, pitched both of these bad boys.
Corbin is clearly the leader here, followed by Ray. Chase Anderson has been up and down, and was just moved to the bullpen to provide some rest. Jhoulys Chacin was pretty decent in two starts, Zack Godley was good and bad, De La Rosa has mostly struggled. Allan Webster made an okay spot start and Jeremy Hellickson was just activated off the DL. That's a pretty uninspiring crop of starts when you put it all together, and while you could point to the lack of absolute implosions, I would instead point to the lack of truly good starts. Quite simply, this is not good enough.
But "not good enough" isn't descriptive. The real problem has been  lack of innings pitched. Technically, it's been a lack of quality innings pitched, but from a sheer innings count, only Chacin has exceeded six innings in a start. The group has combined for 102 IP in 21 starts. That's a mere 4.86 innings per game, leaving the bullpen way too many messes to clean up. And while Ryan had some thoughts on the true quality of the bullpen, they're just not equipped to handle this kind of workload. They're having to soak up the remaining 4.14 innings each time out. When you factor rest into the equation, there aren't enough good arms to pick up the slack.
Brad Ziegler and Andrew Chafin are good relievers by pretty much any measure. Josh Collmenter has helped solidify the long relief thing. I don't know what to make of Daniel Hudson, Randall Delgado and David Hernandez. All three are up and down, can generate some K's walk too many and/or allow too many homers. Enrique Burgos, Silvino Bracho and Matt Stites are wild cards at this point. You really can't count on them. I don't even want to talk about Allan Webster, Keith Hessler, A.J. Schugel and Matt Reynolds. Now we're just throwing names out there.
The point isn't to bag on the bullpen, this group is performing more or less like you'd expect it to given its cast of characters. It's more a matter of providing the list of options once your starter fails, on average, to make it out of the fifth inning. Do you really want to use a combination of four or five of the names above, night after night, in an attempt to stay relevant? I didn't think so.
We need a remedy, and it's not to add to the bullpen. Well, that might not hurt, but the team could just help minimize the problems bullpens present in the first place by shoring up the rotation. Currently, the rotation just isn't that good and the guys left have mostly run out of gas. Having depth is one thing, but having a horse or two who can help protect a manager from having to dip into the bullpen in the first place is surely another.
We'll get into the potential remedies later this winter we start to formulate The Offseason Plan. But for now, it's worth pointing out that the problems of the rotation reach beyond the obvious observations of what the starting pitcher does on the mound in his innings each night. The costs are passed on to the bullpen, a group of pitchers who are mostly failed starters or guys who didn't ever have the ceiling of a starter to begin with. Quite simply, this isn't the group to rely on given the skill level and volatility of relievers. Any quality additions made to the rotation, be it through free agency, trade or promotion from within, will have multiple impacts and will benefit the D-backs more deeply than just the pitches they make from the mound. Because, as it stands now, the subpar rotation is costing Arizona in a  major way, torpedoing what once seemed like a potentially promising season.
@outfieldgrass24

Who's that under the radar player who you are banking on to break out this baseball season? Someone who's not regularly in the headlines?

,

15 mins ago

Come for the Dbacks prospects, stay for the Dbacks prospects https://t.co/RbyP9er1Jc

,

47 mins ago

Motor Bote

,

1 hour ago

RT @OJCarrasco: Madam Jeff (Master? Wizard? Soothsayer?) ⁦@OutfieldGrass24⁩ has some good stuff on PECOTA and what it all could mea… https://t.co/cuEDxwszSn

,

2 hours ago

RT @OutfieldGrass24: Who are the most important pitchers in baseball heading into the 2020 season? I've narrowed down the field to these… https://t.co/KQOLmZrZLt

,

5 hours ago