Before Welington "Beef" Castillo came along, the Diamondbacks' catching situation was laughably bad. It inspired a number of articles that all came to the same general conclusion: they aren't actually going to run that out there all season are they? They were, and then the Mariners did a dumb thing (as they are seemingly prone to doing) and took Mark Trumbo off of Arizona's hands along with swingman Vidal Nuno for Castillo, Gabby Guerrero and Jack Reinheimer. For inquiring minds who missed our winter prospect coverage, Guerrero is intriguing and has a chance to be a good big league player but needs significant work while Reinheimer looks to be a strong candidate to have a long career as MLB utility infielder. While those are nice and potentially useful gets for the organization, Welington Castillo was the key and part of the move and it paid off brilliantly over the remainder of 2015.
Even though it's been said in this space before, it bears repeating that Castillo is a really poor catcher. He's proven to be a productive hitter for being a catcher, but the bar there is obviously pretty low (and especially low for Arizona given their options). Catching is the most physically demanding job in baseball for a position player, so I think we have to acknowledge the difficulty associated, but nonetheless, Castillo stacks up very poorly compared to his contemporaries and even those throughout history. We know this because, on Tuesday, Baseball Prospectus dropped a whole load of new defensive data for catchers on us (#Catchella). Of 5,324 minor and major league catchers dating back decades, Welington Castillo sits in 5,296th place. He's in the 99th percentile as a catcher, defensively, for his career. That's bad.
You might be wondering what's included here. I have an answer from those who created the stats, Jonathan Judge and Harry Pavlidis:
The statistics both apply to and measure players other than catchers, but they are all perhaps most important to catchers as we measure their total value to a team. The statistics are four-fold, covering three critical catching skills:

1. Running Game

a. Swipe Rate Above Average (SRAA) – the effect of the player on base-stealing success;

b. Takeoff Rate Above Average (TRAA) – the effect of the player on base-stealing attempts;

2. Blocking Pitches

a. Errant Pitches Above Average (EPAA) – the effect of the player on wild pitches and passed balls;

3. Framing (AKA "Presenting")

a. Called Strikes Above Average (CSAA) – the effect of the player on strikes being called.
This seems to cover the list of "important things a catcher does" pretty well. The only missing ingredient is pitch sequencing and that was basically modeled once before it got Robert Arthur hired by the Astros. Given all that we're left with, Castillo does look pretty terrible. Here's how his career has stacked up with these newly-available (but widely-accepted) stats, first in terms of opportunities, then converted into run values:

*Based on AAA and MLB time only              *Click to enlarge
Surrendering 88 runs of value is a lot to hemorrhage. In total, Welington Castillo has given up something like 9 wins through is defense alone over this span. Of course, he hits, too. During that time, he's responsible for 274 runs through weighted-runs created, but those 88 runs he's given away surely chip into what he's achieved offensively. It's fine to be a bat-first catcher so long as the defense isn't tragically far behind. In this case, the defense sort of is and his offensive track record has been somewhat unstable. There's a reason why Seattle was willing to trade him and start Mike Zunino, after all.
And, if we're really zeroing in here, calling Castillo a poor defensive catcher might not be the best description we can come up with. In terms of controlling runners, he's been effectively neutral. Same goes for blocking pitches. But Castillo (and his pitchers) absolutely takes it in the teeth when it comes to framing pitches. He's just been really, really bad. Like Jarrod Saltalamacchia, Brandon Inge, Mike Napoli bad.
But if you want a silver lining here, it's this: Castillo has been improving. True, you really have to squint to see it, but it's in there if you look hard enough. If we take a peek at Castillo's Called Strike Runs Above Average (framing) compared to his number of opportunities, we see this during his MLB stints: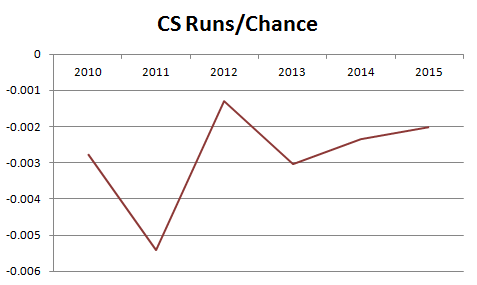 Yes, the values are all negative, but they're getting closer to zero, which would be "average." He's still a modest distance away from that mark, but he did a nice job in something like a half season in 2012, then dipped in 2013, only to slowly rebound in 2014 and 2015. As Castillo has aged and caught more pitches, he's gotten better. He's still not good, but he's getting somewhat less bad. This isn't dissimilar to what Eno Sarris noticed as it pertained to Chris Iannetta who has improved throughout his career as a receiver of pitchers.  It might be that as Castillo gains experience behind the dish, and as teams (hopefully the Diamondbacks included) start to learn the value of framing pitches, he can really turn around his reputation as an extremely poor pitch framer. That transformation might only move him from "extremely poor" to "poor," but at this point that's a clear victory.
I don't know what the D-backs are telling Welington Castillo in their player meetings. I don't know what kinds of goals he'll set with them before the season. But I do know where I'd put my emphasis if I were them and I do know where I'd focus my instruction: pitch framing. Castillo has been bad at an historic level in this department, but improvement here is a two-fold gain – his pitchers will surely enjoy the fruits of his labor. Better pitch framers keep pitch counts down for their pitchers and help make more successful pitchers overall. If the team lacks the resources to help Castillo on their own, they need to find him some help. It's abundantly clear that he, and the team, could drastically use an improvement here, even if it's a relatively small one.