As of the moment this post goes live, it'll be something like 33 hours since the moment Zack Greinke got pulled from his first Diamondbacks start. That's about an hour earlier than he and everyone else would have liked. An hour and a half if you're greedy. To say it didn't go well would be an understatement. He sort of cruised through the first two frames before finding significant trouble in the third. If you looked closely, he just didn't seem to be himself. Word came down the next morning that he was pitching through the flu (then Chip Hale made is sound as if he wasn't). Madison Bumgarner had to do the same while Sonny Gray had "food poisoning." I can tell you which party I wasn't invited to.
All kidding aside, if Greinke really didn't feel well, it showed. He uncharacteristically elevated a few pitches that ended up doing major damage against him. If there's one thing Colorado can do, it's hit the baseball. Greinke saw that first hand last night. He didn't exactly make it tough on them, however, as when he missed his locations, he missed in the zone, not out of it. Take a quick peak at all of Zack Greinke's pitches in 2015.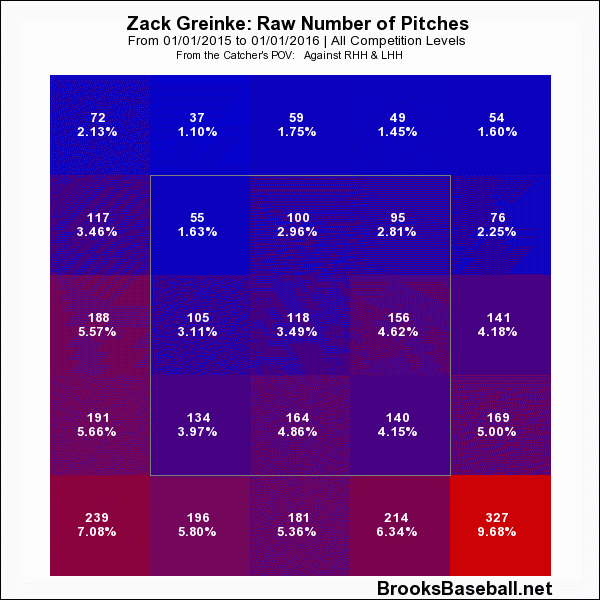 Now take a look at some of his locations last night.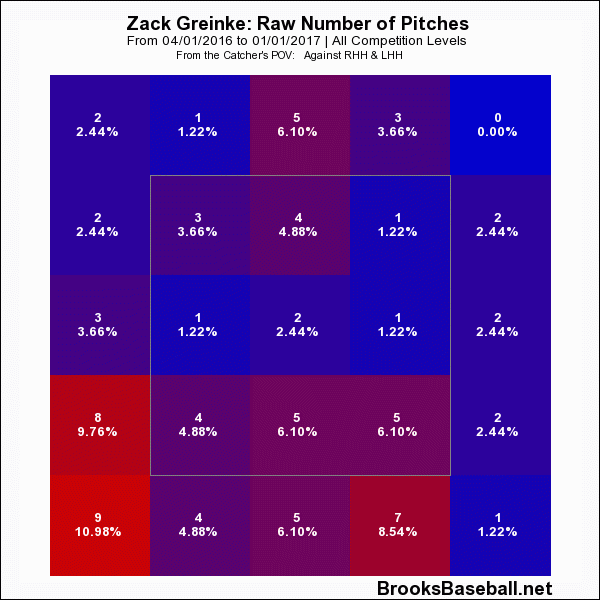 Comparing one start (just 82 pitches) to an entire season is quite possibly the most irresponsible thing I've done since that thing that happened last summer. But if you're looking closely, you'll notice that he located an improbable number of pitches up and over the plate (and again, we're talking super-small sample here). Those are the kinds of pitches that can get you into trouble, and Monday night, they did.
If you're into this sort of thing, watch Trevor Story hit two home runs, then we'll talk about it.
I think it's important that we break these two homers down. First of all, congrats to Trevor Story. He's got a neat story to tell people now. Part of that story will start like this, "I was down 0-1 with a couple guys on and I got a fastball up and drove it out of the park the other way off of Zack Greinke." Mr. Story will not be wrong in recounting this tale. Let's see where Welington Castillo wanted this fastball.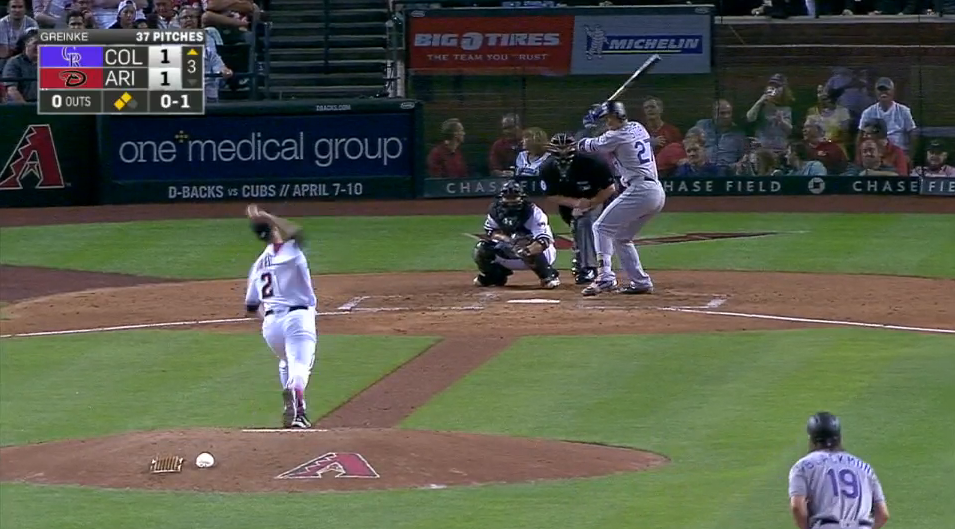 It looks like Beef wants this pitch down and on the outside corner. Greinke elevated it, though.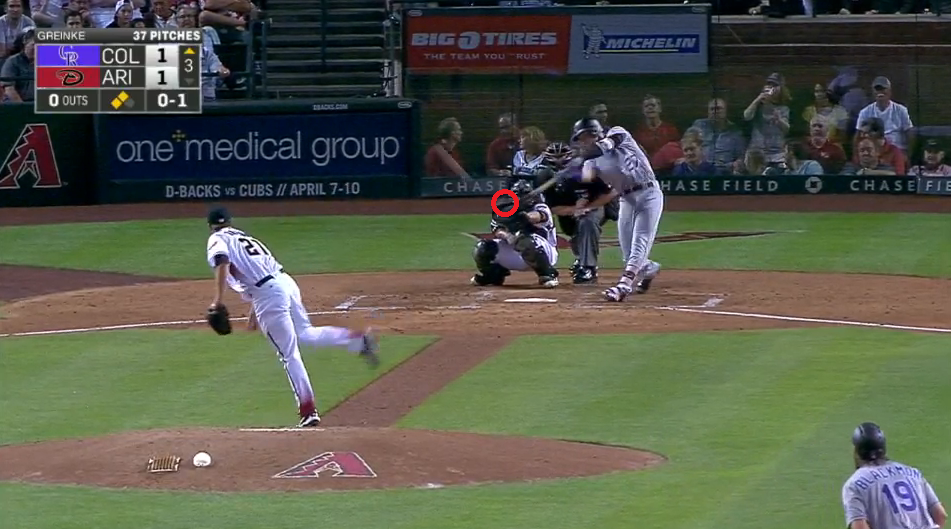 By looking at Story's swing, he appeared content to go the other way. I'm guessing, however, that he didn't expect the pitch to be belt high. It was and it nearly scraped the wall on it's way out of the playing field. As Brandon McCarthy noted, that ball's not a home run in most places.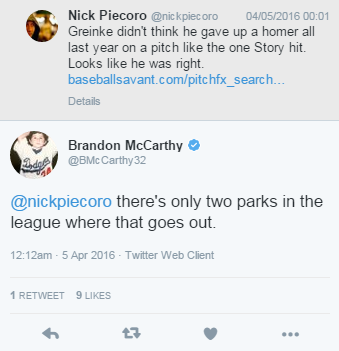 Luck or not, the ball left the yard. That's baseball sometimes — a guy hits one out that should be caught. These things tend to regress to the mean. So Greinke moved on, but Trevor Story seemingly didn't. Instead, not satisfied with the established pinnacle of his young career, he crushed another homer off of Greinke his next time up. Take a look at where Castillo wants this slider.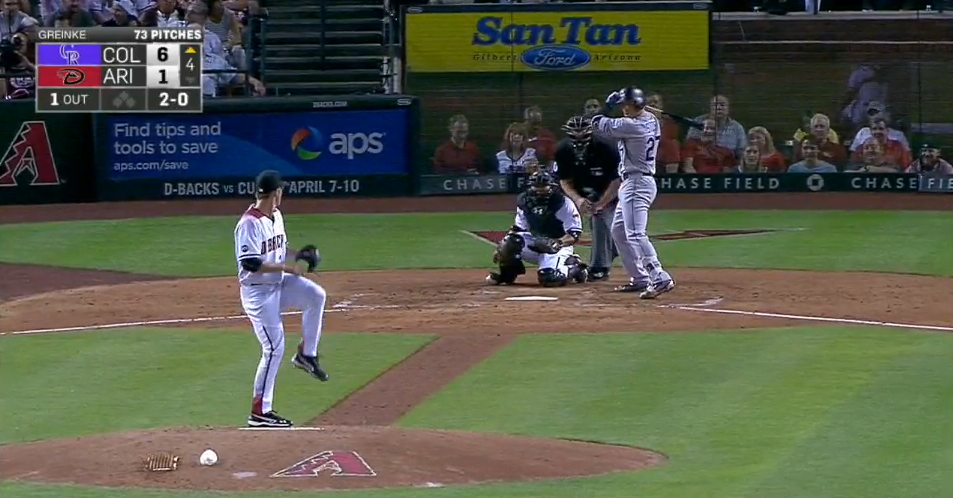 Again, Beef sets up down, this time near the middle of the plate, but definitely down. Looks like he's prepared for a pitch in the dirt as he's nearly on one knee before the ball's been thrown. Here's where the pitch ends up.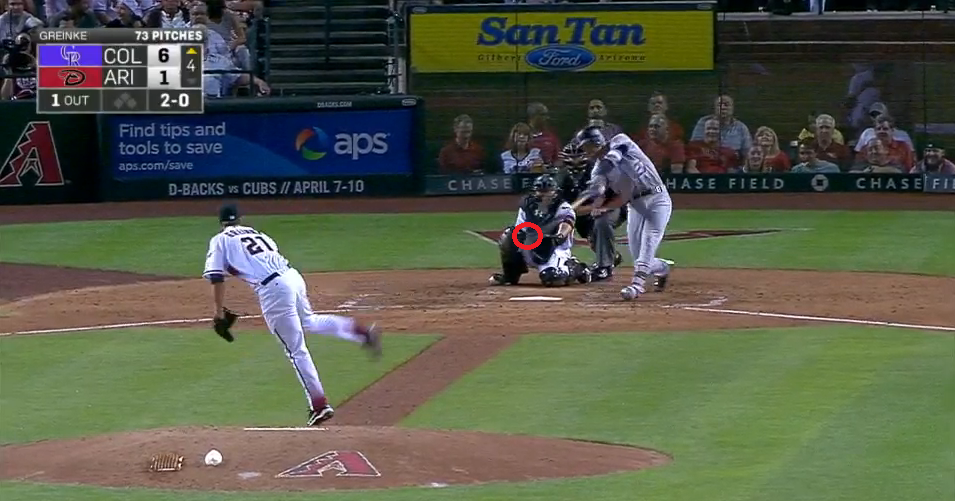 The slider ended up at the knees but over the outer portion of the plate — hardly a terrible location. Story is out in front of it but does a marvelous job of dropping the bat head at full extension and depositing this one 25-rows deep into the left field bleachers. In a way, it's pretty hard to jump all over Greinke for this one. He might have preferred the pitch further down, but he didn't hang it by any means. The credit should and does go to Trevor Story here.
Sandwiched between these two dingers was another dong, that which belonged to Carlos Gonzalez who's been known to hit baseballs hard at Chase Field in the past. Take this one in — it's launched at over 117mph.
There's no denying that CarGo is a premier left-handed hitter in baseball and can put some epic blasts together, even when pitchers make their pitch. In this case, Greinke made CarGo's pitch and CarGo didn't miss. Observe the location, which was completely unintentional: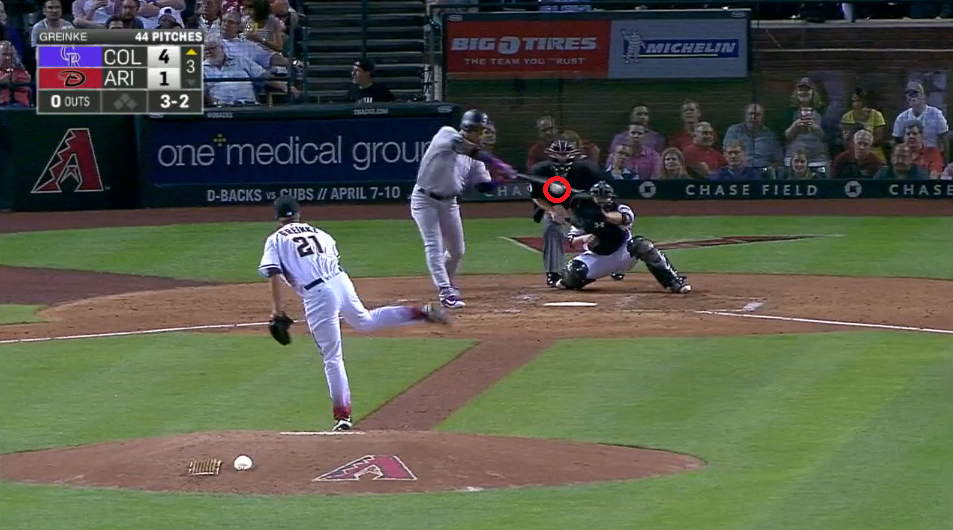 Once again, Beef had set up down and even kicked a leg out, but Greinke completely missed and this fastball ended up in the danger zone. Gonzalez turned it around in the blink of an eye and two seconds later, it ended up in the pool area in right-center. Kudos to the young man who threw that ball back into the field at what looked like the age of 12. That takes cajones and real commitment to your team. It might also take youthful ignorance. I'm not sure how much I remember about the latter at this point.
In the end, we have a couple of elevated fastballs, that weren't supposed to be elevated, clearing the fence. One did so by the slimmest of margins and, if Brandon McCarthy is right, would be a long fly out in most ballparks. The other was brutalized by CarGo's bat, something that shouldn't surprise us given the pitch's location and the guy standing in the box. The final bomb was just a good piece of hitting by a kid who caught lightening in a bottle during his first major league game.
So don't throw in the towel on Zack Greinke. It was one start. He was probably ill. Greinke and Castillo might not be 100% meshed just yet, although their rapport sounds very positive. Sometimes you throw a clunker and this one happened to take place on Opening Day in front of a packed house. What can you say? Quoting the enigmatic Ron Washington, "That's the way baseball go."