Jean Segura's Full-Scale Breakout is Complete with 200 Hits
Last night, Jean Segura capped off a remarkable season a little early. I don't mean to suggest he won't be playing the rest of the season, as futile as it may be. He notched his 200th hit last night off of Gio Gonzalez (below), an infield chopper that Danny Espinosa couldn't field cleanly and, in truth, a ball that would have been hard to throw Segura out on if he had. It wasn't a sexy hit. He didn't launch another homer (more on that later), he didn't put the ball in the gap and start ripping off extra bases, and he didn't even get the ball through the infield. And that's okay, because he reached the 200-hit milestone anyway as the second Diamondback ever to touch that level of hittingness (new word). He's now got his sights squarely set on Luis Gonzalez's franchise record of 206 hits in a season, dating back to 1999. With just four games to play, he's going to need go something like 6-18 to tie the record and find another hit somewhere to pass Gonzo. He's got a chance to pull that off, but it's going to be close.
Way back in the early spring, projections were released about every player in baseball. Segura had been worth 5.6 WARP in his first full big league season, then 3.8 WARP in his sophomore campaign before dropping to 1.8 WARP in his third year. The Brewers weren't seeing signs for a turnaround and decided to part with Segura, flipping him to Arizona, along with pitcher Tyler Wagner, for Chase Anderson, Aaron Hill and Isan Diaz. I remember being less than enthusiastic about the deal because Segura had been on a slide and Diaz was and is the real deal. In truth, it looked like yet another deal where Arizona sold a prospect for salary relief (RIP Touki). Segura was projected for 1.8 WARP by PECOTA entering the season and had a low probability for a "breakout" according to the projection system. Guys with high breakout probabilities were Adam Eaton, D.J. LeMahieu, and Xander Bogaerts and that worked out pretty well. But Segura apparently didn't notice as he decided to put his name back on the map, notching 5.9 WARP to date, exceeding his projection by more than four wins with four games left to play.
The diversity in how he's compiled his value has been impressive. While Arizona has been let down by one dimensional players in the past, Segura can rack up production across his stat line. He's just the 14th player in MLB history to compile 200 hits, 20+ home runs and 30+ steals in a single season. If you ask me, that's a pretty cool list to be on.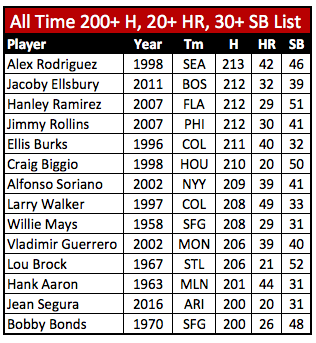 Segura has a chance to climb up a couple of spots on this list before the season is over. He's just scraping by to arrive with this company, and that's why he wasn't an All-Star and won't be getting MVP votes, but it's impressive nonetheless. He's a reasonably good fielder at second base, too, so his game has been incredibly well-rounded. Segura really has done it all this year.
If you'd asked me before the season which of these thresholds he was least likely to reach, well, I'd have said home runs. I didn't think he'd get 200 hits, either, but I knew there was a chance for 30+ steals as he'd surpassed that mark before. His career high in home runs came back in 2013 when he launched a dozen bombs into the seats. Reaching 20 just didn't seem realistic, but a couple of factors have aided his accomplishment. Moving to Chase Field for the bulk of his games was sure to help his odds, plus, baseball is witnessing a pretty intriguing power spike, the kind of trend that is designed to aid a player like Segura more than most. It's been a matter of right place, right time for Segura, it seems, and no one's complaining about it (except probably every pitcher in baseball right now). A more hitter-friendly home environment, coupled with a more hitter-friendly league environment, has made Segura a notable beneficiary of a larger trend.
This isn't to say that Segura is simply a product of baseball right now — no, he's earned his production for the most part. There's always some variance and luck involved in these types of things, but Segura has made his own adjustments that appear to be paying off. From a post I wrote on Segura back in April:
When (Ken Rosenthal) asked D-backs hitting coach Dave Magadan if he had instructed Segura to lower his hands in spring training, his answer surprised me.

"He showed up to camp that way," Magadan said. "He hit well from day one in the spring and I never questioned it. Just left him alone. He says it makes him feel like he's using more hands in his swing, less body."
Segura went on to elaborate:
"Now with my hands lower, I don't have to go down and then go up to hit the ball. I go directly to the ball," Segura said. "I do everything in one motion instead of doing it three times. When I attacked the ball with my hands up, I had to go down, go up again and swing."
For some video examples of these changes, I suggest going back to the original post (linked above). Segura has been able to get to the ball more efficiently and has found comfort in doing so. That's a valuable thing as no one can deny that hitting is a mental exercise as much as it is a physical one. Those two elements have come together for Segura this season in a remarkable way. In 2016, he's pulled the ball more and made more hard contact than in seasons past, adding up to a dominant season at the plate.
This kind of production has changed the way one evaluates the trade that brought Segura to the desert in the first place. Chase Anderson was at least useful, Aaron Hill and his remaining contract were not, and Isan Diaz has continued to develop quite nicely as a prospect. Tyler Wagner can be a useful pitcher but has been hurt most of the season. Anderson and Hill somewhat cancel out Wagner and his injury and the deal becomes easy to view as Diaz for Segura, which is way too simple, but is the easy lens to see this trade through. Heading into the year, Diaz's upside trumped Segura's projections and past performance, but now, things look pretty fair. Isan Diaz has a boatload of future potential as a strong hitter with power at second base, which is exactly what Jean Segura has been in the present. The longer Segura keeps the production up, the more likely the future trade will skew in the D-backs' favor. Timing is perhaps the most important aspect here, as Arizona was supposed to be good in 2016, 2017, and 2018. They failed this year, wasting Segura's efforts, but can take another swing at things in 2017, quite possibly under new leadership. The window isn't completely closed and Segura is still a part of it.
I remember participating in a FanGraphs chat in May when Dave Cameron was asked a simple question: did Jean Segura's production at the time indicate that the Diamondbacks knew they were getting a better player than what the Brewers thought they were selling? To that, Cameron responded that, based on projections and his most recent performances, Segura just wasn't a good player. Of course, Segura continued the strong play, and perhaps we have to wonder now how much our view of Jean Segura has changed. I agreed with Cameron at the time, for the most part, but four months later, we all have to go back and reevaluate our positions. On one hand, it is just one strong season coming on the back of two poor ones. On the other, his production has been in some part due to some personal adjustments that we'd expect to carry forward. Guys can get lucky for a whole season — an inconvenient fact — so we can't necessarily cast our lot with Segura just yet, but there's surely reason to be hopeful. The Diamondbacks will need all of the help they can get in 2017 if they want to crawl back into contention and they won't be able to afford much of a drop in production from their second baseman.
So, congrats to #ElMambo, on a terrific season. Now let's see if he can do it again. I certainly hope he does.