The Diamondbacks came from behind yesterday on a well-timed homer from Chris Iannetta, only to end up dropping their third game in a row. As Torry Lovullo said postgame, basically, baseball giveth and baseball taketh away. Perhaps another manager, Ron Washington, encapsulated it best, saying, "That's the way baseball go." You can pick your own favorite euphemism, but one of the great things about the game, whether we freely admit it or not, is that it's full of ups and downs. In a world where even Mike Trout can get hurt and Bryce Harper can't keep himself not-suspended, well, no one rides for free.
You probably don't have to remind Patrick Corbin of this. The words "up" and "down" may just sound like directions when uttered individually, but when used in conjunction they essentially sum up his career.
2012: Rookie season, held his own
2013: Sophomore breakout, All-Star
2014: Blown elbow, Tommy John surgery
2015: Returned from injury, pitched very well
2016: The wheels fell off, demoted to bullpen
2017: Consistently inconsistent
Truth be told, Corbin's had good outings in 2017. He's also had some bad ones. Bill James' Game Score isn't science, but it tells the story well enough: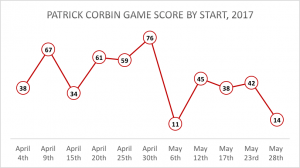 We've seen the good, we've seen the bad. Corbin's 5.15 ERA can tell you which he's shown more of. In a season where the D-backs finally have a chance to contend, issues from the rotation get magnified. So at some point, we have to wonder if Patrick Corbin is broken or simply going through a rough patch.
As with any dive into a player's struggles, the first thing to examine is health. An easy proxy for health for a pitcher is velocity, and while surely not the perfect the indicator, it's still perhaps the best place to start. Corbin's velocity is down from March if we look at his monthly velo. It's a different story if we look at the game-by-game numbers, however, as he averaged 94.27mph on his four-seamer in his last start, the hardest he's thrown all year. The movement on his pitches look similar and there's just nothing to suggest that Corbin is pitching hurt.
Instead, it's been some poor execution that's undoing him. In 11 starts he's surrendered as many home runs, the highest rate of his career. While I'd prefer to tell you that he's been a victim of circumstance, that's not exactly the case. Take a look below at Corbin's issues with The Dinger: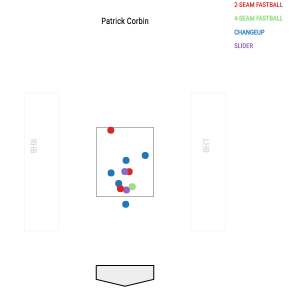 Those are locations that you usually want to avoid. Sure, one that was middle-down got yanked, but the rest are all in the strike zone and most are in the middle of the plate. He's made some bad pitches and paid the price. Domingo Santana absolutely abused this hung changeup in Corbin's latest start:
Once again, it's Corbin's changeup that's bore the brunt of the damage. He's used the pitch less than 10% of the time, but perhaps you noticed above that five of his 11 home runs allowed came courtesy of the cambio. His changeup hasn't worked in the past and it's not working now. With a .565 ISO against his changeup on the season, it's a wonder he ever throws the pitch. Fastballs and sliders remain most effective for him and at some point, a point that exists sometime in the past, he should have scrapped the changeup altogether. It's stubbornly stuck around, something we've long lamented.
In Corbin's breakout 2013 campaign, he threw first pitch strikes over 70% of the time. Last season he struggled in that department as he dropped to a career low of 56% first pitch strikes. He's moved back in the right direction this season at 60.4%, placing him right in the middle of the pack among qualified starting pitchers. And while getting ahead is good, he may be throwing too many strikes, or at least throwing what you might call some bad strikes. Compare his 2013 pitch locations (top) to his 2017 pitch locations (bottom).
In Corbin's best season, everyone knew where he was throwing the baseball, but he got plenty of chases to warrant keeping the ball consistently down and to his glove side. He's still aiming there, but he's been a little less consistent, leaving more balls over the heart of the plate. This has resulted in him being near the league leaders in hard-hit rate. Batters aren't chasing as often out of the zone as they did way back in '13. That's either because they've learned to lay off or they've not been forced to chase as Corbin's made mistakes in the zone. We're likely looking at a combination of the two, but it's worth suggesting that Corbin perhaps throw a few fewer strikes, especially once he's ahead of a hitter. Ditching the changeup once and for all is another suggestion, but hey, we've made that one before so ¯\_(ツ)_/¯.
There's one last tidbit I'd like to throw out there. As Nick Piecoro has covered, the team is pleased with the addition of Jeff Mathis and Chris Iannetta behind the plate. Turning more balls into strikes and fewer strikes into balls has been a net positive that's already proven fruitful. But when it has been Patrick Corbin's turn to pitch, well, he's seen a less-than-ideal of mix of receivers. Mathis has caught Corbin just once, while Chris Herrmann has caught him four times and Iannetta has caught him six times. Mathis is the best receiver of the bunch (3.5 Framing Runs Above Average (FRAA) in 1415 chances) while Iannetta has been just a tick above average (1.8 FRAA in 1095 chances) and Herrmann still lags behind (-1.8 FRAA in just 752 chances). It's not as if Chris Iannetta called for that hung changeup to Domingo Santana — that was just a poorly thrown pitch — but it's fair to say that Corbin's been working primarily with the second and third best options behind the plate since early April and that's likely not helping him.
Patrick Corbin is struggling. He's fighting for consistency and fewer mistakes. Those mistakes have gotten punished as 18 of his 35 earned runs have come via the long ball. His stuff is fine, he's healthy, and the slider is still effective. The changeup has never worked and it's not working now, which bears repeating. Corbin hasn't had the luxury of being caught by Jeff Mathis since his first start of the season, but that's not fully to blame for the lefty's struggles. It's a multitude of things. He's got one trick, essentially, and that may just not work anymore. Hitters might just never chase the slider like they did in the past and/or he may just never be as fine with his command as he was back in 2013 before the elbow surgery. The leash is getting shorter, but without any immediately viable options that are worthy of yanking Corbin from the rotation, the team is still best served to try to help him figure it out. At least for now.