When the Diamondbacks traded for J.D. Martinez, they attempted to shore up a few issues. First and foremost, he provided depth to a depleted outfield. Yasmany Tomas has suffered yet another setback in his attempt to get back to action and it's looking more and more like he won't return this season. Gregor Blanco is a league average hitter against right-handed pitchers, but he's not someone you want starting everyday. A.J. Pollock has dealt with his injury issues and David Peralta's missed time for one reason or another, so adding Martinez to the mix helped provide Torrey Lovullo with another option.
That option was tailored, of course. Throughout his career, Martinez has always hit left-handed pitchers well, something the Diamondbacks have not done as a team this season. Of his 21 hits in a D-backs uniform, only five have been hit off of lefties (two singles, two doubles and a homer). Martinez also helped lengthen the Diamondbacks' lineup, pushing guys like Brandon Drury and Chris Owings, before his injury, further down the order. That's helped create more opportunities and take them away from guys like Rey Fuentes, even if we're still seeing plenty of Chris Herrmann.
And as for his time with D-backs, well, it's a bit of a mixed bag for Martinez. Take a look at the triple-slash figures for him over the last three years, with 2017 split between his time in Detroit and Arizona.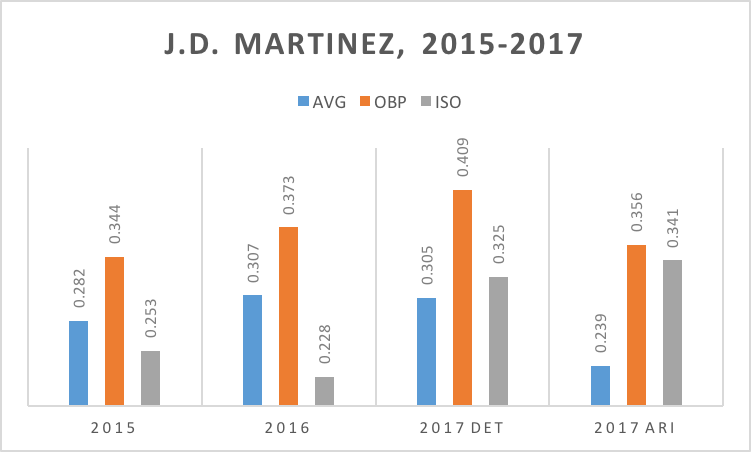 Martinez is sporting the lowest batting average we've seen in quite some time from him, harkening back to his counterproductive days as a 24-year old with the Astros. But as you're well aware, batting average isn't everything. His on-base percentage remains solid and his power output has been outstanding. Nearly 40% of his hits in Sedona Red have been home runs.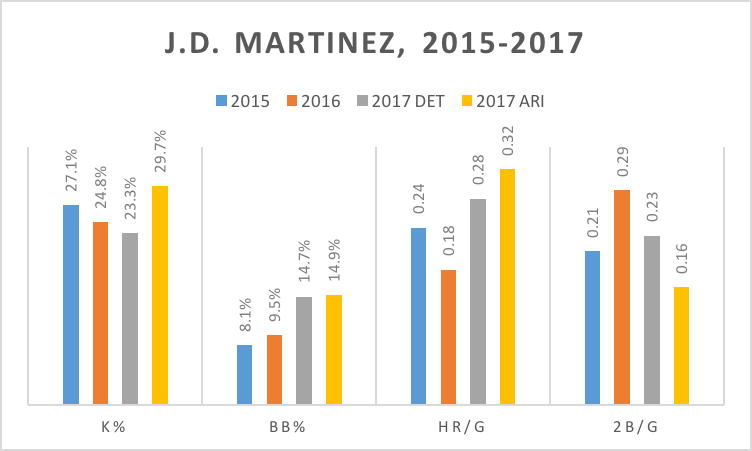 Truth be told, Martinez has never posted such a prolific rate of home runs. While he hasn't collected as many singles or doubles during his short Arizona stint, he's making the hits count by putting the ball out of the park. His strikeout rate has spiked slightly, but he's walking more than ever to balance the K's out. According to Baseball Reference, he's been worth nearly half a win so far for the D-backs in just 35 games.
J.D. Martinez has been an upgrade for the Diamondbacks. That said, it's been a bit of a feast-or-famine proposition. This is a small sample to be sure, so drawing hard conclusions isn't in the cards just yet. With 41 games still to play, there's another quarter of a season for Martinez's line with the D-backs to even out some. His .260 BABIP is well below his .340 career average (thanks in part to those home runs, which don't count) and sooner or later, the other hits will start to fall in. Even if it hasn't always felt like it, he's been a boost.
@outfieldgrass24

The box score doesn't accurately reflect Kevin Ginkel's night. I think he pitched much better than it'll show. #Dbacks

,

17 hours ago

With that kind of changeup, Paddack can get away with some middle-middleish fastballs. Doesn't hurt that he's pumpin' gas...

,

20 hours ago

Bumgarner sitting 89 here in the first for #Dbacks

,

21 hours ago