Work In Progress: Jimmie Sherfy's Path to the Majors
The bullpen has been a hot topic here at Inside the 'Zona this season. It's an intriguing crop, headlined by a breakout performance from Archie Bradley and The Fernando Rodney Experience. The group has been really good at times and somewhat horrendous at others. That's part of the fickle nature of bullpens, sure, but the real issue has been bridging the gap to the back end of the 'pen. Jorge De La Rosa keeps seeing righties as a one-inning guy, even though they've torched him. J.J. Hoover has been inconsistent after an early bout of success. Jake Barrett looks like a different guy altogether this season. David Hernandez has finally allowed some runs. Maybe the reinforcement the team needs is the recently-added Jimmie Sherfy.
Sherfy joined the group with plenty of hype, but his road to the majors took a bit longer than we might have anticipated. He was fabulous after being drafted in 2013, struggled when he hit AA in 2014, then got shelled when he repeated the level in 2015. Adjustments were made and he allowed just one earned in 32 innings in High-A and AA in 2016 before getting rocked following a promotion to AAA Reno. He opened 2017 back in Reno, pitched well and finally made it to Phoenix where he hasn't allowed a run in seven appearances and innings, striking out six and walking none.
The walks seemed to always be Sherfy's undoing. He routinely walked four to five batters per nine innings from 2014 through 2016. Even though he struck out a ton of guys, it seemed like the walks might just keep him from ever reaching the majors in anything other than emergency role. But in 49 innings this season for Reno, he walked just 1.84 batters per nine while maintaining an impressive strikeout rate. Those numbers are a reflection of the continued work Sherfy has put in to harness his raw stuff through refined mechanics. Drafted out of the University of Oregon, he had plenty of "funk" to his delivery. Watch his unorthodox delivery below:
He begins his delivery by facing the batter, then winds up to deliver the pitch. That might look fine, but it is a delivery full of moving parts. For some, rhythm is good, but for others, that movement leads to inconsistency. That appeared to be the issue for Sherfy as he just couldn't consistently throw strikes — hence all of the walks.
The organization went about reigning him in somewhat. In search of consistency, his mechanics were altered. Here's Sherfy pitching in the AFL back in the fall of 2014.
There's less movement here to be sure. Gone is the stance facing the hitter and he's throwing a bit more over the top rather than sidearmed. Ideally that would give him a bit less variance east-to-west and help him throw more strikes without the ball running off the plate so frequently. His hands are a bit quieter before separating, too. That all sounds good, but it took time for Sherfy to make it work. It's like trying to radically change your golf swing — it might be a fine idea, but at first, the returns might not be very promising.
Sherfy's mechanics have been even further simplified since 2014 as he has risen to the majors. Have a peak at him in action earlier this month:
The setup looks familiar, but if you look at the clip from the AFL in 2014, you'll notice a bit of a "stab" in the back of his delivery. The ball is visible to the hitter as Sherfy reaches back to deliver the baseball. But in the clip above, it seems a bit shorter. We don't have the same camera angle at our disposal here, but put yourself in Pat Valaika's shoes. Do you think he can see the ball behind Sherfy before he fires forward? Perhaps a still image helps here: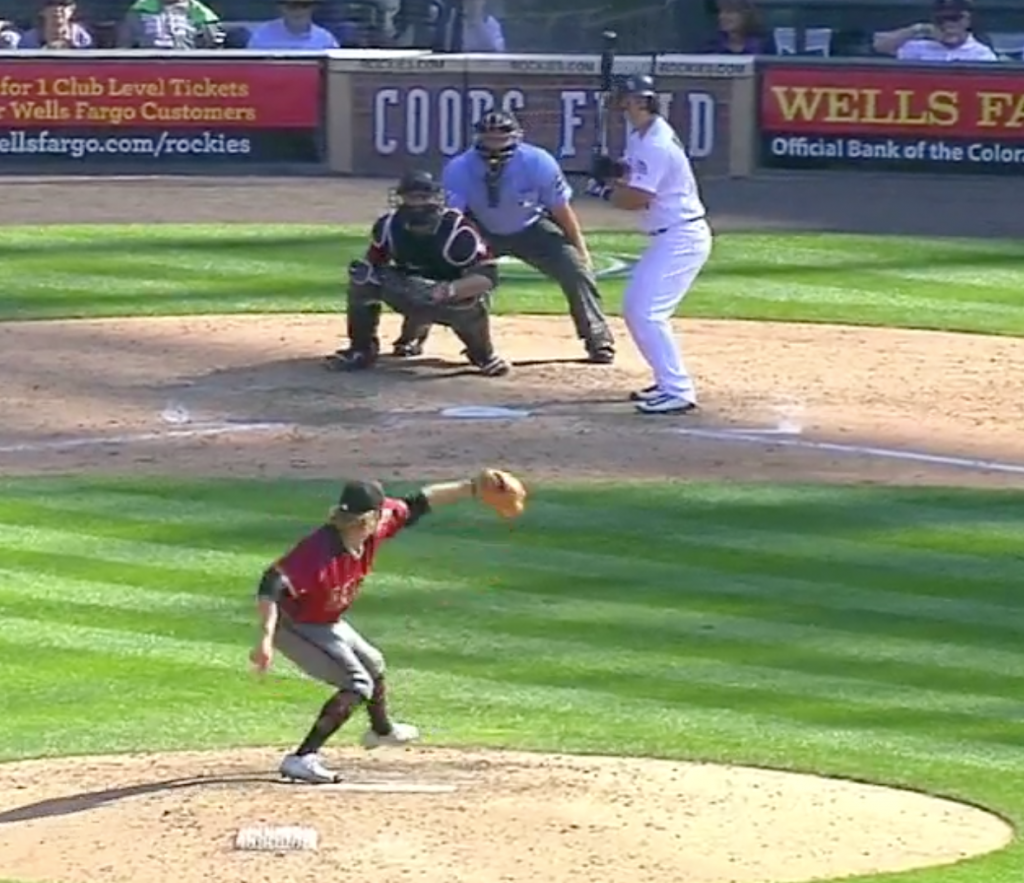 Maybe it's just me, but I don't think Valaika gets a peak at the ball before it's coming at him at 94mph. Rather than seeing the ball through Sherfy's delivery, it may now just appear out of his hand and on it's way to the dish. Perhaps a shorter window to view the baseball results in hitters having a tougher time syncing up to the pitch. If anything, it does shorten his delivery a bit further and that shorter throwing motion should result in a bit less variance and more strikes.
Muscle memory is a hell of a thing to overcome. Attempting to change a motion that's been repeated thousands of times works well for some and not at all for others. Sometimes it just doesn't take. For Sherfy, it appears to be working, but the process wasn't without its hiccups. His minor league numbers highlight the issues he's had making the transformation and serve as a useful reminder that just because a player struggles to do something at first doesn't mean they aren't ultimately capable of doing it. Sometimes it just takes a little extra time. It appears that for Jimmie Sherfy, it's been time well spent. He's a prime candidate to join the playoff roster and might just be the extra piece the Diamondbacks needed to bridge the gap to the back of the bullpen.