Maybe it's just me, but I don't think I've fully come to terms with the success the Diamondbacks have experienced this season. The team was projected to win 77 games entering the season, and after what we witnessed last year, you can understand why. There were very few changes to the squad in the offseason. It was mostly the same set of characters, and while they added Taijuan Walker and Ketel Marte, they also subtracted Jean Segura and Mitch Haniger. No one knew what to expect from Fernando Rodney, Jorge De La Rosa, Tom Wilhelmsen and J.J. Hoover. They got A.J. Pollock back but lost Shelby Miller early on. It was an uneasy feeling nearly six months ago.
But virtually every questionable move has worked out. The bullpen was stabilized as Archie Bradley has thrived, Rodney has been mostly excellent and the journeymen have been reasonably effective. Walker is having his best season as a pro, Marte has been resurrected and several role players have simultaneously elevated their games. Paul Goldschmidt and Zack Greinke have done their thing and J.D. Martinez has been nothing short of a godsend. Arizona clinched a playoff berth early and the team is now projected to win 93 games. That's a far cry from 77, prompting questions like this:
@OutfieldGrass24 How to define Dbacks season?
Playoffs – Successful?
1 and done – Unsuccessful?
1st rnd win – Successful?
Where's the line?

— Kameron Hoffs (@IvoryTiger) September 27, 2017
To be honest, I'm not really sure how to answer this question just yet. If the team loses in the Wild Card play-in game next Wednesday, does it still feel like a 93-win season was a success? Or has the bar been raised? At the very least, they should give the Dodgers fits, and hey, there's at least a very recent track record of success against the boy in blue. Can they stack up against teams like the Nationals and Cubs? I can't see any reason why not. As we've seen so many times in the postseason, it often comes down to pitching and, on that front, the D-backs seem well positioned.
The playoff rotation is already being set by Torey Lovullo. Zack Greinke will get the ball for the Wild Card game and it looks like Robbie Ray would get the ball opposite Clayton Kershaw in game one of the NLDS (a matchup that should actually provide some comfort to Diamondbacks fans). Those two slots were easy fills for Lovullo, but the other two rotation pieces are now starting to come into focus.
Robbie Ray will start Sunday. "Probably a shorter outing," Torey Lovullo said. Corbin and Godley will pitch in relief this weekend.

— Nick Piecoro (@nickpiecoro) September 27, 2017
Reading the tea leaves, it sounds as if Patrick Corbin and Zack Godley will fill out the other half of the playoff rotation. That would put Corbin in line for game two against the Dodgers, Godley in line for game three, then Greinke and Ray again if necessary. Taijuan Walker is the odd man out, clearly, but it's reasonable to get a little giddy thinking what he's capable in one or two-inning stints out of the bullpen where the skipper tells him to just throw gas. Corbin out of the bullpen is okay, Godley out of the bullpen is okay, but Walker out of the bullpen is legitimately exciting. With some of the middle relief struggles the team has experienced, adding Walker to the relief staff could be a major shot in the arm and help bridge the gap to Bradley and Rodney. On a side note, it'll be intriguing to see how Lovullo deploys his best two relievers, but that's a question for another day.
With the rotation set, we can do a bit of a comparison between the D-backs and their National League playoff competition. First, let's take a look at the good guys. You're probably familiar with these stats.

With a Dodger lineup full of lefty mashers, plus guys like Bryce Harper and Anthony Rizzo looming, you have to like the D-backs' ability to throw a couple of lefties. Godley has been incredible and Greinke even better over the course of the season. Let's face it, the team wouldn't be here without some outstanding performances from these guys.

As we discussed leading up to the trade deadline, the Diamondbacks were in need of some reinforcements against left-handed pitching and they got that in #JustDingers. The Dodgers will provide the D-backs only one matchup against a righty in Yu Darvish. Otherwise, it's a lot of left-handed pitching. Alex Wood could make the playoff rotation, but that's looking less and less likely. Kershaw is Kershaw, but otherwise, the Diamondbacks should have little to fear against the Dodgers. It's a good but beatable rotation coming from Los Angeles.

This Nationals rotation is stacked. There's really no other way to say it. Max Scherzer is the most likely NL Cy Young winner, but Stephen Strasburg and Gio Gonzalez have been really good, too. Even Tanner Roark, despite the ERA, has pitched pretty well. Scherzer and Strasburg are legitimate aces and Gonzalez has had a fantastic season. This one to look out for, though the D-backs have hit righties well year.

The Cubs haven't decided their postseason rotation just yet, but for now let's assume that John Lackey isn't in it. Jon Lester hasn't had the best of seasons and this isn't the same Jake Arrieta that took the 2016 playoffs by storm. Jose Quintana was a midseason acquisition and he's pitched better of late. Kyle Hendricks is the kind of crafty pitcher that's capable of giving hitters fits. This rotation is vulnerable, and while the names are familiar, the performances are hardly show-stoppers.
If there's one number I care about here more than any other, it's DRA. To date, that's our best overall pitching metric and predictor of future success. So let's draw our focus there and see where the D-backs stack up.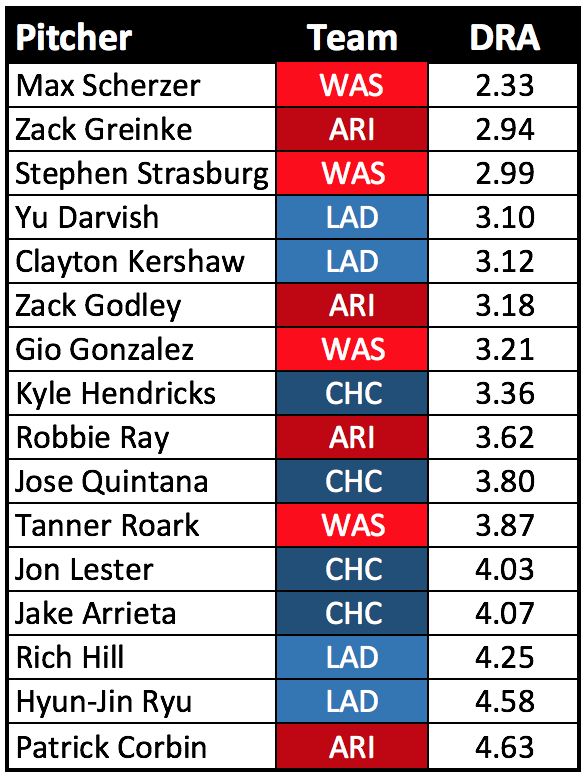 The Nationals' rotation takes the cake, but perhaps the Diamondbacks are second-best. Should the D-backs advance, Patrick Corbin might be swapped out for Taijuan Walker (4.26 DRA) for an NLCS series. The Dodgers are top-heavy and the Cubs are perhaps a bit underwhelming. Of note, the D-backs boast the best ground ball rate of the group. With the sluggers in the middle of the Arizona lineup, that could come into play when they face the opposition.
Of course, all of this is moot should they not win the Wild Card game. Personally, I like their odds against any team they face at Chase field in that contest, but assuming a victory is bad form. Should they advance, however, the rotation should up to the task. And maybe that moves us closer to the answer to the original question: what constitutes success?
It's not as if this team is scraping by — it's not as if they don't belong here. They surely do. So, losing the Wild Card game will certainly feel like they've left an opportunity on the table. I'm not ready to claim success just yet. They have what it takes to make a dent in the playoff picture. Losing to the Dodgers would be a bitter pill to swallow for obvious reasons, but it would be an accomplishment to push them to five games. Anything less would feel like a butt-whooping. Advancing any further would certainly feel like an accomplishment no matter the outcome. At least that's how I see it. How about you?

Loading ...