Strikeouts.
We all heard a lot about them in 2013 and if you've been paying attention, you've probably noticed that they have been on the rise for a while now. Throughout the game, more batters are striking out and pitchers are accumulating K's at a higher rate. The relationship between pitched strikeouts and strikeouts by batters is obvious, but let's take a look at how the median strikeout rate by major league teams has changed over the last thirty years: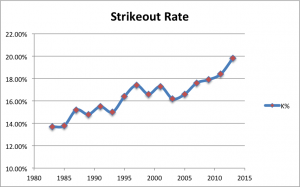 If that's not a trend, I don't know what is. Strikeouts are up, noticeably, but why? When we look at power numbers, they are up somewhat, too.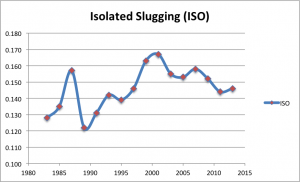 While the trend jumps more sporadically than strikeout rate does (thank you, steroids), power is still up across the time span. Apparently, hitters have traded strikeouts for power. As one can imagine, strikeouts are a lot more tolerable when you're frequently hitting for extra bases or putting the ball over the fence.
So are the Diamondbacks following this trend?
In two words: not exactly. Arizona ranked 13th in the National League in strikeout rate (18%), with only the Cardinals and Giants striking out less often. On the one hand, this is great because the Diamondbacks are making a ton of contact. They are striking out less often than almost every other team in the league and giving themselves a chance by putting the ball in play.
But not all contact is created equal.
Arizona ranked tenth in the National League in isolated slugging (ISO). They hit for little power on the year, finishing 11th in the NL in home runs and 10th in wRC+. Yes, they made a lot of contact, but they didn't capitalize on it. There were  a lot of hollow singles hit with nothing to back them up as the team was 8th in the NL in hitting with runners in scoring position. Simply put, although they didn't strike out a lot, that didn't necessarily mean that they dominated at the plate.
While the rest of baseball has been trading strikeouts for power, the 2013 Diamondbacks clearly didn't get the memo. They're going to have to make strides in the power department in 2014 if they want to make a serious run. With that said, at least they have some strikeouts they can sacrifice in the process.