It's no secret, the Diamondbacks played a ton of extra innings last year. It was brutal for the fan base to see blown saves or inept offense drive the team to extras time and time again. It led to some really exciting baseball on the one hand, but I can't help but wonder what kind of toll it took on the team. Grinding out a 17-8 record in extra-inning games is pretty gritty, I guess, but it had to have come at a cost.
Arizona played the most innings in baseball last year, that's a fact. It's also a fact that they pitched 40 innings more than the average team in 2013, about 4.5 games worth. I love you, Josh Collmenter, but that discrepancy isn't a good thing for the club. It's also not good for my nerves and the rate of obscenities hurled at my television, but that's neither here nor there.
It's possible to pitch as few as 1377 innings in a 162-game schedule if you lost every road game in regulation and never went to extra innings at home, but the lowest number of innings pitched in 2013 was on the part of the Phillies at 1436. The Diamondbacks pitched a staggering 1495 innings, almost 60 more than Philadelphia. Of course, the Indians pitched very few innings (1441) and won 92 games, so innings pitched isn't necessarily indicative of how good a team is.
In fact, take a look at the graph below to see where every team in baseball ranked in terms of wins and innings pitched in 2013: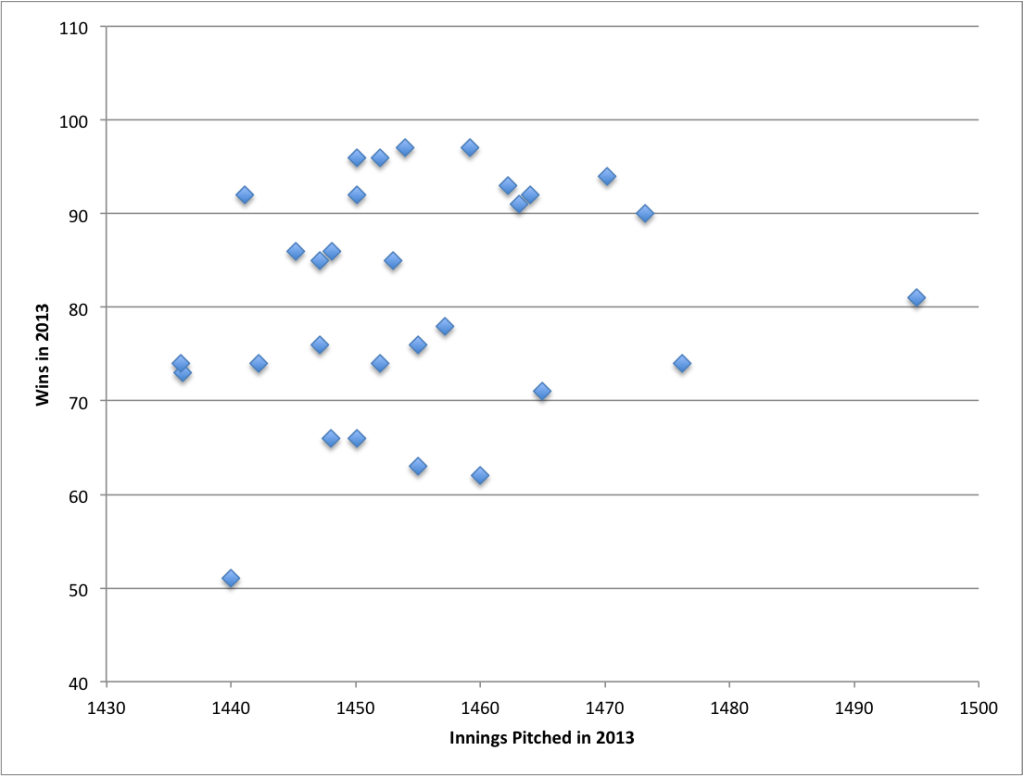 *hint: that's the Diamondbacks way out there on the right
There's a big cluster in the middle with Arizona hanging out all alone on the fringe. Also, notice the shape of the cluster is in the rough shape of a triangle turned on its side, one that funnels down to the D-backs who serve as the pinnacle. It seems like the more innings a team pitches, the closer the team gets to 81 wins (.500).  This can be observed in multi-year data, too, but the results get a little more sticky as teams' winning percentages fluctuate year-to-year. I'll spare you that graph.
Pitching so many innings means that you couldn't finish off your opponent in regular frames. If I'm reading between the lines, that tells me that the the D-backs were good enough be in the game and very competitive but not good enough to overwhelm the the opposing team. Or, in other words, the definition of average. We've hashed out the averageness of the D-backs before many times, but this is a clear illustration of just how firmly they sat on the edge of mediocrity. Had they been a better (or worse) team, they wouldn't have needed all of those extra innings.
There's another question here to answer: who pitched all those extra innings? I mentioned my affinity for The Bearded Gargoyle above, but it was really a team effort on the mound from the bullpen. There isn't a strong trend to starting pitcher usage as some poor teams actually got good mileage out of their crummy starters and good teams got a lot of innings out their horses, too. Let's look at reliever innings, though: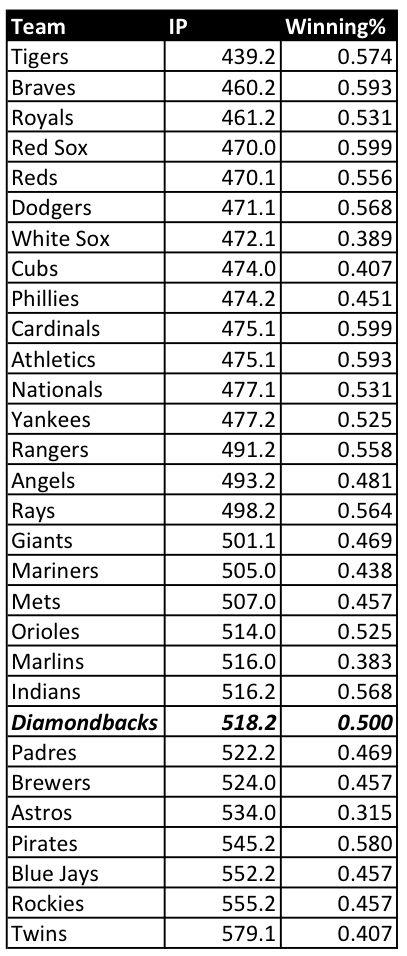 As you can see, the teams that used their relievers the least often tended to be strong teams. We can think of some great bullpens out there (Boston and Atlanta come to mind immediately), but the truth is that bullpens are a necessary evil. You'd rather not have to use them if you can help it. Since it's impossible to never use a reliever, you'd prefer to use them as sparingly as possible because the vast majority of relief pitchers just aren't that good. As the saying goes, if the guys is that good of a pitcher, he'll end up in the rotation. Most bullpens are comprised of rotation washouts that rely on their stuff playing up in shorter bursts out of the pen. So, in general, you'd rather allocate your innings to your best pitchers and not to your worst.
This is clearly not to say all relievers are bad pitchers. In fact, there are some really good ones out there. Luckily, Arizona has a handful of them. In 2013, however, their less-than-prime relievers were overexposed due to all the extra innings the team forced themselves into.  No offense to Josh Collmenter, but I'd rather never see him pitch (unless Arizona's up by a bunch of runs). Having to go to the 'pen at an extreme rate is a sign that the team is not getting the job done in the first place.
The D-backs relief corps is as deep and talented as it's been in recent memory, but everyone wears down under extreme workloads. The extra innings take their toll and most of that extra burden is placed on the relief staff. The knife cuts both ways as these situations also expose the relief staffs of Arizona's opponents, but the team surely can't afford another season in which it leads the league in extra innings.
It's a bad sign all the way around.