The Active Roster is affectionately referred to as the 25-man roster, but there are some circumstances in which it need not have exactly 25 men on it. The Disabled List is one exception, but teams are also allowed to run with 24 players in a pinch, have a 26th man for double headers, and a "taxi squad" player in some circumstances. The two regular season games in Australia are so early that the D-backs will be operating under a different set of rules for their Active Roster which could make the games play out very differently than what we're used to.
Steve Gilbert outlined these separate rules almost two weeks ago. In broad strokes, the D-backs will not have to cut their roster all the way back to 25; they must instead cut it back to 28, designating three players as not eligible for the Australia games (my read is that they may designate different players for each game, but as we'll see below, the distinction is meaningless anyway). In addition, the club can bring two other players from its prodigious spring training crew (68 total!) to play in the exhibition game against Team Australia on Friday, March 21.
So how should the D-backs stack up their roster? Fortunately, we need not answer some ultimate questions about the American Opening Day roster, such as whether the team will really carry three shortstops, whether the team will carry five true outfielders, or whether Will Harris will get bumped from the bullpen entirely. At this stage, I also don't care who the backup catcher is (we'll return to the topic of catchers next week). The important considerations involve Cody Ross, who to put as players 26-28, and who to bring just for the exhibition game.
First off, the no-brainers among the 28:
Position Players (13)
C Miguel Montero
Backup Catcher Guy
1B Paul Goldschmidt
2B Aaron Hill
SS Didi Gregorius
3B Martin Prado
OF Mark Trumbo
OF A.J. Pollock
OF Gerardo Parra
INF Eric Chavez
INF Chris Owings
INF Cliff Pennington
OF Tony Campana
Pitchers (13)
SP Patrick Corbin
SP Trevor Cahill
SP Wade Miley
SP Brandon McCarthy
SP Bronson Arroyo
SP/RP Randall Delgado
RP Addison Reed
RP J.J. Putz
RP Brad Ziegler
RP David Hernandez
RP Josh Collmenter
RP Joe Thatcher
RP Will Harris
That's 26 guys who I regard as locked in for one of the 28 spots. As I said above, there's no need for the D-backs to "solve" the three shortstops issue at this early stage. But even if they did decide to send Gregorius or Owings to the minors, there's no reason not to bring them both along; and in the unlikely event they decide they're going to cut Pennington, they'll be paying him anyway, so he might as well come, too. Here's the group of players I think are in the running for the remaining two active roster spots, or the two exhibition-only spots:
OF Cody Ross
OF/INF Matt Tuiasosopo
OF/INF Shelley Duncan
RP Marcos Mateo (RHP)
RP Joe Paterson (LHP)
RP Santos Rodriguez (LHP)
RP Zeke Spruill (RHP)
RP Ryan Rowland-Smith (LHP)
Before determining which four of those guys should be within the 30 (and which two should be exhibition-only guys), we should first determine which of the 26 from the first list will be on the list of 25 that are eligible to play in the Dodgers games. I think all seven of the pure relievers will be among the 25, and all 13 of those position players. As for the other pitchers, the D-backs have no incentive whatsoever to make all five projected starting pitchers eligible to play in the Australia games; this is not the playoffs, and while the games do count (they were organized under the reign of Bud "This One Counts" Selig, after all), it's still extremely important to keep the other three (or four) guys in line to begin the season at full strength. Bronson Arroyo almost certainly won't even join the team on the trip, after being shut down for 7-10 days due to a bulging disc. Since Arroyo's situation could mean that Delgado is needed to start at the outset of the season, Delgado's availability as a long reliever should also be questioned.
As Rod wrote in this space on Tuesday, we know that Patrick Corbin and Trevor Cahill will be the starters against the Dodgers on March 22 and 23 (Australia time). In terms of timing, that's going to involve a bit of a stutter step for both pitchers; if they stay on a regular four days' rest routine from when they pitched yesterday (Cahill) and the day before (Corbin), Corbin would pitch on the 15th, and Cahill the 16th. That's a full week before their turn in Australia, although with the time change it's more like just over five days rest, instead of a full six. Since the team will be traveling on the 17th, it's unlikely the team would move both pitchers back a day earlier this spring.
The man just ahead of Corbin this spring has been Randall Delgado, and so it looks like he's the likely pitcher for the exhibition game against Team Australia. It seems like Wade Miley and Brandon McCarthy might not make the trip, however, as if they stayed on a regular four days' rest routine, they'd pitch on the same days as the two Dodgers games (American time, anyway).
Quick tangent: if Miley and McCarthy stay on schedule, they'd be in line for games 2 and 3 against the Giants. But an extra day of rest for them somewhere is likely (before their last spring training turns, is my guess), because if the D-backs are willing to pitch Corbin and Cahill with three and a half days' rest after the Australia games, they could be in line to pitch games 1 and 2 in the Giants series. Or Miley and McCarthy could get pushed two days back, if Arroyo is in shape to start game 1 of the Giants series. We'll see what happens, but the D-backs are already lined up pretty well for the "real season."
No matter how you slice it, Miley and McCarthy won't pitch in an actual game in Australia. There aren't enough innings to keep them stretched out by coming in to relieve Corbin or Cahill. Whether Miley and McCarthy pitch their simulated games in Arizona or Australia is immaterial — they will be two of the 26-28 on the Active Roster.
That means that of the second group of players above, not only will four of the eight be among the overall list of 30, but two will probably be eligible for the Dodgers games. So who should be designated as what? Here's my proposal: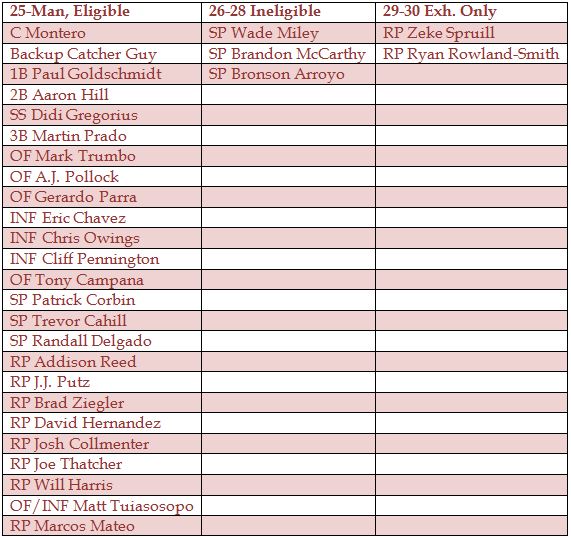 Cody Ross is not on here, you might notice. As Steve Gilbert explained, putting Ross on the DL would only keep him out of three of the Giants games; if he wasn't going to make a meaningful contribution in Australia anyway, three missed games is a small price to pay for increased roster flexibility, in my view. And like with Miley and McCarthy, I see no reason at all to make Arroyo eligible for the Australia games. Maybe he'll be working his way back and won't need to maintain a high inning count at that point, but even then, the juice is just not worth the squeeze.
With Ross out, there are only two other position players in that supplemental list of eight players I think are on the bubble. And because Shelley Duncan is not on the 40-man roster (and because the D-backs' 40-man is full), I think it's just Tuiasosopo who makes the squad. Reports have been good in the spring, and his skill set fits well with what is effectively a 28-man roster (3 more bench players than normal, without all SPs counted).
The pitching choices are more difficult. The club has no option years left with Delgado, so despite the fact that he'll be pitching the exhibition game, he's going to be in one of the two left columns; since none of the Delgado-Miley-McCarthy-Arroyo group will be pitching in either of the Dodgers games, the identity of the one who's on the actual 25-man doesn't matter.
But, similarly, Marcos Mateo is either among the 28 in the left two columns, or he has to be offered back to the Cubs (for $25,000, half of what the D-backs paid the Cubs to get him). And even if the Cubs declined to buy him back (or if the teams worked out a small trade), he'd have to pass through waivers in order to be sent back to the minors — and he probably wouldn't pass through waivers untouched. He's not the reliever on the bubble for the regular season — with Delgado sliding into the bullpen, it's Will Harris who's next in line. So he's not even insurance against injury, really, as two relievers would have to get hurt between now and March 31 for him to be on the Active Roster for the Giants series. Still, I like the idea of giving him more of a tryout before the team decides to cut ties.
Those decisions leave no room for Zeke Spruill or Ryan Rowland-Smith. I had thought a few weeks ago that Spruill might be an ideal candidate to start an exhibition game in Australia, but he's been working as a reliever this spring. Delgado will not go nine innings for that game, however, and so there's every reason to bring along a couple more relievers to keep the other guys fresh for the Dodgers games (different story if, like the Dodgers, there was a day off in between the exhibition and the regular season games).
Rowland-Smith is the other obvious choice to pitch in the exhibition game, as an Australia native. And because Thatcher is the only lefty in my proposed bullpen, he'll be kept out of the exhibition game at all costs, in case he's called on for both Dodgers games. If Thatcher got hurt and put on the DL, Rowland-Smith could be added to the "real" roster, so he's insurance.
The lack of a second lefty is the obvious shortcoming with my proposed roster. That's also a problem for the March 31 roster, but it would be reasonable to include a second lefty in this larger roster. The problem is I don't know what to make of Santos Rodriguez, and from what I can gather, neither can the D-backs. Joe Paterson would probably be my guy if Marcos Mateo isn't included, but it was pretty glaring that Paterson was not among the September call-ups last year. There is no incentive for the D-backs to put Andrew Chafin on the 40-man roster just to pitch in one Australia game. Eury De La Rosa is technically an option, and a comfortable one, as he's already on the 40-man; but with so many good right-handed options, I see no reason to pitch a lefty that mediocre.
Of the 68 players in camp (40-man and non-roster invitees), there are only nine left-handed pitchers. One is the recovering Matt Reynolds; and two (Corbin, Miley) are in the rotation. We just talked about the other five pitchers who could join Thatcher in the bullpen, and none are inspiring. I do think that's not ideal, but with Chafin, Reynolds and Daniel Gibson in the fold, I don't view it as a long term issue, and buying a second guy like Thatcher seems foolish. As I wrote when I broke down the composition of the bullpen, I'm perfectly happy for the team to treat Will Harris as the second pen lefty, which is helpful for the Australia games and a reason to push for Harris for March 31.
Still, expect this lefty shortage to be a theme leading up to and during the Australia games. With Matt Kemp unlikely to play, Andre Ethier will start; and that will put at least three LHB in the Dodgers' starting lineup. Adrian Gonzalez is a good Thatcher target, but Carl Crawford has always had enormous platoon splits, and Dee Gordon could end up winning the second base job. That will spread Thatcher pretty thin — but we'll see if the team uses Harris in some of those situations.
Update 3:10pm AZ time: The D-backs have agreed to terms with LHP Oliver Perez, reportedly, pending a physical. No terms disclosed. But as it is being reported as a 2-year deal, it will be a major league deal. As such, I think Marcos Mateo will not make the squad as indicated above, with Perez taking his place. I don't think any other roster spots (for Australia, anyway) will be affected, but note that some of the analysis at the end of this post is now moot.