To say Miguel Montero hit a bump in the road last season would be a massive understatement. I've personally never witnessed a player scuffle so badly and so obviously for such an extended period of time. It was tough to watch and one couldn't help but feel for the heart and soul of the D'backs as he tried to fight of the funk that was utterly destroying him one plate appearance at a time.
Luckily, Montero is back to form in 2014. He's taking his walks, the strikeouts are way down, the power is present and he's getting on base. Some of his hits have been timely as well, which never hurts. It would appear that this is the Miguel Montero of old, but I have another idea: the Montero of old never really disappeared in the first place. Let me explain.
When a player drops off to the degree that Montero plummeted in 2013, there are usually indicators of the drop. The player is swinging more, making less contact, taking too many pitches, chasing too many pitches, striking out more, hitting more balls in the air, hitting fewer line drives, etc. At some level, something generally comes up that is out of line with the player's previous track record. I dug into the case of Montero and came up largely empty-handed with each stone I overturned. Let's run through those indicators and I'll show you what I mean.
The first place I looked was plate discipline. If Miggy was doing something wildly different, I'd expect it to show up here. Here are Montero's career totals, with his wRC+ added for context of how he performed offensively in each season.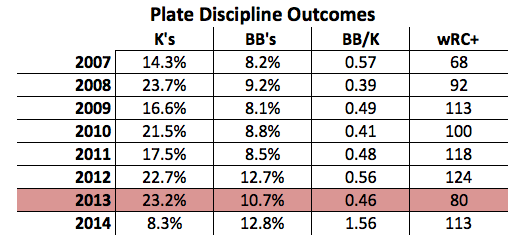 Ok, so nothing really jumps out. His strikeout rate was up .5% over the previous season, but not a career high, and not by an alarming margin considering the success he'd already had with a strikeout rate in this neighborhood. His walks were down, but again, not by a huge rate and it was the second-highest walk rate of his career, so there's nothing to really quibble with there. The BB/K ratio is also in the ballpark of his career norms. Overall, we see some decreased performance over the year prior, but nothing big enough to push him off the cliff.
As noted above, however, these plate discipline indicators are outcomes. What about the process itself? Did he swing himself into a slump? See below: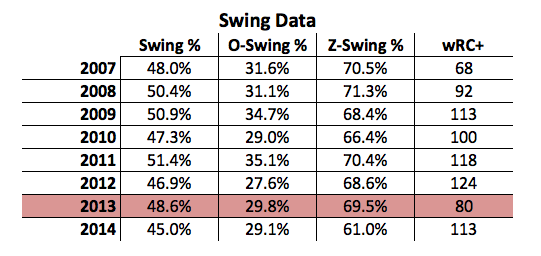 Again, we're left with pretty unconvincing results. Montero has been as steady as they come throughout the bulk of his career and his 2013 numbers aren't any different. His overall swing rate (48.6%) is right in line with his averages. He wasn't chasing more pitchers out of the zone than previous years (O-Swing%) and he was swinging at a very average number of pitches in the zone (Z-Swing%). Essentially, his swing patterns stayed in line with his career numbers. But what happened when he swung? Did he start making less contact, indicating a mechanical flaw or slowing bat? Here we might be on to something: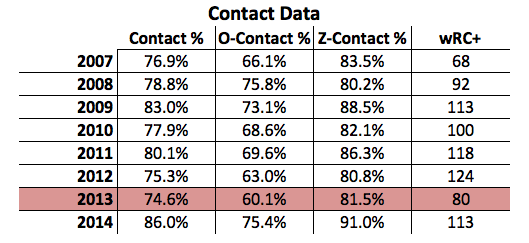 Montero's contact rate was down overall in 2013 to it's lowest level ever, but notice the change: it's only down .7% over the previous season, his best offensive season ever. Yes, the contact was down, but not in an extreme outlier kind of way. The same can be said for his out of zone contact (O-Contact%), it was down but has been trending downward for a few years, hardly making it a surprise. His zone contact (Z-Contact%) was actually improved over the season past, meaning he made more contact on pitches in the zone over the year previous. Ok, so he swung and missed more out of the zone but made more contact in the zone. This doesn't seem like much of a red flag when taken in context. Sure, you'd like to see him making more contact, but he's an aging catcher so this shouldn't come as a surprise and the magnitude of the drop is pretty small; surely not enough to warrant his disastrous 2013 on it's own merit.
If the outcomes and the process weren't all that different, then perhaps pitchers threw to him differently. Maybe the league caught something and exploited it, in other words. Take a look at what pitches Montero saw last season as compared to others:

Once again, we come up empty. Montero saw a similar number of pitches in the zone in 2013 (Zone%) as in years prior. The normal fluctuations are present, but nothing is out of whack. My final thought was in regards to his batted-ball profile. Did he hit a bunch of balls in the air? As we know, fly balls are the most likely type of ball turn into an out, line drives the least likely and ground balls somewhere in between. Perhaps something changed here:

Alas, we have something sizeable to report! Montero traded in a large number of fly balls for grounders. This might usually be a good thing since as we noted above, fly balls are the most likely outs. But context is important here: Montero does not run well. His slow foot speed means that a disproportionate number of ground balls will turn into outs for him compared to the average runner. In Montero's case, a bunch of grounders could spell trouble. AJ Pollock or Chris Owings should hit the ball on the ground and run like hell, Montero should not. As we'd expect, his BABIP dropped sharply as a result of these grounders despite the fact that his line drive rate remained solid.
But there's another takeaway here, too. Montero was flat out lucky in 2012. His .362 BABIP was in no way sustainable and a precipitous drop was due to happen in 2013. Unfortunately, it didn't just drop to his career average, it dropped nearly 40 points lower. Part of this is the law of regression and part of this would appear to be his propensity to hit the ball on the ground last year. Combined, the two effects were devastating.
Miggy's 2012 raised the expectations for him to an unfair level and the bottom fell out in 2013, so who is Miguel Montero? I'd suggest that the 2012 Montero was a fantastic aberration, one that was a huge boost to the D'backs, but one that we shouldn't have expected to repeat his performance. If anything, Montero should be expected to perform more like his 2009-2011 self, one where he was consistently good but never amazing. While we'd all like to see the 2012 version re-appear, luck likely won't allow it to happen. If Arizona is left with the Montero from 2009-2011, however, they should count their lucky stars, because it could be a whole lot worse.
If you watched Diamondbacks baseball in 2013, you probably don't need to be reminded of that.