Here at Inside the 'Zona, we've published good work on a number of players this year. We've discussed Miguel Montero's re-emergence, AJ Pollock's growth, Chris Owings' maturity, Martin Prado's hidden value, Evan Marshall's strong debut, Addison Reed's home run struggles and so much more. But in case you're not keeping score, we've somewhat neglected to discuss Paul Goldschmidt much. Of course, Goldy is still the team's best player, and quite frankly, it's not even close. There have been some inspired performance so far, but no other Diamondback can hold a light to Paul in terms of pure talent.
It's easy to get complacent with such a great player as we've come to expect solid production from The People's MVP. He's so good that it's easy to forget just how good he is. Check out his team and National League ranks this season in a number of areas:

As you can see, not only is Goldy leading the team in nearly every important offensive category (Montero leads in OBP, Chavez in ISO). He also happens to be among the league leaders in those same categories. You probably expected this, but it's just confirmation that he's really, really good across the board.
But there is something troubling in his peripherals, as was first pointed out to me by twitter companion Ron. He remarked a few weeks back that Goldschmidt wasn't taking walks like he did last season. I'd noticed this, too, but looked it up and was surprised to see how far his walk rate had actually fallen. My response was to say that we should wait a little while before drawing any conclusions as the sample size was considerably smaller than it is now. Well, now the sample is bigger and, guess what, his walk rate is still down. Way down.
For comparison's sake, here is Goldy's walk rate, strikeout rate and walk to strikeout ratio over the last three seasons:

The strikeouts have stayed pretty constant, but the walks have fallen off dramatically. Because walks are such an important component of WAR, wOBA, wRC+ and other collective offensive metrics, it's no wonder he's not closer to the top of the National League (although he's still in good standing).
So what's up with this trend? Digging into the PITCHf/x data, it's hard to find anything conclusive. Goldschmidt is swinging at the same number of pitches and is showing the same plate discipline as last year. In short, he's not swinging wildly or chasing a bunch of pitches out of the zone relative to last season. He's making the same amount of contact, too, meaning he's not whiffing more. So what gives? Are pitchers throwing to him differently than they did in 2013? It doesn't look like it.
2013 Heat Map (all pitches)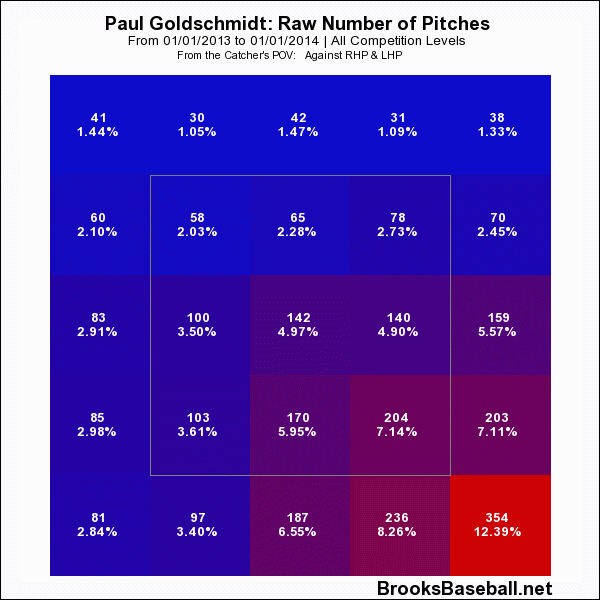 2014 Heat Map (all pitches)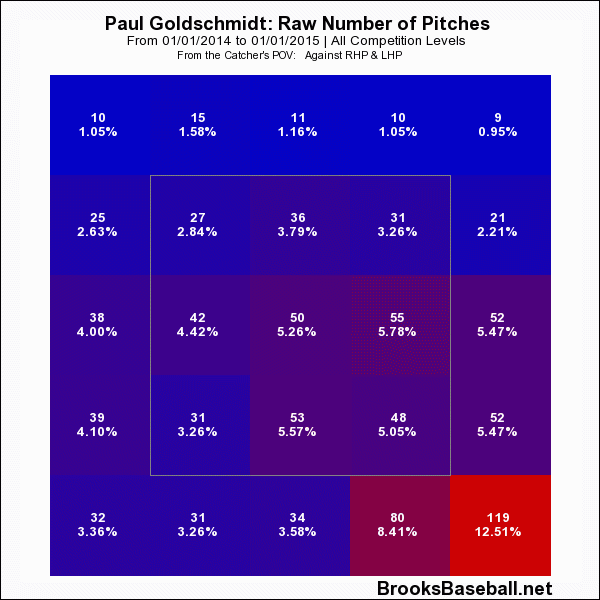 As we've come to know, Paul Goldschmidt takes the ball where it's pitched. Throwing him away? He'll put in the right field gap or drive it over the wall. Pitching him inside? He'll pull it down the line or take you way, way deep. This leaves the option of pitching him down the middle and you've seen enough of Goldy to know that's a bad idea no matter what. This is possibly Goldschmidt's greatest strength, but what does it have to do with is walks? Comparable to other power hitter, Paul Goldschmidt receives a lot of pitches in the zone. Throw him pitches in the zone and he'll swing. Jose Abreu, Jose Bautista and Adrian Gonzalez all see fewer than 42% of pitches in the zone. Goldy gets more than 47% of his pitches in the strike zone. He swings at these pitches, just like he should.
But the 47% of pitches in the zone that Paul receives is exactly what he received last year, so while it's a large amount compared to his peers, it's not like he's getting more of them than normal. He's not striking out more, but he's taking far fewer walks, so he's putting the ball in play more often. This confirms what I feared initially: he's pressing.
Rather than take a walk, he's making contact. With a .304 average and a .361 BABIP, we can't really blame him for swinging, but is this really what's best for the team? It's hard to imagine that getting on base more often is a bad thing, but that's exactly what's transpired with the extra balls put into play (.401 OBP in 2013, .356 OBP in 2014). For those that believe in lineup protection, this seems pretty counterintuitive. Mark Trumbo and the current version of Miguel Montero provide far more protection than what he had last year. Getting on base for Montero seems like a pretty good idea.
There's no clear-cut conclusion here. Unless Paul's about to fess up to actively trying to put more balls in play and take fewer free passes, there's not a lot we can say. What we do know is that getting on base more is a good thing and getting on base less is bad. For now, he's getting on base less. Maybe this is an organizational directive since we know they don't like math, but everything we know about baseball speaks to the contrary. For now, we'll have to wait patiently and hope Goldy starts doing the same.