Since becoming GM of the Diamondbacks about 43 months ago (September 22, 2010), Kevin Towers has completed 32 trades with 22 different teams. What would the current roster look like if we reversed each and every one of them?
Understand, I'm asking you to suspend disbelief for a purely academic exercise. It's not so simple, of course, and Towers would undoubtedly have made different decisions about player extensions and free agent signings if the roster was this much different. Also, one of the main motivations for trades are gluts at certain positions, and erasing them all could therefore lead to some very unrealistic situations. I was still curious about the results, however, and thought you might be, too.
So here are the rules: this is about the May 13, 2014 roster only, although we will pay attention to significant minor league players. Players traded away whose contracts expired will therefore not be considered — except if that player signed an extension while under the contract traded away by the D-backs (this is a moot point, it turns out). We will assume all other transactions, including free agent signings, would be unchanged.
Only 13 of Towers's 32 trades at the helm of the D-backs front office would have an impact right now. Check out the full list if you like, but here are the ones that matter for this exercise:
To be sure, there are trades here that worked out well for the D-backs — especially the trades for Brad Ziegler and Aaron Hill. I'd add the Matt Reynolds move, as well, but this exercise is about erasing all of Towers's trades, not just the bad ones. I think the above list is a little misleading, because some players were included in those trades that wouldn't impact the current roster. So here's a summary of the players involved, either major leaguers or minor leaguers likely to impact the major league team:
Players currently in the organization who wouldn't be: Brad Ziegler, Aaron Hill, Trevor Cahill, Cliff Pennington, Didi Gregorius, Martin Prado, Randall Delgado, Brandon Drury, Zeke Spruill, Nick Ahmed, Matt Reynolds, Tony Campana, Joe Thatcher, Matt Stites, Justin Choate, Mark Trumbo, A.J. Schugel, Brandon Jacobs, Addison Reed, and Lucas Harrell.
Players currently out of the organization who would be: Jarrod Parker, Ryan Cook, Collin Cowgill, Ryan Wheeler, Trevor Bauer, Justin Upton, Ian Kennedy, David Holmberg, Adam Eaton, Tyler Skaggs, Matt Davidson.
Clearly, there's a quantity shortfall here that, in the real world, probably would have been made up for in the free agent market. In fact, we can't even field a real team if we reverse all of Towers's trades because of a lack of middle infielders. As of now, the team has four shortstops (Chris Owings, Cliff Pennington, Didi Gregorius, and Nick Ahmed) and two second basemen (Aaron Hill, Tyler Bortnick) who could at least play in a pinch. But five of those six players were acquired in Towers trades, leaving just Owings. Kelly Johnson became a free agent after Towers traded him to Toronto, but for the sake of filling out a team, let's say he stayed with the D-backs. Here's how the current roster would compare, then, to our "alternate universe" roster: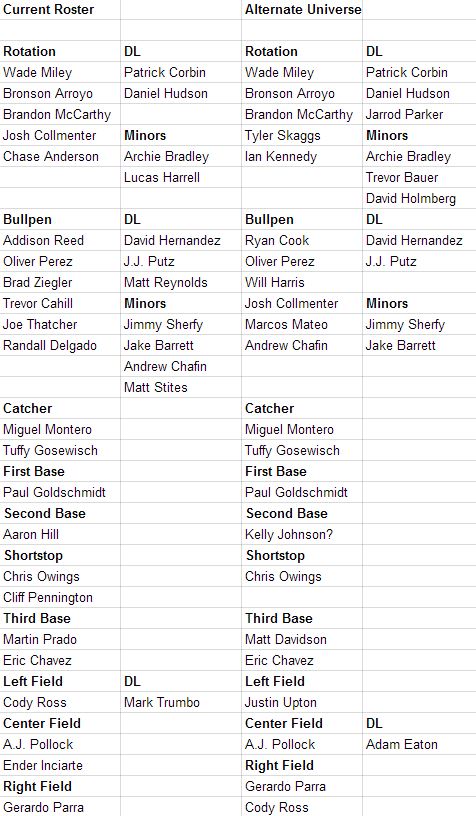 Rotation
Opening the 2014 season, the Alternate Universe D-backs wouldn't necessarily have had a significantly better rotation. The D-backs would have made national news, however, for losing both Patrick Corbin and Jarrod Parker within a few weeks of each other, especially with Daniel Hudson also on the shelf. Remarkably, the rotation would still be full of depth. In place of Corbin and Parker, Tyler Skaggs would step in instead of Randall Delgado. One would hope that Dave Duncan could do with Skaggs what the Angels were able to do with him this spring; though he has just 28 strikeouts in 45.2 innings, his 4.14 ERA is supported by a shiny 1.12 WHIP. The iffy Josh Collmenter-in-the-rotation experiment would never happen.
More importantly, the Alternate Universe D-backs would be set up for the near term and the long term in the rotation. If Ian Kennedy struggled, he would be replaced by a resurgent Trevor Bauer who has a 1.12 ERA in AAA in 40.1 innings, with 40 strikeouts and a 0.94 WHIP. We wouldn't even be talking about Archie Bradley, who might be inserted into the rotation at the end of the season in case of injury or if the team decided to write off Brandon McCarthy. And 2015? Wrap your head around this scary rotation: Patrick Corbin, Wade Miley, Trevor Bauer, Tyler Skaggs, and Archie Bradley. That's, essentially, a rotation full of #2 starters, and for every one that might be more of a #3 (Skaggs?), there's one that might be more of a #1 (Bradley?). The team would also have Jarrod Parker and Bronson Arroyo, and could safely trade one of its starters to fill another need with David Holmberg there as an emergency #7 starter. Its depth in premium pitching would be the envy of the sport.
Bullpen
We have to be a bit more creative to round out the Alternate Universe D-backs' bullpen with Ziegler, Reed, Thatcher, Cahill and Delgado all gone. Like the revolving door 7th-man slot currently filled by Evan Marshall in the real world, I'm not super concerned with sketching that out. But just like the rotation losing Corbin and Parker, the bullpen would bemoan the loss of David Hernandez and J.J. Putz, with Daniel Hudson more clearly destined for the bullpen with such depth in the rotation. We know Kevin Towers, and we know he probably wouldn't let the bullpen have less than five veterans — even though letting kids pitch in the bullpen would be the right way to go.
Either Towers would have signed some free agents like Manny Parra, or else he'd have to promote from the minors. Behind Oliver Perez, we'd have Will Harris, if he didn't pitch himself out of a spot, and Collmenter would be right where he belongs. Ryan Cook would be a key piece of the bullpen, however, and well on his way for a third consecutive sub-3.00 ERA in his third full major league season. On the same place on the arbitration scale as Addison Reed, Cook might close, and his career 2.01 ground ball to fly ball ratio and 9.47 K/9 rate might make for less of a homer-prone closer than Reed. Rounding out the 'pen might be Rule 5 pick Marcos Mateo, but after the top 4 (Perez, Harris, Collmenter, Cook), the bullpen would definitely be filled out with kids like Andrew Chafin (lefty killer?) and Jake Barrett. Again, going young in the bullpen is good thing, and if one of those guys struggled, they could simply be optioned. It's hard to know if the Alternate Universe D-backs' bullpen would be better than the current one, but it seems unlikely that it would be worse.
Infield
Paul Goldschmidt would still man first base, and there'd still be a Miguel Montero/Tuffy Gosewisch behind the dish. I've already alluded to the middle infield situation above, but shortstop is another position that would be unchanged; Chris Owings may have had an earlier crack at the shortstop gig in 2013. Kelly Johnson or no Kelly Johnson, second base would be an area of need for the Alternate Universe D-backs, who would also need a utility infielder.  Matt Davidson would get a chance at third base at the outset of this season, with Eric Chavez a mentor starting twice per week; that wouldn't necessarily be a good thing, with Davidson really struggling in AAA to start off the 2014 season (.174/.240/.321).
Aaron Hill and Martin Prado leave big holes, which Davidson can only partially fill. Still, the signing of a cheap Skip Schumaker or Alberto Callaspo type would help avoid the infield being a liability. And you never know, the Braves might not have signed Prado to an extension — and Towers would have been ready to swoop in with an offer this last offseason. Overall, I think the Alternate Universe D-backs' infield would be a tick worse than the current one.
Outfield
Here's where we get unrealistic again. Assuming Adam Eaton still had his elbow injury from spring 2013, A.J. Pollock would have gotten the same shot to play center field; but with Justin Upton also in the fold, an Upton-Eaton-Parra starting crew would be possible. Chances are that Gerardo Parra would never have gotten a shot to play right field full time, and it's at that position that his throwing arm plays up, with great results. Right now, the Alternate Universe D-backs would probably have Pollock in reserve, with Parra getting the occasional start in center while platooning with Cody Ross in left field. Upton would still man right, although flipping him and the Parra/Ross platoon would have been better for the club.
Mark Trumbo isn't playing left field in either reality or our alternate universe, and so a Parra/Ross-Eaton-Upton seems like a very significant upgrade over the Inciarte/Ross-Pollock-Parra arrangement the team has now. Normally I'm all for defense, but Eaton and Upton are such a big upgrade offensively that the Alternate Universe D-backs' outfield would definitely be better than the one the D-backs are fielding right now. Chances are pretty good that one of Eaton or Pollock would be flipped in a trade, but there would be plenty of suitors, and the team would be in good shape regardless of which player it kept.
Money
Another advantage the Alternate Universe D-backs would have, especially given the hole at second base: they're cheaper. Of the players the organization would have but for Towers's trades, all are making the league minimum or are in the minors, with the exception of Justin Upton ($14.25M) and Ian Kennedy ($6.1M). The Alternate Universe D-backs may have strongly considered non-tendering Kennedy, given their tremendous rotation depth — at any rate, it seems unlikely they would both keep Kennedy and sign Bronson Arroyo this last offseason. But let's say they do: that's $20.35M to add to the 2014 till.
On the other side of the ledger, the Alternate Universe D-backs would not be paying the salaries of Aaron Hill ($11M), Martin Prado ($11M), Trevor Cahill ($7.9M), Mark Trumbo ($4.8M), Brad Ziegler ($4.5M), Cliff Pennington ($3.25M), Joe Thatcher ($2.375M), along with some other league-minimum salaries (like Delgado, Reynolds, Reed). That's $44.825M less, and after putting back the Upton and Kennedy salaries, the Alternate Universe D-backs' payroll would be about $24.5M less than the current team's payroll. Yes, the team would probably sign a veteran reliever, a backup infielder, and a second baseman. But if you assume money would be dedicated to those positions, you also have to change your evaluation of the bullpen and infield.
Would the D-backs have signed Robinson Cano this offseason? Probably not. But Howie Kendrick could have been had for a song, and a Goldy-Kendrick-Owings-Davidson infield is not too shabby, especially with Chavez helping out at third. Say it's still a tick below the current infield. I'm inclined to call the bullpen race a tie, however, and the Alternate Universe D-backs have an advantage in the outfield and an enormous advantage in the rotation. The Alternate Universe D-backs would also be better equipped for the future, with a great young rotation with room to grow and cost-controlled players all over the field and bullpen.
As Jeff has pointed out, it's pretty clear that in prioritizing player types over player value, Towers has made the team worse. Reversing all of Towers's trades seems to lead to the same conclusion. Who would you rather have right now, the Alternate Universe D-backs or the current team?