More than a Year Later, the Justin Upton Trade Looks Worse
Sometimes, it's not hard to know what GM Kevin Towers is thinking. In the most recent offseason, the team was very public about its desires to add a power-hitting outfielder and a front-line starter. In the offseason before that, it was the desire to trade a power-hitting outfielder.
Whether stating your priorities to the world helps potential trade partners come to you, I don't know. It may be that Towers has undercut his position in the past by speaking publicly, and as Jeff Wiser has eloquently argued, airing one's dirty laundry is not a very good strategy, especially if done frequently. But it's the preference that Towers has, and that would be fine — if it worked. The trade of Justin Upton after so much public hand-wringing is an example of it not working.
On January 24, 2013, Towers finally consummated a trade, moving Justin Upton and third baseman Chris Johnson to Atlanta for jack-of-all-trades Martin Prado, Randall Delgado, Zeke Spruill, Nick Ahmed and Brandon Drury.
As a trade, this was not a colossal failure in the way that the Mark Trumbo trade was; trading Trumbo actually reduced the D-backs' chances of winning in 2014 while giving up on the future of two very real assets, a lose-lose proposition that seemed pretty obvious from the outset. But the Upton trade wasn't a great one, either, and in hindsight, it looks even worse.
I'm aware that evaluating a trade is not as simple as assigning value to contracts or club control; there are more pieces to this puzzle. For one, a single 3-win player is worth more than three 1-win players, and by quite a bit — because chances are really good that you'll be able to find two players above replacement level (and if 1-win players are easy to find, you're looking at 5 wins of value versus 3). That's not allowed for here, but given that Arizona's return was more about quantity, that factor does not work in the team's favor. Another missing piece may be how the team was working with Upton. If that relationship was strained, we can fault the club for that situation, but not for valuing him differently because of it. Finally, while targeting types of players or "grit" hasn't worked out well for the D-backs, I don't want to ignore the fact that Towers and Gibson may be right in prioritizing certain personal qualities, even if they're probably wrong in terms of the extent that they've done so.
Still, players don't get traded — contracts (or team control) get traded. This format works well not just for evaluating the trade, but for evaluating how the value of the trade may have changed in the last year+. Here's my tabulation of the value of the seven players involved in the Upton deal, followed by my justification, and some final thoughts.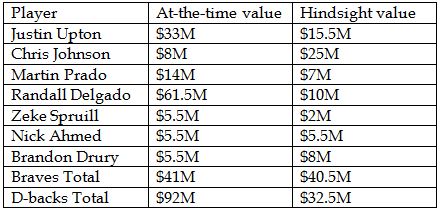 First step: who is Justin Upton, anyway? The Towers trade comments stretched on for such a long period of time that one would suspect he had trouble getting what he thought Upton was worth (similar to the team not trading a shortstop in the last offseason). At the time, Upton was one year removed from a 6.1-WAR season with a .898 OPS that had him the 14th-most valuable position player in the game. The D-backs may not have wanted to trade him then, but had he been traded then, his value would have been through the roof.
But that's besides the point. 2012 saw Upton put up just 2.1 WAR, with subpar defense and a mere .785 OPS — a fairly precipitous drop in a similar stretch of playing time. Upton's new team had every reason to think they were acquiring a 4-win player, with upside, and on a reasonable contract. At this point, whether Upton could get between $14M and $15M per season is a legitimate question, but a year ago, a win cost about $6M in free agency. A three-year commitment is about perfect from a team perspective, and the total gap between Upton's expected value over three years (approx. $72M) and the financial commitment ($38.5M) is pretty steep: $33.5M (about 60% of a B.J. Upton contract!). If you consider him to be the 3-win player he ended up being last season, that "hindsight value" declines quite a bit, to about $15.5M.
We need not guess about Chris Johnson's current value, as the Braves just signed him to a three-year, $23.5M extension. But that was now, and this was then, and at the time of the trade, Johnson was about to make $2.2875M (that extra $500 is important, apparently) in his first of four years of arbitration as a super-two player. League-average hitters are not easy to find, but that's what Johnson profiled to be, with fringe-average defense. That's a 1-win player, or thereabouts, and that's how he was valued by the Astros and D-backs when he was traded six months prior to the Upton trade. If we keep up the $6M/win fiction, that's a $6M player, one that still had value for two or three years in arbitration, but a player that might have been a non-tender candidate before his final arbitration hearing in the 2015-2016 offseason. I'd estimate his at-the-time value to be in the neighborhood of about $8M ($4M in 2013, etc.).
At the time of the trade, Johnson was expected to split 3B duties with Juan Francisco, and he did — for a short time. But Johnson took off and never looked back, posting an Aaron Hill-ish 127 wRC+ over the course of the season — dragging his career rate from the below-average, sub-100 range to 105. He ended with 2.8 WAR, and a reasonable assumption might be that the 29-year-old is a 2-win player moving forward. For whatever reason, team and player value the free agent season in his recent contract at $9M, and I'm tempted to value his future seasons at that level. Call it $16M in found value for last season, then, and about $9M for the next three: $25M in "hindsight value."
The headliner on the D-backs side of the trade was Martin Prado, but unless you place a lot of importance on exclusive negotiation rights, it's hard to assign much value to him. Prado came with only one year of control in his final year of arbitration, earning a $7M salary for 2013 while signing away three free agent years at $11M each. Prado had just posted a career 5.6-win season after a mediocre 2011 (1.3 WAR), and his track record suggested that 3-win performances were a good bet. I happen to think that Prado should get a bump in value for his flexibility (the thing that would make a Chavez/Ross platoon feasible at the moment), so let's base his at-the-time value on 3.5 WAR. That's a theoretical savings of $14M for 2013, but I don't think it makes sense to assign any value to Prado's free agent seasons when their value were agreed on so soon after the trade — especially since there was no guarantee that Prado would sign such a deal. His $14M at-the-time value sinks to just $7M in "hindsight value," as Prado's scuffling start caused him to finish 2013 with just 2.3 WAR (I'm still including a flexibility bonus).
Randall Delgado had just posted a 0.9 WAR season for Atlanta before the trade — but in 92.2 IP, lending a lot of optimism that Delgado was in fact a 2-win pitcher, with upside to be more than that. Let's split the difference and base his at-the-time value on 2.5 wins ($15M/season). The D-backs got a full 6 years of club control — and following a 40/60/80 rule as a rough guide for arbitration salaries, Delgado may have been worth a whopping $61.5M as an asset. In light of his 0.1-WAR 2013 and recent demotion to the bullpen, however, it may be more reasonable to credit the D-backs for no value in 2013 and base the future years on half-win seasons. Fortunately, the arbitration process flexes with the "change" in value, but Delgado may be no better than a $10M "hindsight value" asset, something that would tick upward if Delgado becomes more valuable than expected in the bullpen (i.e., similar in value to Josh Collmenter's 2013).
Valuing the three minor leaguers acquired by Arizona is in some ways the hardest task, but in some ways the easiest. Some great research has been done on the value of prospects, like here and here, but that kind of research has generally used top-100 lists as a starting point, and Zeke Spruill, Nick Ahmed and Brandon Drury have not (yet?) shown up on any such list. For at-the-time value, then, the best method might be to use the sale ofDavid Holmberg as a comparison. Like the three players in this trade, Holmberg is/was a fringy prospect that was definitely perceived as an asset, but who was not put on any top-100 lists. It's probably true that Spruill, Ahmed and Drury would not have had equal value if control over them were auctioned off — but Holmberg's $5.5M value is probably fair overall. That's $16.5M in at-the-time value. Since then, Spruill's stock has fallen precipitously, Drury's stock has risen, and while Ahmed hasn't really grown as a hitter, he may have a solid future as a major league backup infielder. Drury is still not on any prospect list, but let's bump his value up to $8M or so, keep Ahmed at $5.5M, and dock Spruill's value to $2M. That's $15.5M in "hindsight value."
***
It looks like the Upton move was reasonable when made if you believe that Randall Delgado should have been valued as high as we've done so above. The fact that Delgado hasn't really worked out as a starter is, in large part, why the trade looks much worse in hindsight. But if Julio Teheran was actually an option for Towers instead of Randall Delgado, that's some serious egg on the face of Towers — not just because he guessed wrong, but because of why he did so. Given that Towers bailed on Trevor Bauer and Tyler Skaggs when they needed fixing, is failing to insist on Julio Teheran another example of Towers thinking that his organization couldn't "fix" pitchers? If so, that's a scathing indictment of his own organization and poor judgment to boot.
As we and the D-backs start to think about a rebuilding plan, however, we're trying to identify trade pieces, and unless the D-backs were to trade Paul Goldschmidt, there are no premium MLB assets in the cupboard with which to obtain premium minor league talent. There are plenty of trade assets, but unless the D-backs can convince another team to take quantity in return for quality, the club is likely to get back more of the same, and to rebuild as a "depth" team instead of as the Washington Nationals or Houston Astros. The Upton trade was a reasonable move that happens to not have worked out particularly well, but, more than anything else, it may have been a wasted opportunity to inject premium talent into the organization.