The Diamondbacks have only played 16 major league seasons since being added in MLB's most recent expansion efforts back in 1998 (along with the (Devil) Rays). In that short time, however, the team has seen some extremely notable performances, accumulating 35 All-Star Game bids. The organization hasn't been without it's stars: Randy, Schill, Gonzo, Webb, JUp and Goldy. They're not alone, but have certainly played the role of "face of the franchise" during their time in Arizona. Of course, these stars were larger than the Diamondbacks, they were/are some of the game's greatest players. As Diamondbacks fans, we've been fortunate to call them "ours" during their days in the desert.
Tonight, the National League All-Stars will take on the American League All-Stars to decide which league will get home field advantage in the World Series. Feel how you will about the consequences of the game, but the spectacle that the game represents hasn't lost all of it's luster. Interleague play has made it slightly less newsworthy, but the matchups are still marquee. No one's going to turn off their TV when Paul Goldschmidt faces Felix Hernandez just because interleague play exists; trust me, we'll all be glued to the action. Miguel Montero will hope to get in on the action, too, after he replaced Yadier Molina on the NL roster. He never received a plate appearance in his only other all star game back in 2011. These two, Goldy and Miggy, will carry the D-backs flag tonight.
This 2014 installment of the Mid-Summer Classic is just the latest chance for the Diamondbacks to shine in the national spotlight. Looking back, there have been some great all-star seasons for Arizona. I think the timing is right to take a peek at those past performances. It's easy to forget just how great some of Arizona's legends were, but now's our chance to do just that. Keep in mind that all-star nominations are usually decided by early July and it's a long season. All it takes a good "first half" to be selected (just ask Bryan LaHair). That doesn't keep us from being able to observe the season that D-backs all-stars have had, however. In fact, let's do just that.
---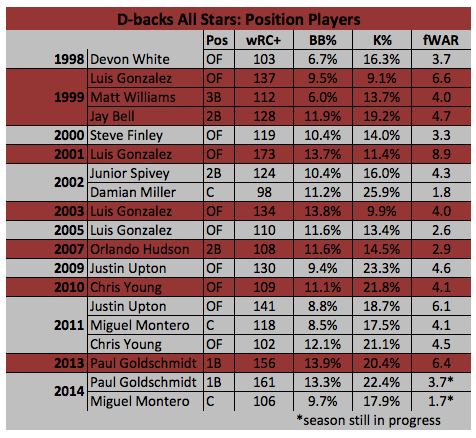 Rising above the rest is Diamondbacks legend Luis Gonzalez. Selected to four all-star games during his D-backs tenure, he had some magical seasons for Arizona. His 8.9 fWAR effort in 2001 is the greatest in position player history for the organization and his 1999 season of 6.6 fWAR ranks second. Justin Upton and Paul Goldschmidt have made their mark as well, and Goldy seems poised to match or break Gonzalez' record of four all-star selections. 2014 represents his second straight all-star game he's shown no signs of slowing down. Miguel Montero and former outfielder Chris Young have also been selected twice, although they've never reached the heights of Goldschmidt or Upton.
Perhaps the most entertaining part of this retrospective of D-backs all-stars is the lesser-remembered names on the list. Devon White, Damian Miller and Junior Spivey aren't exactly the guys that come to mind when you think of Diamondbacks greats, yet there they are, forever enshrined as MLB All-Stars. Jay Bell, Steve Finley and Matt Williams were a big part of the team's first division title in 1999 and are perhaps more memorable. The O-Dog, Orlando Hudson, kind of sneaks into the middle the list, but he had the second best season of his career in Sedona Red back in 2007.
---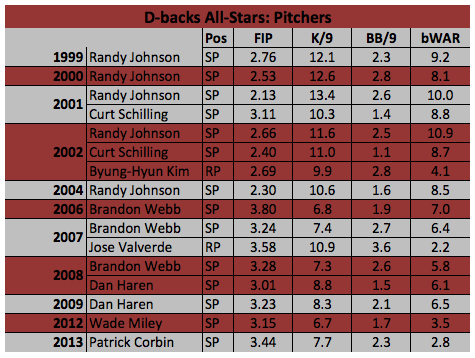 While the pitching staff has plagued the D-backs in recent memory, it hasn't always been the case. With guys like Randy Johnson, Curt Schilling, Brandon Webb and Dan Haren making multiple all-star appearances for the Diamondbacks, there have clearly been some good times on the mound in team history. The Big Unit did big damage for Arizona during his five all-star seasons, racking up 46.7 bWAR and dominating the National League. Brandon Webb made the mid-summer classic three times, and although he was a completely different type of pitcher than Randy, he was incredibly valuable and effective. Curt Schilling and Dan Haren were selected to two all-star games each, and although one will go to Cooperstown and one won't, both were important pieces of successful D-backs squads.
Wade Miley and Patrick Corbin are the most recent D-backs pitchers to be all-stars. Both relied on good first halves to get the call before fading down the stretch. Two relievers have also made the cut. Byung-Hyun Kim was stellar in 2002, his only all-star season. Jose Valverde is hard to forget, too. Papa Grande made his first career all-star appearance for the D-backs in 2007, but re-appear twice with Detroit a few years later.
---
Some Diamondbacks all-stars have been truly great while others happened to cash in the best season of their career while being a member of the organization. Either way, Arizona's all-stars have given fans something to cheer for when the best players in the game take to the diamond at the same time for the one and only time all season. Cheer for Goldy tonight (#MVPaul). Cheer for Miggy tonight (#TACOS). But don't forget the all-stars that preceded them, because they're important parts of the Diamondbacks' all-star story, too.