The Diamondbacks have too many infielders. Still. This logjam has been well-documented, but there have been no moves to relieve the pressure. Depth isn't a bad thing, per se, but when the team has glaring needs, there's no reason to be building a large reserve of infielders. Because first base is spoken for, there are three infield spots and essentially six guys to occupy them, with an additional one not all that far off. Arizona isn't short on options, but if they don't make a move soon, they're going to find themselves in an even more difficult situation in the not-too-distant future.
My colleagues at Beyond the Box Score recorded a recent edition of their podcast, titled "The Shift." In it, they discussed how the Diamondbacks have seemingly had more options than needed for a long time now, but that Arizona has still failed to pull the trigger on a deal for one of their too many infielders. The team could realistically trade Nick Ahmed, Chris Owings, Didi Gregorius, Cliff Pennington, Martin Prado or Aaron Hill. Shoot, they could trade two of those guys if they wanted to. It's more depth than necessary, especially since the number of wins and losses this year is essentially irrelevant. The Diamondbacks have trade chips and they're not trading them.
You may have found it weird that I started the list of players above with Nick Ahmed, but there was a reason for that. Relative to the type of player he is, his trade value is currently at its peak. Ahmed is a bench player, no matter how much he hit at Reno. Best case scenario is that he becomes the next Cliff Pennington and can hit .240 with outstanding glove work. Trading him before he gets badly exposed by big league pitching makes all of the sense in the world, unless they view him as part of the larger plan. In other words, perhaps Arizona wants Ahmed to be their next Pennington as early as next season.
That's fine, I guess. It depends on what they think they could get back for Ahmed on the trade market. If they could get a young, backup catcher for him, I'd say that's a good move as trading from depth to fill a weakness is always a smart idea. If they can't, and everyone in the industry is unwilling to give them anything of use, well, I suppose just make Ahmed your next Cliff Pennington, but in doing so, you've decided you don't need Pennington any longer, and since his deal runs out at the end of 2014, there's no reason not to trade him. You don't need two, no-bat, all-glove shortstops. Yes, Penny is still on the 15-day DL, but that should end relatively soon as his thumb should be healed at some point in August. That's likely too soon to trade him before the non-waiver deadline (July 31st), but he could still be traded by being placed on waivers, then pulled back, before August 31st. He can help a contender who needs some insurance defensively, no question about it.
Trading Aaron Hill and/or Martin Prado is a tough proposition, but one that the team should explore at all costs. Their salaries aren't helpful and their production is not all that productive. I love Prado's flexibility as much as the next guy, but it's not like the D-backs are short on outfielders with Mark Trumbo set to return and David Peralta proving, for now, that he's at least adequate. That takes care of left field and at second, well, the D-backs have second basemen coming out of their ears. Owings projects there down the road, Didi is playing there now and Nick Ahmed and Cliff Pennington can man the keystone, too. The Diamondbacks don't need left fielders and they don't really need second basemen, which makes Prado's flexibility almost a moot point for a team that's not contending. For evidence, look no further than the fact that, despite a plethora of injuries, Prado has played 83 games at third this year and just four at second base. He hasn't seen the outfield all season.
Meanwhile, Aaron Hill is mired in what might be the worst season of his career. But here's the thing with Hill: he's always been hot and cold. In fact, over his ten big league seasons, he's never strung two good ones together. Consider his track record: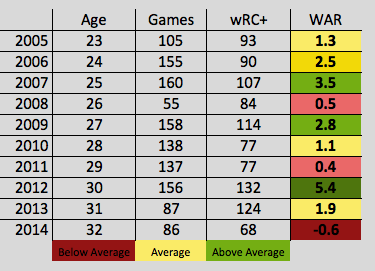 Aaron Hill has never exactly been a model of consistency. Injuries have hampered him at times, like they did last year, and they matter to a team who might be willing to acquire a soon-to-be 33-year old second baseman with a shaky history. On the bright side, if the pattern holds, he actually might be good again next year, as weird as it sounds. I'm not banking on it, and I certainly wouldn't be if I were a GM, but it's at least a possibility.
Having both Prado and Hill, however, is just too expensive for a non-contending team with limited payroll flexibility. There's not enough production to warrant the expense. Hill's shoes would be the easiest to fill, as either Gregorius or Owings could slide right in, with Nick Ahmed picking up starts if needed. Prado's not so much, as the team is thin on third basemen. They can put Gregorius there if they wish, but he's not an ideal candidate for a number of reasons. Prospect Jake Lamb is close to the majors, but hasn't seen AAA yet (despite the fact that he's abusing AA pitching). They could always use Andy Marte in a pinch, and considering that the team is going nowhere, that's actually not a horrible idea.
My preference is to trade Hill and Prado because I think this team is a long ways off, but if they can only trade one, I'd say move whomever is the better deal for the organization. If someone will eat all of Hill's money and give Arizona a minor league guy with no value, that's fine, just clear the salary. If they'll take Prado and his contract and give the team something of tiny value, that works, too. Again, just move the money off the books because this team has larger needs. If Arizona is forced to eat some salary in a trade, which appears very likely, they could throw in a little extra and ask for better prospects in return on either Hill and/or Prado. This is the best scenario, where they rid themselves of the logjam, save a chunk of cash and obtain something that could help in the future.
In some ways, I've saved the best for last. It always seemed as if it was bound to be one of Chris Owings or Didi Gregorius that would end up traded, but alas, both are still with the team. Owings has had a nice rookie campaign so far and is currently on the shelf with a shoulder injury. Didi, meanwhile, spent the first few months in AAA where he raked, before being called up and hitting just okay in 21 games. Owings profiles as a shortstop for now and a second baseman down the road. Gregorius profiles as a career shortstop with excellent defense who can play an excellent second base or even fill in at third in a pinch. Owings looks like a big league starter on a good team while Gregorius looks like a big league starter on a second division squad. Owings' value comes from the bat and gets a boost from the positional value of playing short while Gregorius gets his value almost entirely with the glove and really needs to play short to be of value.
The thing is, the trade value of each has probably already dipped. Gregorius' value was at it's peak last summer, before he had cooled all the way off. Even this winter, there was hope that he was better than he showed in August. If traded in January, for example, there was a chance he could have been exchanged for an important return. Now, not so much as he's back to hitting weakly and everyone knows that Owings is the shortstop of the future. No one is going to give in to Kevin Towers when they know his hand is forced to make a move. Owings, on the other hand, looks like the real deal and although he's played well, he doesn't appear to be the second coming of Troy Tulowitzki or anything (which was never supposed to be the case). The injury may be of concern and, like Didi, his value was likely at it's peak this winter before he'd seen much major league action. Now, teams have an idea of who he is: an average-ish hitter who can play slightly above average defense at short. That's obviously valuable, but it's not amazing and the Diamondbacks probably want to hold onto it.
So what gives? It might be a mistake to deal Gregorius because the organization would be selling low and trading Owings doesn't look like a good idea as he's valuable and should get better. Moving Hill and/or Prado will likely require Arizona to eat some cash and accept an uninspiring return. The number of teams willing to pay for Prado's flexibility are numerous, but the number of teams willing to take on Aaron Hill's salary/production is probably very limited. Although Prado is more tradeable, he's also tougher for the team to replace. Pennington and Ahmed seem like a duplication of efforts, but can the D-backs flip Pennington given his injury? Ahmed has the higher trade value anyways, but he's a minimum salary guy who could be a great value for the next three years.
If I had my way, Hill and Pennington would get flipped, and I wouldn't care what the Diamondbacks got in return as long as they didn't have to eat too much cash. Gregorius and Ahmed could handle duties until Owings returns, in which case Ahmed goes to the bench. Owings would play second and Didi short, but flipping them defensively works, too, it's just not optimal.
This log jam has gone on far too long. The roster remains clogged and the team needs financial and roster flexibility more than it needs a glut of similar players. Arizona is sitting on these assets, and while they may not fetch a huge return, they'll fetch no return if not addressed. Let's hope Kevin Towers and Tony LaRussa can find a way to clear up this unit.