At a time in baseball when it seems like everyone is swinging and missing, Martin Prado is doing the opposite. We have noted several times on this site, the strange counter-nature of Prado's approach at the plate. He is like a Dos Equis commercial; he doesn't swing very often, but when he does, he prefers to make contact.
Of course the question is how much his high contact rate and low swing percentage help him at the plate. Ryan Morrison found at the end of last season, that Prado's surge at the plate was powered by him becoming even more patient than he already had been over his career. Yes, swinging less, helped him hit better. So that made me wonder, in a season that Prado has struggled but is finding improvement in July, is it once again because of his patience?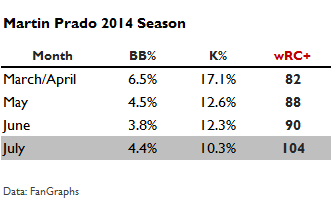 From a slow start in March/April, Prado has seen his production steadily improve each month, with July being his best month so far. We can see that as his hitting has improved, so has his strike out rate. His K% in July finally matching his career rate of 10.7%. Perhaps this is because of improved patience?
Once again, in 2014, Prado ranks high (14th) in terms of contact percentage while his swing rate is the 10th lowest in baseball. We can look at his heat map below to find where Prado most often swings this season, and it looks very familiar to the ones we have showcased on this site before.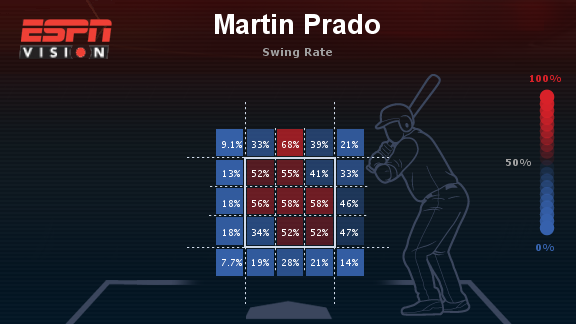 Now, don't let this heat map mislead you. Look at the percentages in each cell. Prado swings more often on pitches inside the strike zone, relative to the rest of his swings, but his swing rates on pitches both inside and outside the zone are still extremely low relative to the rest of baseball. Prado swings the third fewest times on pitches in the zone and finds himself in the lower quarter of the league swinging at pitches out of the zone. The key takeaway from the heat map above is that for Prado, in 2014, his swing rate remains low on all pitches, but he does have a preference for pitches inside the zone.
We are now ready to take a look at his swing percentage in the month of July.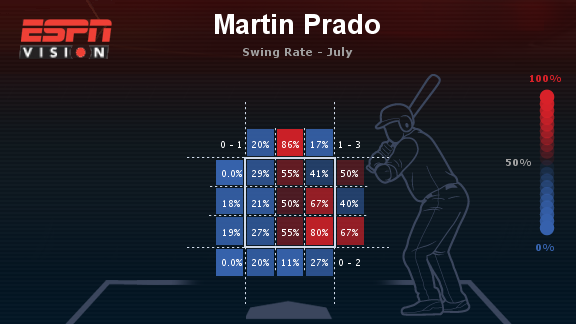 This is interesting. It seems like his preference in July has been more on the inner half of the plate. And as we would suspect, he has been more selective, swinging less often on pitches inside the strike zone (keep in mind the high percentages outside of the strike zone are due to sample size). Has this affected his contact rate?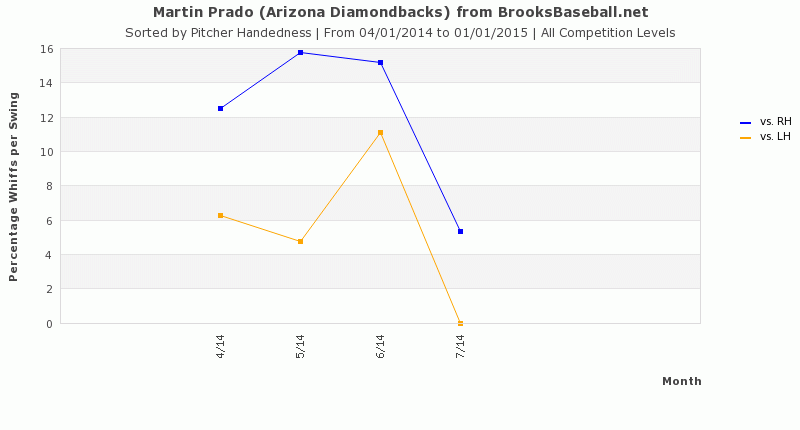 Look at that. In the month of July, Prado's percentage of whiffs per swing has dropped significantly compared to the first three months of the season. He is being more selective on pitches in the strike zone in July, and whiffing less. Sample size should be noted – he has only 65 at-bats in July, compared to 114 in March/April, 103 in May, and 97 in June. Nonetheless, we can detect a pattern.
Okay, time to bring it all together. Martin Prado's wRC+ of 104 in July is his best of the season. Looking at his heat maps, it appears that in July he has become more selective on pitches inside the strike zone. He is also whiffing a lot less. Let's look at his overall swing and contact rates.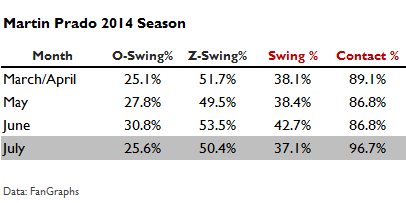 Sure enough, the month of July happens to be the month when Prado has the lowest swing percentage and highest contact rate. True to form, by being even more patient, which you would figure is hard to do for a player like Prado, his performance has improved.
The only thing left to reconcile is why in March/April his K% was 17.1%, despite his swing rates being somewhat similar to July, when his K% has dropped to 10.3%. Time for one more heat map.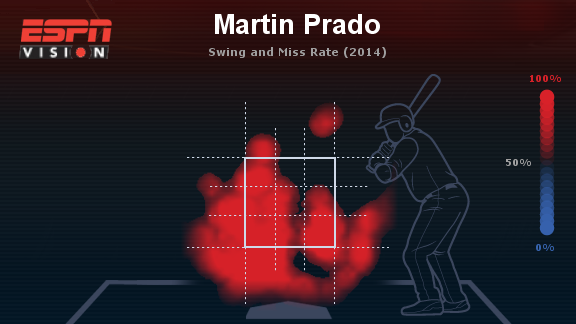 We remember from looking at Prado's heat map in July that he has been more selective on pitches on the outside third of the strike zone. That is for good reason. As the heat map above highlights, Prado swings and misses most often on outside pitches. That would explain his K% difference in the earlier months of the season.
At Inside the 'Zona, we don't want to just come up with random analysis, and put it aside, to be filed in the archived section of our site. It is important to build off our analysis, so, over time, we can see if our insights are accurate. We have noted it before, and this year we are seeing it again. There is a trend in Prado's patient approach at the plate, where patience is a definite virtue.
Statistics courtesy of ESPN, FanGraphs, and Brooks Baseball.