There's always more than one way to accomplish a goal. Most often, we hear people asking if the Diamondbacks can get back to contention. The short answer is yes, but the real question isn't if they can become contenders again, it's how do they get there. As we all know, there are multiple routes to NL West competitiveness. We've weighed those options previously, and while I've been on the record as asking for a pretty substantive rebuild, there's a case to be made for doing very little tinkering. Let's talk about that case and whether or not we agree with it.
I have to say, this point of view took me by surprise, not necessarily because of what it represents but because of who tried to sell me on it. Even if Ryan didn't fully believe it himself, he got me thinking that the Diamondbacks might not actually be that far away and could actually contend in 2015. He and I don't disagree all that often, although it does happen, and I certainly needed a little convincing. I'll lay out the case below, but first, take a look at winning percentage this season, broken down by week (graph) and month (chart).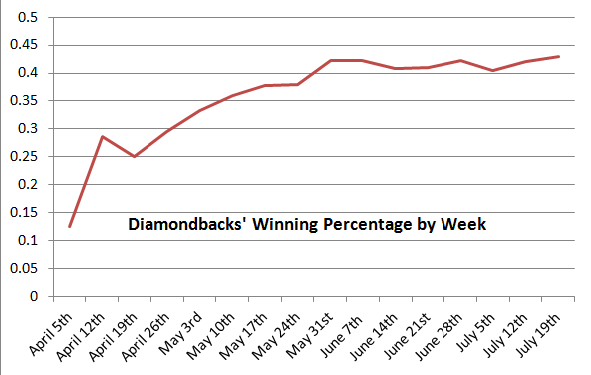 This tells us a couple of things, both of which you probably already know. First of all, the D-backs got off to a horrendous start. Second, they've played better since concluding an awful April. And these two things are intertwined, because after the first month of the season, there was nowhere to go but up. The team wasn't going to finish with 45-117 record. Almost nobody is that bad. So we shouldn't be surprised to see their winning percentage climb, shown on the graph, as the season has progressed. The team is currently on pace to win 70-74 games, depending on the health and effectiveness of some guys, plus who they decide to part with before the trade deadline. That's obviously not where the organization thought they'd be when they were talking contention over the winter, but that's where things are headed.
If you recall, we've said all along that this was a 78-82 win team. The projections had them in the 74-80-win range, which I thought was bearish, but we had essentially pegged them as a .500 team despite the rhetoric that was coming out of Spring Training. The numbers just didn't see them as anything more than that. Then Patrick Corbin went down. Then Archie Bradley looked nowhere near ready. Then Trevor Cahill imploded. Then Mark Trumbo went down. Then A.J. Pollock went down. Then Bronson Arroyo went down. Then Chris Owings got hurt. Then Brandon McCarthy was traded. Then we all wanted to crawl into a deep, dark hole and never come out again (and I didn't even mention Addison Reeds homers).
But if we choose to look at it another way, which Ryan introduced me to, there's some glimmer of hope: despite all the injuries, implosions and improbabilities, the Diamondbacks have still played .514 baseball since the start of May (through July 21st). Yes, despite all of the crappy performances, starts lost to the disabled list and untimely luck, the team has played better than .500 ball for two and a half months. That's not exactly analysis, per se, but it is looking at the picture in a different light than I'm used to, and maybe it gives you a little comfort, too.
The next logical question is, inevitably, if the team could play to a winning record since May with all of the trouble it's faced, what would they have done had they stayed healthy? This question is followed by a few others, such as, what if they just had an average pitcher in place of Trevor Cahill? What if Aaron Hill and Martin Prado weren't having down seasons at the same time? We can obviously play the "what if" game all day long, especially with this team and management group running the show, but it does make one curious; even one like myself who's more numerically inclined.
I could go ahead and do a long break down of what the team might have gained from a full year of Corbin, a functional Cahill, a healthy year of Pollock, etc, but I'll wait on that. The season's not through and it's premature to say just how "good" they could have been.
Instead, I want to remind you of something else: while we can focus on how well Arizona has played in the last two and half months, we don't just get to wish away the month of April (and the two games in Australia). We don't have the luxury of saying, "hey, this is an over-.500 ballclub because they've played that way since May 1st." April still happened, as much as we'd all like to forget it. As it stands now, there was one horrific month (April), one good month (May), and one and half average months (June and July) with two and a half months left to play. What they do between now and the end of September is a going to tell us a lot about the talent level of this team. I don't see the front office going crazy on deadline moves and, therefore, I think we'll see a lot of familiar faces in the lineup and on the hill every day. While that may not maximize the team's opportunities in the way that I'd like, it will give us a longer evaluation period for which to judge their talent. The organization doesn't seem to be sold on the idea that they're not very good from a talent perspective, so I'd assume they'll use that time to plan out their winter accordingly.
While I've viewed this team as one needing an overhaul, although not an entirely extreme one, I can see the case for holding on to what they have. They aren't quite bad enough to justify blowing the whole thing up, which may or may not be a good thing. It'll either provide false sense of security or keep them from pulling the plug too soon. We can't know exactly which one of those descriptions is correct just yet, but we'll have a better idea come the end of the season. There's more than one way for them to get back to contention, but choosing the best path isn't exactly clear. At least not yet.
@outfieldgrass24

THIS https://t.co/dZuhIFDy63

,

2 hours ago

I don't know that I believe Robbie Ray is *not* available, but I firmly believe that the asking price would be very, very steep.

,

2 hours ago

RT @sbordow: Please take a couple of minutes to read, in Larry Fitzgerald's own words, why his late mother's influence still dri… https://t.co/pknei9w6YQ

,

4 hours ago

RT @ZHBuchanan: Every year since 1951, baseball has crowned a king. Literally. Behind an old-school tradition whose origins are a… https://t.co/GXwvdrI1ut

,

3 hours ago

Larry Fitzgerald has raised the bar. Not just for wide receivers, but for athletes uplifting their communities. He… https://t.co/L48kXpDKS1

,

3 hours ago