2014 has been tough on Diamondbacks pitching, and Trevor Cahill's season is surely no exception. Despite a sub-4.00 ERA last year (literally by the smallest of margins), his peripherals weren't quite as encouraging. He struggled through the end of the final two months of the season and one had hoped that some time to rest and heal would lead to a rebound in 2014. Instead, it couldn't have been much more of a disaster. He was sent to the bullpen just four starts into the season and he faired better there, but at $7.7 million this year and $12 million next, that wasn't a long term solution. He was sent to the minors to get stretched back out and likely work on his mechanics before he re-emerged on July 17th against the Cubs.
The expectations weren't high for Cahill's return. In fact, there were definitely some jokes floating around the twittersphere as he prepared to take the mound. Trevor didn't pitch particularly well, but it wasn't a disaster: five innings, three earned, three strikeouts and three walks. He took his turn five days later against the Tigers, who were certainly a more imposing lineup. He was touched up for three earned over only four innings while surrendering eight hits. He struck out three, but lo and behold, he didn't walk a singe batter. If you recall his issues from early in the season, the walks simply did him in. In two starts, over nine innings, he's walked only three while striking out six while continuing to generate ground balls. There was some reason to believe that maybe he wouldn't continue to be a disaster.
And sure enough, Trevor Cahill followed up those two so-so starts with two pretty darn good ones, at least by his standards. In his last two starts, on July 29th and August 3rd, Cahill has pitched 13 innings, surrendered four earned runs while striking out ten and walking just one. Sure, anybody can get hot for two starts. This is an admittedly small sample, but it's the sample we have to work with, and it's surely encouraging. Cahill's always had the raw stuff to get hitters out. His sinker moves a mile and no one, not even Trevor himself, knows where it's going. In the past, he's tried to "guide" the pitch in order to hit spots, but it moves so much that it's probably better thrown a bit like a knuckleball; just aim for some quadrant of the zone and let the movement take care of the rest. It's unlikely he'll be able to really command the pitch consistently and learning to make it work for him with it's present characteristics may be a safer, more stable bet.
Digging a little deeper into Cahill's performance, we can see some really encouraging signs that have led to the turnaround. This isn't simply the case of luck. According to the numbers, he's really been very good, and it all starts with throwing strikes. Before being sent down, Cahill was throwing only 57% of his pitches for strikes. It's no wonder the walks were piling up. Since his return, he's up to 62.1% strikes. That may not sound like a lot, but I can assure you it's huge. Because of the way pitches are sequenced, if he can throw those strikes early in the count, it allows him to throw balls on purpose and try to entice batters to chase out of the zone rather than having to give in and throw them meatballs. Throwing strikes was hurting him more than anything else when he was demoted to the 'pen after just four starts in April. To see a positive change in this department is a big improvement.
But that's not the only aspect of Cahill's game to improve recently. Although one could argue that the strike-throwing is showing up in other areas, take a look at his overall performance since rejoining the major league team in July.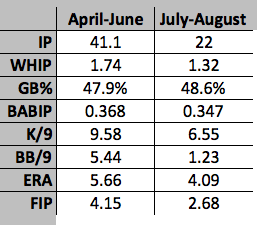 Across the board, he's shown improvement, with his strikeout rate being the only exception. Keep in mind, however, that his strikeout numbers were boosted heavily by pitching out of the bullpen where pitchers typically see their K totals spike. Now that he's back in the rotation, we should expect something like 7.5-8 K/9. The walk rate is the most obvious improvement. He was issuing too many free passes early in the season, and it wasn't even close. He was just plain erratic. Now we're seeing a slightly more refined Trevor Cahill and that's mostly attributed to the improved command. His BABIP remains crazy-high and accounts for the discrepancy between his ERA (4.09) and FIP (2.68). I'd say the truth probably lies closer to his ERA as he's been lucky in the home run department since rejoining the rotation, but Cahill with an FIP of 3.75-4.00 looks like a big win for the Diamondbacks after what we saw last year and early this season.
As Nick Piecoro of AZ Central pointed out yesterday, Cahill is starting to regain some confidence. And he should; he's pitched better in the last four weeks than he has in nearly a calendar year. The stuff is still filthy and it still moves all of the place: the sinker still sinks and runs, the change sinks and fades and the curve dives. The command, though, has been the biggest improvement and is leading his resurgence.
Where do his results go from here? That's anyone's guess. One would assume, however, that the Diamondbacks have or will place Cahill on waivers this month, and after some encouraging signs, the team may just find a trade partner for him. Then again, with the struggles Arizona has had in the rotation and the limited options this winter that fit the Diamondbacks' budget, one could argue that they're best served to give Cahill one more chance and keep him around for 2015. How this plays out starts with Cahill's command, though, and after that, there are more questions than answers. For now, let's just hope that his resurgence is the real deal because no matter where he ends up, an effective Trevor Cahill is in everybody's best interest.