Could the Diamondbacks Sign Former Dave Stewart Client Chad Billingsley?
As with the D-backs' own Trevor Cahill, Chad Billingsley gives us baseball outsiders a great example of how much sense it makes to a pitcher to sign a multi-year deal at salaries approaching market rate, regardless of whether it delays an even bigger potential payday. In Billingsley, we also may have an early test of how the new Dave Stewart front office will function. Will Stewart take a gamble on the recovery of his former client?
Assuming that the Dodgers pay Billingsley a $3M buyout instead of exercising a $14M club option for 2015, this winter will be Billingsley's first foray into free agency. The three-year deal he just finished paid him $32M for the three seasons (plus the guaranteed money from the buyout), but it included what was his final year of arbitration eligibility. That's still very unusual in the world of baseball, where a player likely to be in one of the top tiers of free agents signs so short an extension within two years of free agency.
Reportedly, Billingsley pushed Stewart to make the deal against Stewart's advice. The events that followed made Billingsley look pretty smart.
Billingsley's effectiveness deteriorated from there. His best two seasons were in 2007 and 2008, and in 2009 and 2010, the two seasons preceding his extension, he was more of an innings-eating workhorse type, slightly above average but locking down more than 190 innings for three years running. In the first year of the extension, he was a somewhat below average pitcher (116 ERA-, or 16% worse than league average). He did still have a solid innings total of 188 innings, but the 2011 season wasn't quite the platform that his 2010 season was. Had they negotiated the following offseason, the length of Billingsley's deal might have been longer, but the average annual salary may not have been; and although Billingsley did not get hurt during the 2011 season, that proved to be a legitimate worry.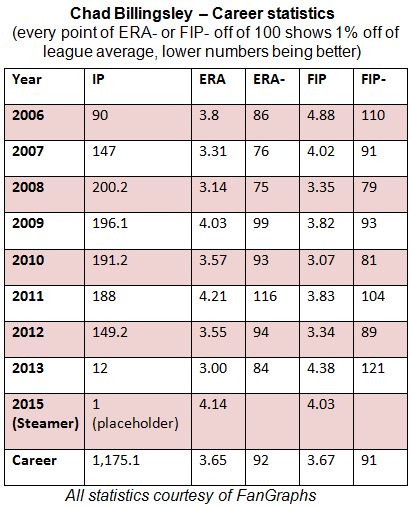 Billingsley missed some time in 2012 with elbow pain, fighting through the season for just one out less than 150 innings. The Tommy John surgery that followed didn't happen until April 2013, but "elbow pain" probably would have limited his appeal in free agency that winter, had he not signed an extension. In the end, Billingsley pitched just 12 innings in 2013.
The D-backs are gearing up for a Patrick Corbin return in June of next year, or at least managing expectations that way; but although Billingsley's surgery was about one month later in his calendar year, there was hope that he would return early in the 2014 season. They avoided putting him on the 60-day DL in the offseason in hopes that he would return sooner than that in 2014 if eligible. Indeed, reports from March of this year were that Billingsley might return almost exactly 12 months after his surgery, in late April.
But Billingsley's timetable got pushed back, eventually with the end of June looking like a more likely return date.  He had another setback in June. It was his elbow barking at him, but the problem seemed to have little to do with the Tommy John surgery: he had a partially torn flexor tendon. He had surgery to repair that at the end of June, with six months given as the normal recovery time. After missing two seasons, Billingsley could be ready to participate in spring training activities when they begin.
What Billingsley can contribute to a major league team next year is the subject of some debate. I have no flipping idea, but that doesn't really matter: we can't be certain about his production, but we can be certain about the uncertainty. Any innings total between 0 and 200 next season is not something I'd characterize as surprising. Preseason Steamer projections are out, and they have Billingsley contributing a fair number of league average marks with a 4.14 ERA (he's done worse, but only just barely, in 2011) and a 4.03 FIP (which would be his worst in a season with over 100 innings).
That's not ace production, and Billingsley was never an ace. But it's still helpful production. The D-backs' recent history has been peppered with #3 or #4 starter types, and that's what Billingsley appears most likely to be. But the D-backs rotation does not have the depth it did very recently. If Corbin is not counted on until June or July and if Archie Bradley is unlikely to open the season in the majors, the team could be scrambling for options. Bronson Arroyo won't figure into the picture until very late in the season in all likelihood, and the most likely route for Daniel Hudson appears to involve pitching from the bullpen.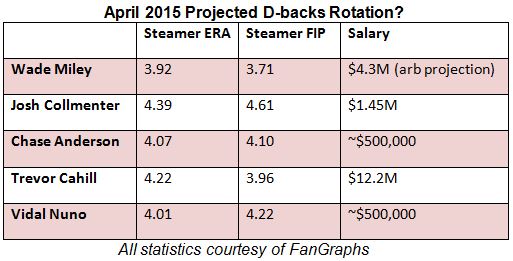 It may be that the D-backs do need starting-capable bodies for the rotation, at least to start the season, and as we've previously seen, the team might have no money to spend. At $93M or so for next season with a payroll target of $80M-$110M, there doesn't appear to be room for a Max Scherzer or a James Shields or even another Bronson Arroyo type. I'd love to see the team target one or two pitchers like Brandon Morrow, who are high risk but high reward, but whose "risk" element involves injury, not mediocrity. Billingsley doesn't quite fit that model, but he does seem reasonably likely to help a major league team out of the rotation early next year, and he does seem motivated and likely to come cheaply.
That's very awkward. And it's that awkwardness that I wanted to bring to your attention.
If you're Dave Stewart, what do you do now? You probably know much more about Billingsley's prognosis than any other GM in baseball. Even with some upheaval in the front office, the Dodgers know Billingsley and his status well, but probably not as well as Stewart does.
What's worse: every GM in baseball probably knows that. And so if Stewart doesn't show interest in Billingsley, will that be a kiss of death that prevents Billingsley from getting a good deal elsewhere? If Stewart does show interest gauged by other teams as legitimate, will that increase other teams' interest level, causing the D-backs to have to pay more for him than they might otherwise have done?
Billingsley has already put loyalty or security ahead of maximum dollars once, when he signed his Dodgers extension. If the Dodgers don't exercise his option, they may still try to bring Billingsley back at a lower salary. In fact, that seems likely. Among the other 29 teams, however, it would seem that the D-backs offer the next-strongest connection. Billingsley could know with some confidence that the D-backs would be unlikely to jerk him around, at least. Some kind of low but guaranteed salary could get the D-backs a potentially helpful option for 2016, if Billingsley was open to that possibility.
It's just as possible, however, that having once sat on Billingsley's side of the negotiation table, Stewart won't want to sit on the other. D-backs front office personnel are allowed to have friends, and being generous to players can end up being helpful to a club in the long run, especially for a new and amorphous front office like this one. But I'm not sure that extends to players who aren't already under club control; Stewart could get slammed if he reaches an agreement with Billingsley that is not, objectively, a good bargain for the team, he could get slammed.
I want to state clearly: I do not think so little of Stewart as to think exposure to criticism will be a motivator for him. But let's also not ignore the fact that Stewart's liability in that arena is greater if he signs Billingsley and it doesn't work out than if he takes some flak for possibly preventing the team from pursuing him for personal reasons.
If the D-backs pass on Billingsley, it might be a lost opportunity, but it can't be a big loss. If they sign him at a reasonable rate for a one-year "pillow contract" ($4M? $5M?), it also can't be a big loss. The real risk for loss can only come if the D-backs sign Billingsley to a "pillow contract" in the $8M-$10M range and it doesn't work out. After all, if the Dodgers decline their option, they are essentially saying that they don't think he's worth $11M next year, even on a one year deal (the other $3M being a sunk loss).
As noted above, payroll constraints may force the team's hand anyway. But although my payroll projection relied on the D-backs non-tendering Cliff Pennington, I would certainly rather have Billingsley in the fold in the $4M range than Cliff Pennington in the $3.3M range. I no longer like signing Billingsley at the $6M mark, as but I'm not sure where a good threshold should be for the D-backs. It may be that after several years of seeing Billingsley a certain way, Stewart has a tough time seeing him as a player who might command just $4M for a season in which he could potentially pitch all year. But if he can, and if Billingsley agrees to sign at that amount, it could be a very smart move for the team.