Will the D-backs Address their Imbalance at the Plate?
The Diamondbacks have a balance problem and balance is important, at least to a degree. We hear time and again that teams seek to keep a mixture of right and left-handed bats in the lineup because, as we know, platoon splits are very real and very common. Righties usually hit lefties well and lefties, righties. This is not startling news by any means and, if you been keeping track of things, you may have noticed that the team is full of right-handed hitters at the moment. Take a look.
That's a lot of righties. That's not a lot of lefties. Cliff Pennington is a switch-hitter but will be a bench player. Jake Lamb is a lefty but, with Yasmany Tomas scheduled to play third and having just had $68.5 million invested in him, it doesn't look like he'll get a ton of at-bats. David Peralta and Ender Inciarte have been scheduled to play the same position, meaning only one them can be in the lineup at one point in time. A quick look at the depth chart reveals that only one lefty should be in the lineup more often than not, and that's Peralta. Everyone else will stand in the right-handed batter's box.
But it can be a little misleading to just judge the team's balance on handedness alone. Instead, it's probably best to look at how each player performs against each type of pitching and judge their performance. Not everyone shows a large platoon split, after all. Listed below is the performance of each hitter against righties and lefties from 2014, plus a judgment based on multiple years of performance (if available).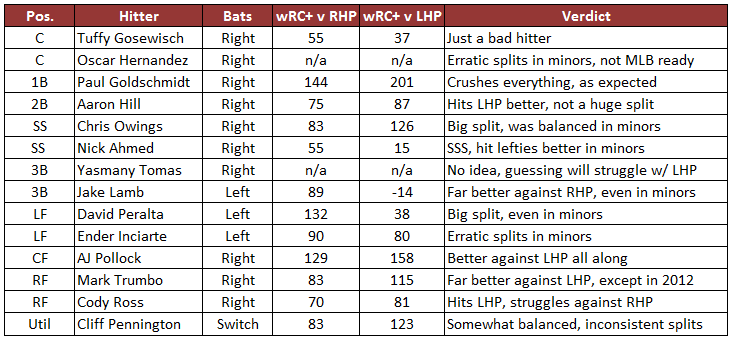 We can see some major splits from Peralta, Trumbo, Lamb and Ross. There are some smaller or less consistent splits from Pollock, Hill and Owings. Goldy hits everything at a high level and Gosewisch doesn't hit anything at all. We don't know about Tomas but given his limited exposure against quality lefties in Cuba, I'd venture a guess that he's in for a rude awakening, at least at first. There are a few balanced hitter but some have very small track records in the minors and we just can't bet on those yet. This team is engineered to hit left-handed pitching far better than right-handers and once Tomas is inserted, that should be exacerbated.
As we've talked at length, however, the Diamondbacks aren't done wheeling and dealing. They have already explored opportunities add left-handed bats (Andre Ethier for Montero was a poorly-kept secret) and will likely try hard to add the balance they need before the season ends. The question is who do they replace? Goldschmidt and Pollock aren't going anywhere, Peralta already hits lefty and Chris Owings is the everyday shortstop. Third base is Yasmany Tomas' for now even if he starts in the minors. Cody Ross will be impossible to trade and actually makes for a very nice platoon partner for Peralta in left and super-utility outfielder Enciarte is a valuable left-handed bat.
That leaves us with only a couple of places to add left handed hitters: second base, catcher and maybe an impact corner outfielder. On the second base market, there aren't a lot of candidates given the nature of the position. The team just traded the best available left-handed hitting catcher in Miguel Montero. In the outfield, they've stated that they'd like to keep Mark Trumbo although there have been rumors of other teams targeting him and the D-backs engaging in those talks (as I firmly believe they should).
The team may wish to move Aaron Hill, but there isn't a left-handed option that's of the impact needed that'll come cheaper unless they're willing to deal the types of prospects they should be keeping. One avenue they could explore would be acquiring Chase Utley from the Phillies as he's probably the best potentially available option. The Phillies are looking to cut costs, so a Utley for Hill swap won't make sense. Instead, they'd have to look to dump Hill, which might be tough. Utley's contract situation is unique in that it contains a bunch of vesting options based on playing time, so his control is a fluid situation. The market for Hill is presumably small and might even require to eat some cash, which when coupled with acquiring Utley, would make for a mighty tough pill to swallow. My guess is that this team is stuck with Aaron Hill and will hope he rebounds in 2015.
The catching market is thin on its own even without filtering for left-handed hitters. None of the available catchers will make an offensive impact no matter which side of the plate they bat from.
Which brings us back to the corner outfield market. Andre Ethier is a flawed and declining player, but the thought to acquire makes a little sense as it was originally constructed (Montero for Ethier, plus cash). Carlos Gonzalez of the Rockies might be available as the Rockies continue their (endless?) rebuild. Josh Reddick might be available given that just about everyone in an Oakland uniform is up for discussion. Matt Joyce of Tampa Bay could be platooned and fill up some time in left, shifting the defensive alignment (note: Joyce has subsequently been traded to the Angels). You can see where this is going: it's a small market of quality hitters since left-handed power is at such a premium and has been for a long, long time.
Of course, to acquire another corner outfielder means one has to go. Cody Ross could just be released but that doesn't really help since it would mean someone else goes to the bench. Pushing Peralta there would defeat the entire purpose of acquiring a left-handed outfielder in the first place. Trading Enciarte or optioning him to the minors has a similar effect as it just doesn't produce the desired effect. AJ Pollock is a budding star and leaves us with one option: Mark Trumbo. This is presumably why the team has taken to listening to offers for him.
I've said it before and I'll say it again: Mark Trumbo doesn't fit on this baseball team. Maybe the team will get creative and do something at second base. Perhaps they do something completely unforeseen and replace the entirely replaceable Tuffy Gosewisch with a mystery left-handed catching candidate. Or, most plausibly, they find a left-handed bat to stick in an outfield corner. If they do none of the above, this team is going to struggle against right-handed pitching all year long. If the sense of urgency is what the team has publicly said it is, then a move is forthcoming. You already know what I'm hoping that move is.