The Diamondbacks made a bevy of moves last week. In fact, it's been a pretty exciting offseason thus far, and given where things stand right now, I'd suggest that they're far from done making moves. As a fan, this is mighty exciting as the status quo was surely destined for failure. Just getting healthy was bound to improve the team, but health alone wasn't going to make the Diamondbacks a contender. Tony LaRussa, Dave Stewart, De Jon Watson and the rest of the Diamondbacks' brass know this and are apparently prepared to do something about it. But will it be enough for a team that wants to contend, especially in the starting pitching department?
It's not like the struggles of the D-backs' rotation hasn't been well-documented. Anyone who watched much baseball last seasons saw a whole lot of poor performances from the team's starters who, collectively, could be best described as mediocre. Of course, that partly had to do with the absence of Patrick Corbin and the slower-than-expected development of Archie Bradley, Arizona's best chances for truly impact pitching. Instead, the reliable and steady, if not overwhelming, duo of Josh Collmenter and Wade Miley were left to shoulder the load for the most part while Chase Anderson did his thing, Brandon McCarthy got traded and the trio of Vidal Nuno, Bronson Arroyo (pre-injury) and Trevor Cahill were simply not very good.
So things had to change, and change they've done. Out went McCarthy, very recently Wade Miley, and returns are expected from Corbin and Arroyo in 2015. Imported have been Jeremy Hellickson, Rubby de la Rosa and Allen Webster via trade as the D-backs have loaded up on alternative pitching options so far this winter. Just because things have changed, however, doesn't necessarily mean they've changed for the better. In fact, Dave Stewart recently announced the "projected rotation" and it was tweeted by MLB.com's Steve Gilbert, which sent the baseball community into a frenzy:
#Dbacks Dave Stewart listed Collmenter, Hellickson,De La Rosa and Webster as penciled in. Competition for No. 5 spot.

— Steve Gilbert (@SteveGilbertMLB) December 13, 2014
The colleagues of Ryan and I at Beyond the Box Score picked this up and put things into perspective for the masses with this string of informative tweets:
Diamondbacks rotation currently projected for a total of 6.8 WAR. Only Padres, Orioles, Phillies and Braves rank lower. — Beyond the Box Score (@BtBScore) December 13, 2014
That last tweet is WITH Wade Miley…

— Beyond the Box Score (@BtBScore) December 13, 2014
Trevor Cahill is projected to lead the Diamondbacks rotation with a 1.2 fWAR in 2015, per FanGraphs' Depth Charts. — Beyond the Box Score (@BtBScore) December 13, 2014
I'll give you a second to just let that simmer…
Okay, back to work. We've heard that this team would like to get back to contention sooner than later and moves for players like Yasmany Tomas certainly fit this mold, as do the decisions to tender contracts to guys like Cliff Pennington and David Hernandez. This team is intent on retooling, not rebuilding. I don't blame them; ticket sales were down significantly last season and the organization is doing everything it can to become relevant again. Rumored deals for Matt Kemp and/or Andre Ethier also fit this narrative, although we can debate their impact and validity.
So just how does this future rotation stack up? As it sits now, you're probably underwhelmed and rightfully should be. There's literally nothing worth getting excited about outside of seeing if guys like de la Rosa and Webster can take a developmental step forward. And if the team wants to contend as it says it does, well, this won't be enough.
Take a look below at the fWAR of every rotation that's made the playoffs since 2012. Note where Arizona has fit into this equation, then let's discuss.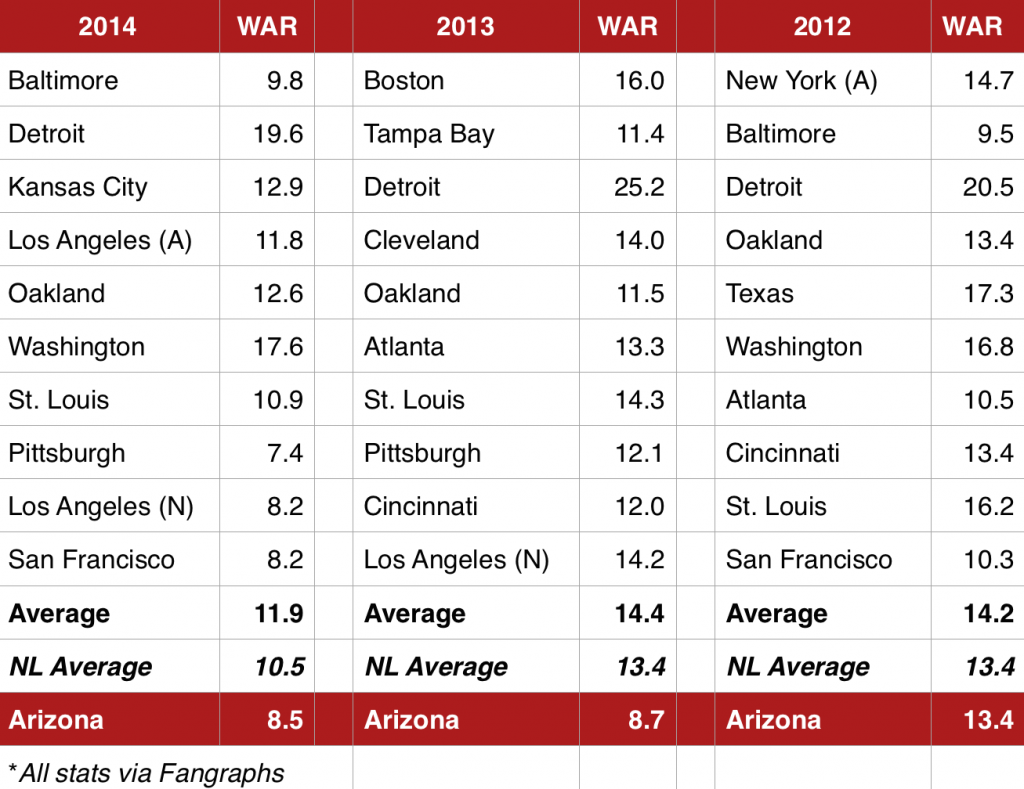 In the last two seasons, the Diamondbacks have finished far below average in the starting pitching department as compared to the National League average. Due to not having to face the designated hitter and getting pinch-hit for regularly, the NL threshold for a playoff team is consistently about two wins short of the benchmark for AL staffs. That's an interesting nugget in and of itself, but the D-backs have regularly fallen short.
How does the projected staff measure up, insofar as it's constructed now? Well, let's just say that it's not exactly about to turn the corner needed to make Arizona a threat.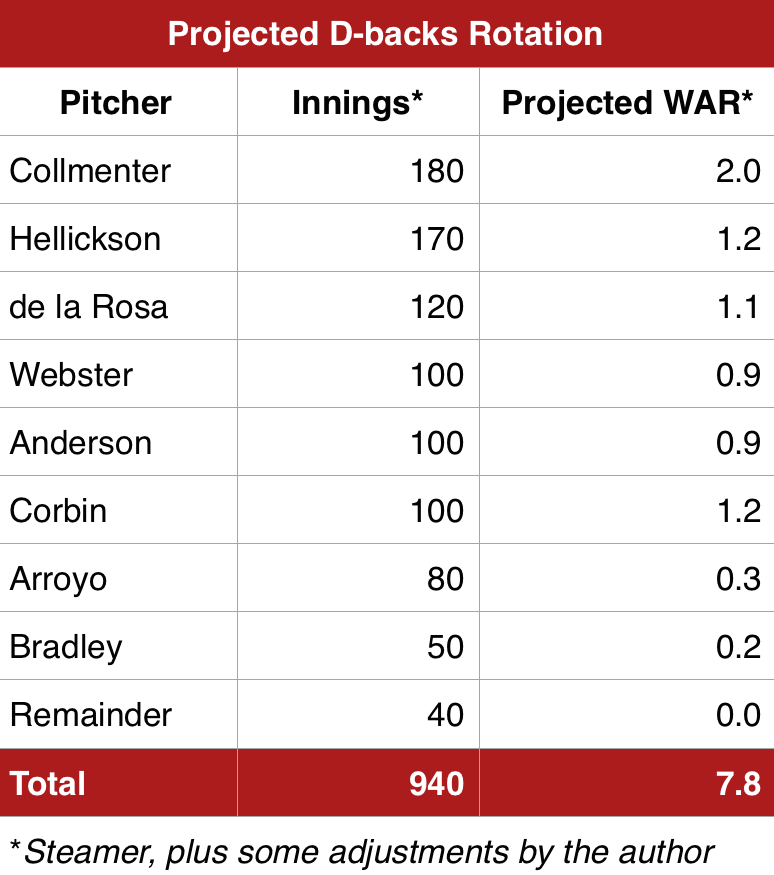 There's a host of caveats here, so let's just get those out of the way quickly. Innings pitched were projected by yours truly and the WAR listed is based off of Steamer projections for 2015. I took some license with the projections, however, as a few guys just seem to regularly outperform their projected contribution with Josh Collmenter being the most obvious example. Still, I don't think there's anything here that's out of line and it's really not worth quibbling over .1 or .2 WAR in either direction. Keep in mind, I projected no major breakouts and no major disasters here. Any plus performance will likely be balanced by a poor one, so I feel confident in the final tally despite the fact that the fWAR of each pitcher may change slightly.
By performance, however, this staff would rank near the bottom of the majors. Just reading the names of the Opening Day rotation plans would suggest as much and the numbers simply serve to back that notion up. Are there internal areas where we could look for optimism? Sure, perhaps one of the young pitchers takes a large, unforeseen step forward. Maybe Archie Bradley arrives on the scene as a force to be reckoned with (although put me on the record as predicting that he takes his lumps initially). Perhaps Corbin looks really good and gets back to action sooner than anticipated, although I'd expect the team utilize a bunch of caution there. Maybe Daniel Hudson, who's not listed, joins the rotation and provides a much-needed boost. We can't really say much about these things at this point in time, unfortunately.
So if it feels like this group of starters seems underwhelming, it's because it is. What does that mean? Maybe the Diamondbacks aren't done adding to the rotation. Perhaps there's something brewing underneath the surface. Or, maybe, the expectations we've heard communicated publicly are different from those discussed internally. We can't be sure about any of that, but what we do know is that this group isn't about to turn the tide for the D-backs, because frankly, this group just isn't good enough as currently constructed. So either the expectations need to shift or this team needs another upgrade, and a serious upgrade at that. What happens next is anyone's guess.