Montero is First D-backs Financial Casualty of Winter
In the 2015 Inside the 'Zona Offseason Plan, Ryan and I took considerable care trying to figure out how the Diamondbacks could become more flexible. The key, in our mind, was shedding salary, and on Tuesday, the D-backs did just that by dumping Miguel Montero's financial burden on the Chicago Cubs in exchange for a couple of non-noteworthy prospects. It's never easy to replace a franchise stalwart, and Montero was a big piece of this franchise. But the move had to be made and the D-backs did well to push it through without having to eat any cash, even if the return was nothing worth getting excited about.
Miguel Montero: past, present and future
Montero is aging, and perhaps not all that gracefully. He's caught the most games in all of baseball over the last four years (with 533 starts – Jonathan Lucroy is one game behind him with 532). Some of those games have been played through considerable pain (back, mostly) although Montero is damn near as tough as they come. At 32, he'll be a Cub though his age-34 season and is already be in his decline phase, so the D-backs are surely shipping away his non-peak seasons and the money that goes with them, $40 million spread out over the next three years.
His overall value has declined in the last two seasons, although his pitch-framing is thought to be quite good. He's still excellent defensively and although his bat hasn't been what it once was, he has undeniable power from the left side as an everyday catcher. That's not easy to find it makes sense why the Cubs, with their deeper pockets and more immediate aspirations, would target Montero. Steamer likes him to be a league average hitter next season, and if the Cubs decide to platoon him a little bit, sheltering him from lefties, he could really do some damage. There's still a 3-win player in there somewhere according to the projections and that's worth his salary. Can the Cubs extract that production when the D-backs seemingly couldn't? I'm not sure, but they're clearly betting they can.
Options behind the plate
An intriguing aspect of this deal is determining who replaces Montero behind the plate. In the very short-term, I guess that person is Tuffy Gosewisch. That's not the most exciting of answers and it should be expected that the D-backs do something to add to their catching situation. It's unlikely to be a major add, but there are options that can at least help fill hole, even if most of them are uninspiring.
On the free agent front, there are some choices in the form of defensive wiz Jeff Mathis, a guy who can hit a little in Geovany Soto, and some veteran backstops in David Ross and Gerald Laird. None of these guys are expected to require a big investment, but none of them are projected to be anything more than a stop-gap. Steamer likes none of them at all, for what it's worth, and to sign any of the names above would be nothing more than a short term fix that is hardly any upgrade over just playing Tuffy, although it would provide security through additional depth.
Perhaps more enticing names could be had through trade. J.R. Murphy is still blocked in New York and the Yankees have been a willing trade partner in the past. The White Sox could use another back-end arm and the D-backs have plenty of them, perhaps netting Tyler Flowers. The Giants have announced that they plan to leave Buster Posey behind the plate for the foreseeable future, meaning that Andrew Susac might be available (for Aaron Hill and cash?), or they might prefer to deal Hector Sanchez instead. Martin Maldonado of the Brewers and Tim Federowicz of the Dodgers could be other options. A young guy who may hit but might not catch well is Josmil Pinto of the Twins, and now that they've committed to Kurt Suzuki, he could presumably be dealt.
In 2014, nearly the entire group above was merely 'okay,' and in some cases, downright bad. This is a nice way of saying that there aren't a lot of good options, which made Montero desirable in the first place, and leaves the Diamondbacks without many good alternatives. You can find the group's 2014 performance, both offensively and defensively, below.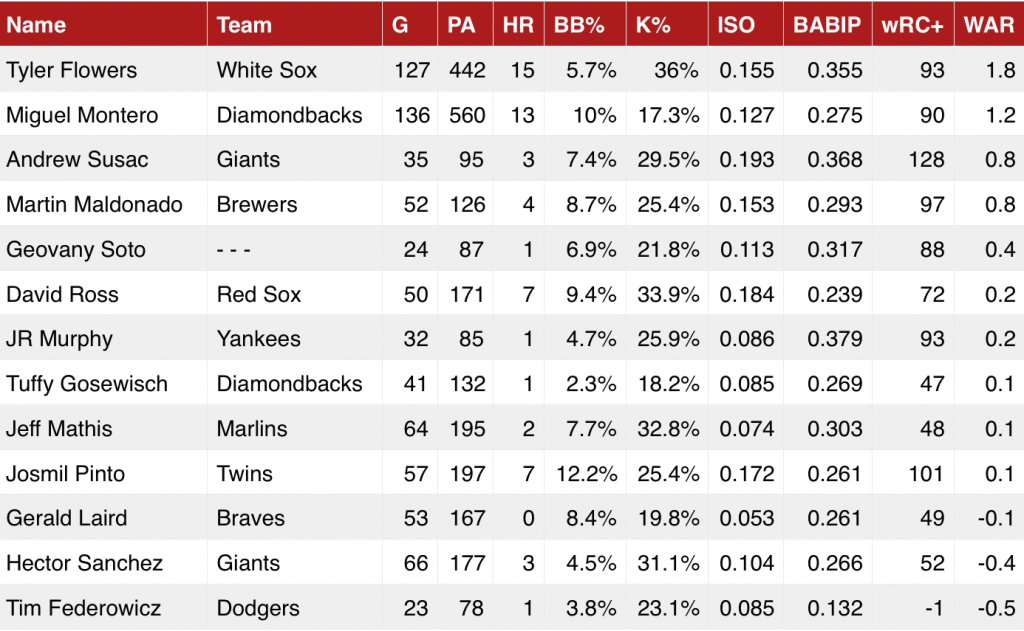 (via FanGraphs)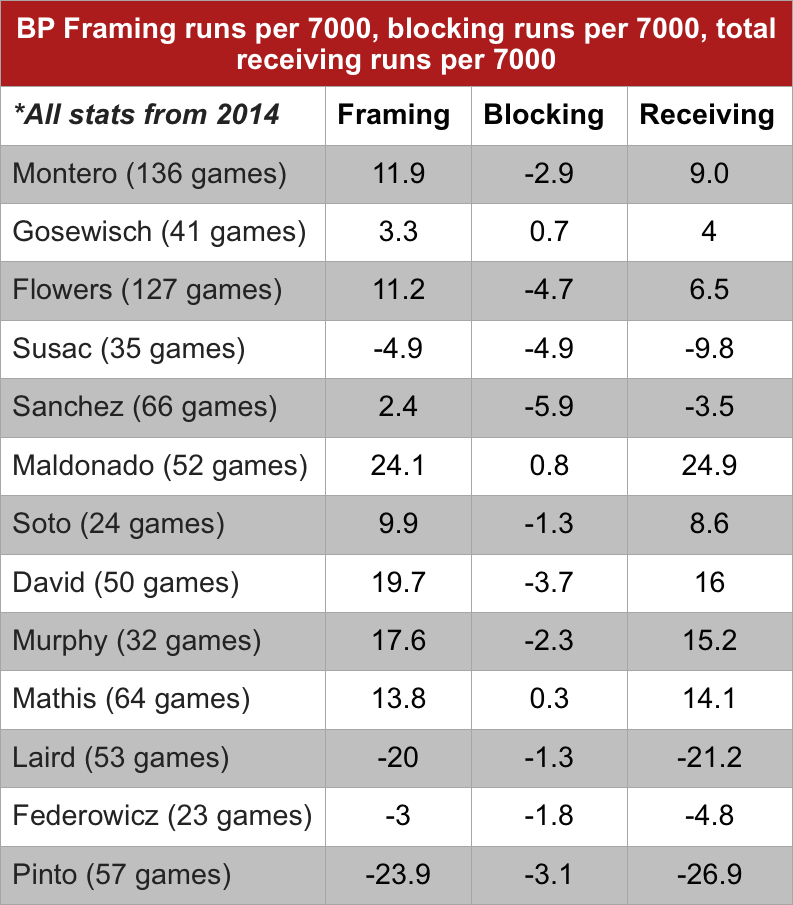 (via Baseball Prospectus)
Lack of lefty power leaves a void
Losing Montero creates another problem insofar as he represented the only left-handed Diamondback with power. Didi Gregorius was also a lefty and with the pair now out of town, David Peralta, Ender Inciarte and Jake Lamb are the remaining lefties who appear to be destined for considerable major league playing time at the moment (Lamb could quickly lose his job to Yasmany Tomas, however). This is where the pursuit of Andre Ethier comes from, as ill-suited as it might be. While a Montero-Ethier swap was rumored before Miggy was flipped, the team's pursuit of the Dodger outfielder may not be over as Stewart is rumored to like him and there is very little lefty power available. I think a deal for Ethier remains unlikely, but the team is still in need of some balance in the lineup with Goldschmidt, Pollock, Owings, Hill, Tomas and Trumbo all batting right-handed. Can they fill that void? Perhaps, and I wouldn't be surprised if it becomes a major priority sooner than later.
The return from the Cubs
Chicago didn't give the Diamondbacks much in return for Montero, and that was to be expected. The fact of the matter is that Arizona's motivation was to shed the money, not necessarily bring back big time talent. So the return of Jefferson Mejia and Zach Godley shouldn't be shocking. They're both arms, but from there, things diverge.
Mejia is clearly the better of the two prospects, and at 19-years old, spent 2014 in the Arizona Rookie League after signing for $850,000 out of the Dominican in 2013. He's a tall kid at 6'7″ with a live arm, major heat and developing secondary stuff. His command is fringy at best and doesn't project to ever be a major selling point. That all screams "future reliever" to me, but there's no sense in making a declaration this early in his career. He should see full season ball in 2015 and would rate somewhere in the middle portion of the D-backs' Top-30 Prospect List.
Godley, on the other hand, was a 24-year old reliever who reached full season ball in 2014. That does make him a bit old for the level, but he's served as a closer in the minors and has some pretty impressive strikeout numbers to support his status. A thick-bodied 6'3″ right-hander, he's a reliever all the way and just adds another righty relief arm to the deep collection the Diamondbacks have built. He'll be 25 next season and needs to really start climbing quickly if he's to be considered a real prospect. For now, he's just minor league relief depth.
When it's all said and done
The Diamondbacks made a tough call on Tuesday, but it was one that had to be made. They did a good job to offload the money that Montero was owed and the return is the least important aspect of this trade. It was a salary dump all the way and just pulling it off was impressive. As we indicated in the Offseason Plan, this may not be the only salary dump the D-backs attempt to pull off this winter with Trevor Cahill, Cody Ross and, to a lesser extent, Aaron Hill being the next potential financial casualty. Even if this move opens up the door to whole other round of unanswered questions, it had to be made and kudos to the D-backs for doing it.
In parting, I think I speak for most when I say that I'll miss Miggy. He was a good Diamondback, but a better human being. He brought a smile to the team, a toughness to the field and was a great ambassador of what is a great Diamondbacks community. I wish him nothing but the best in Chicago and will forever be a fan. Good luck, Miguel, you'll always be a Diamondback to me.
@outfieldgrass24

I live in Portland where we have, uh, some protests from time to time. I'm really scared for the message today's ru… https://t.co/3kCKFyfogS

,

16 hours ago

America just got even less safe, if you can imagine it

,

16 hours ago

I was three credits short of an ethnic studies minor. I regret not taking 17 credits my last quarter and finishing… https://t.co/lD8w1MtUaI

,

Nov 18

I feel like Robbie Ray is the perfect example of how hard pitching is. He'd averaged this kind of velo before. He m… https://t.co/6OrplPS5P0

,

Nov 17

Good for Bob. I know it would have been great to see him unlock this potential in Sedona Red, but I'm still really… https://t.co/frlfHS3y3r

,

Nov 17