Tuesday started off with a bang for the Diamondbacks. In a rare occurrence, the team actually dominated the headlines and just about everyone's twitter feed. Dave Stewart made some comments about analytics that were probably taken a bit too far but garnered plenty of attention. He also announced that the team wasn't going to be trading for a catcher, electing to stand pat with Tuffy Gosewisch, Oscar Hernandez and the "developing" Peter O'Brien. There were even a few more rumblings about James Shields, which has generated plenty of excitement. By 3:00pm Pacific, it felt like the news I'd woken up to was already long forgotten: the Diamondbacks had signed Cuban right-hander Yoan Lopez to a record $8.27 million bonus and the talented 21-year old would be joining a stable of promising young arms in the D-backs organization.
An Injection of Talent
If there's one thing I hope you've picked up from us here at Inside the 'Zona, it's this: the D-backs haven't been talented enough to compete. We've thrown praise where we've believed it was due and bemoaned some aspects from time to time, but when it all boils down and we look at Arizona's performance on the field, the poor results are simply due to the fact that the team hasn't been good enough to win. They've invested poorly, made some bad trades, had some injuries, whatever. At the end of the day, it's a talent issue above all others.
Or maybe it was a talent issue, because if you've been keeping score at home, the D-backs have certainly made some strides in the talent department as of late. It arguably started when the team scored in the 2013 draft on some college arms, most notably Braden Shipley and Aaron Blair. They didn't accumulate talent last offseason; instead Kevin Towers sent it away at his own peril. But a good draft in 2014 and some palatable moves later, the Diamondbacks have a lot more talent on the roster than they did, say, at the end of May 2013. Thank Kevin Towers, or maybe Ray Montgomery, for the drafts and Tony La Russa, Dave Stewart and company (who's really running this thing?) for some big international news and some trades that have, at the very least, not made the team markedly worse in the next two to three years and have at least a fighting chance to pay off in the Diamondbacks' favor.
It's not been an overwhelming process, but slowly, brick by brick, there's been some talented added to the organization. Some of it needs to be refined, some of it won't pan out. But, some of it will and no matter how you slice it, the outlook for the Arizona Diamondbacks is better today than it was 18.5 months ago despite some trades that we'd love to have back.
A Roll of the Dice
Enter: Yoan Lopez, the latest Diamondbacks acqisition. Hailing from Cuba, Lopez is 21 and was inked Tuesday to the largest international amateur bonus in baseball history. That sounds like a big deal, and I guess it is, but these things continue to escalate despite the efforts of the current CBA, so don't be shocked when the record gets broken again soon. For now, however, the $8.27 million the D-backs gave Lopez showed that the team has huge hopes for the young righty. He's pitched well enough in Cuba to warrant serious attention, eventually encouraging him to defect. But how does that translate to American baseball. Kiley McDaniel of Fangraphs poked around and talked to some scouts about Lopez. Their reactions were mixed: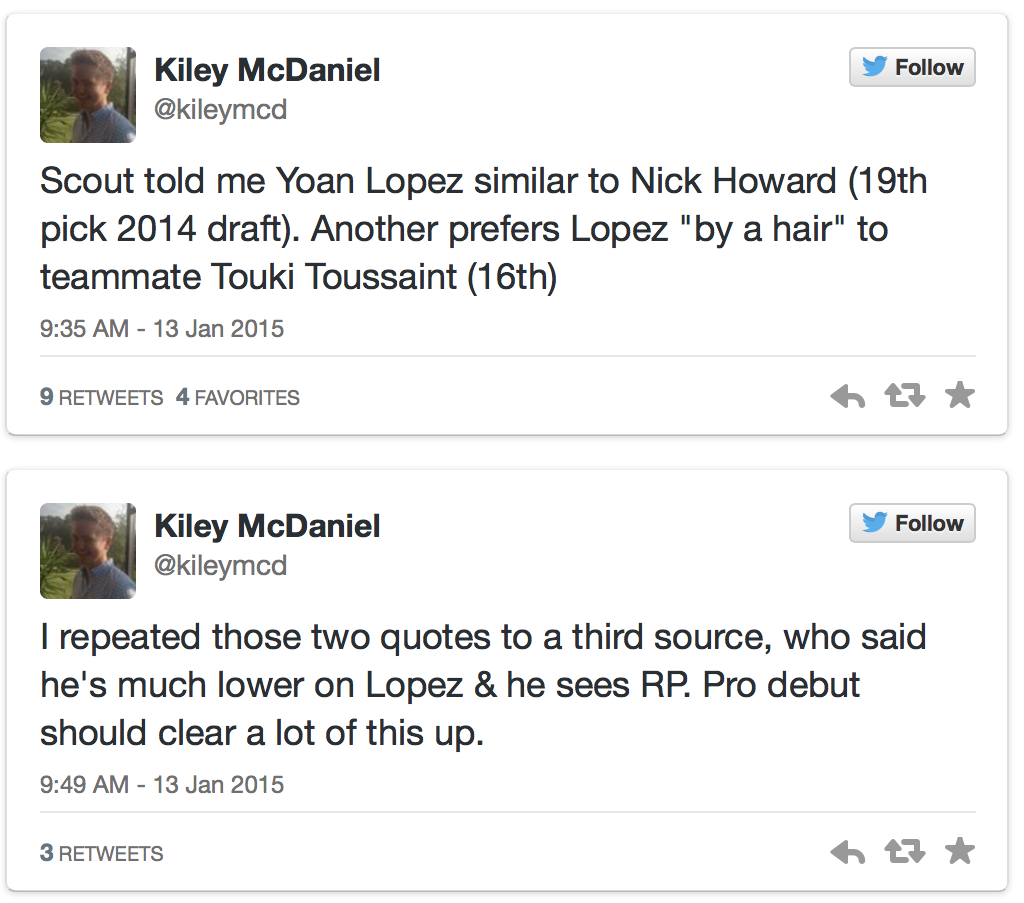 So we have anywhere from a mid-first round grade to a fourth round grade here, give or take. He pitched in Cuba, so there isn't a lot of video on him, but Ben Badler had a few gifs of Lopez on the mound in his analysis today at Baseball America. You'll notice that Lopez shows some pretty noticeable spine tilt in his fastball delivery, but the arm motion is free and clear. There's a little drop and drive, but nothing major. From a development standpoint, there could be an adjustment made to his balance but the overall throwing motion looks clean. The free and easy delivery is important as it keeps one from getting overly concerned about injury. He's up to the mid-90's with the heater and at 21, he may still have another gear left once he joins a professional strength and conditioning program.
The slider gif, however, reveals something else. He drops his arm slot considerably and falls off the side of the mound when delivering the breaking pitch. It's not even remotely the same pitch, and not just because he's taken something off for spin; because he's throwing it completely differently. This is where some of the El Duque comments came from after his signing. The former Cuban superstar was noted for his ability to change arm slots while still commanding the zone (somewhat). Lopez, however, is in another category as his control and command are the areas that will require the most work on his behalf. He's got the stuff to elicit strikeouts, but he'll have to learn to command the zone and limit the walks. A refinement of mechanics will help him, no doubt. How much is anyone's guess.
And at just 21, he joins Archie Bradley, Braden Shipley, Aaron Blair, Robbie Ray, Touki Toussaint and Cody Reed as highly touted arms in the minors. Pitchers routinely break, but with this much depth, the team can either explore trades more safely or sit back and develop one hell of a rotation. In Lopez's case, he's likely headed for either full season Kane County or could spend time in extended Spring Training, then head to Hillsboro. His development track is ahead of Toussaint and Reed but behind the other four, meaning that he'll headline most of the rotations he's in unless he catches the older arms or gets caught by the younger ones. An arrival as early as 2016 could happen, but if things take time to develop 2017 may be more likely. Arizona won't rush their latest investment.
Talent is Expensive
Speaking of investments, saying Lopez signed for $8.27 million is kind of disingenuous. Sure, that's what the deal was, but it cost the D-backs a hell of a lot more than that, in fact nearly twice as much. The team entered the international signing period with about $2.3 million dollars to spend by July 2nd, 2015. They inked a handful of guys, spent some dough, then decided to blast past their bonus pool altogether when they signed Lopez. Every dollar the team spends past the $2.3 million threshold counts essentially as two dollars given that MLB penalized every team 100% for every dollar they spend in excess of their predetermined pool amount. So when it was all said and done and the D-backs paid their penalty, the total to sign Lopez ended up in the $15-16 million range. If we go back to the projections for Lopez, that's a hefty investment for a 21-year old pitcher who doesn't have incredible stuff and is more good than amazing.
But as my partner in crime, Ryan Morrison, pointed out in an excellent piece about this very topic back in November, international bonus dollars don't necessarily translate directly to domestic spending limits. From Ryan' s piece,
Having blown past their limits, they're going to incur penalties for the next two years regardless of the amount of the overage. There is still some benefit to them, because they're paying a 100% tax on the overage, but it may be that just like pool money for the Rule 4 Draft, international bonus pool money is worth more than real money. It may be that it's worth more than double real money… Cistulli speculated that, given its valuation in the La Stella deal, international bonus money might be worth as much as nine times as much as real money, but probably just three times as much. Hm…
So one could easily argue that while the total figure is obscenely large, the effective spending is reduced to a degree. And the team could seek to offset the cost by trading some of their 2015-2016 international draft slots as the Braves did in the Tommy LaStella trade that inspired Ryan's work. Hell, they can just trade the slots for players if they want to. Due to exceeding their international spending pool in the first place, MLB will not allow them to sign another international amateur over $300,000 for two years (2015-16, 2016-17), so the 2015-2016 slots could be traded very easily without penalty come July, generating some sort of value to offset Lopez's cost.
But there's another cost incurred here, too. As you saw above, MLB will not allow the D-backs to sign another international amateur for more than $300,000 for two years. That's a relatively low margin for spending on the international market these days. And considering Arizona had the largest bonus pool of any team entering the 2015-2016 period set to begin this July, the team has severely limited themselves as Dave Cameron noted yesterday. Because along with the financial cost of signing Lopez, they've also incurred a steep opportunity cost by not being able to sign significant players in the 2015-16. Of course, the team could have a pulse on potential targets already and know who has agreements in place with other major league clubs, so perhaps they felt that they wouldn't be able to make major progress during the next cycle anyways. No matter the mindset, they're hamstrung starting July 3rd, 2015.
But, before that, there's another possibility: make a run at the best prospect to come out of Cuba in a long, long time, Yoan Moncada. There's been issues getting him cleared by the US Office of Foreign Asset Control, the governing body that can approve him to sign. If he is cleared prior to July 2nd, there will be a bidding frenzy for is services where you can expect all of the big hitters to get involved, especially since the Red Sox, Angels and Yankees have already exceeded their bonus pools. The D-backs have exceeded theirs now, too, so they could jump into the fray as they have for guys like Tomas, Lopez and Shields. There's willingness on the part of the organization to add talent and Moncada would be an incredible shot in the arm. Because teams who have already surpassed their bonus pools and incurred penalties have an extra incentive to just keep spending compared to those who have not, the Diamondbacks should be considered at least fringy contenders for Moncada's services.
A Job At Least Somewhat Complete
The Diamondbacks have been bad because they weren't good enough to compete. Some of it was due to injuries, financial limitations and other external factors. Some of that was self-inflicted. Either way, they've quickly recognized the deficiency and are taking action to combat it. Givenwhat they have to work with and the position that Tony La Russa and Dave Stewart were in when they took over, it's hard to quibble with the results. It's far from over and there's plenty of time to evaluate these moves. Coming to conclusions right now is haphazard and ill-advised. But, it's undeniable that the Diamondbacks have added more talent to the roster by signing Yoan Lopez, even considering the cost. Does the costs balance with the results? We have a long way to go before we can even approach that questions, but the Arizona Diamondbacks are better today than they were on Monday, and that's what's important, at least right now.