The D-backs front office has been furiously remaking the team this offseason, and one curious byproduct has been taking a grounder-leaning pitching staff and replacing it with a fly ball one. And while Tony La Russa has only been at the helm for less than a year, there was an incident last year that might tell us why.
Regardless of whether it was Miguel Montero's pitch calling, rigid pitching plans or Chase Field, something wasn't working on the pitching side last year. And while a humidor might be the most effective solution to the team's pitching woes, the departure of Montero and replacement of 60% of the starting rotation can only help. If everything is not working, any change is a good idea, even if on paper it's not necessarily the best.
Remember, though, the big controversy last summer about retaliation at the plate. This came to a head when the D-backs hit Andrew McCutchen in the back a day after Paul Goldschmidt's hand was broken by an inside pitch. From Nick Piecoro's excellent article in the aftermath:
Though many critics argued the Diamondbacks were retaliating for an accidental hit by pitch on Goldschmidt, La Russa believes the Pirates were still responsible regardless of intent.

The crux of his argument lies in what he believes to be the Pirates' pitching philosophy. They don't just pitch inside, La Russa said. They pitch up and in. And by choosing to do so, they have to live with the consequences.

"(Pitching up and in has its) rewards because I don't care if you're a right-hander or left-hander, that spot right there, nobody gets to that pitch," La Russa said. "So it's a hole for everybody. The problem is, unless you have Greg Maddux pitching, that's a very risky area to throw in. Because you don't want to miss out over the plate because that's launch territory, so you'll throw the ball here or in and that generates more hits batsmen."
La Russa also told Piecoro that he doesn't push for pitching up and in, and that he didn't push for that with the Cardinals, either. He noted that pitching in means pitching down, because up and in "is such a dangerous area."
Say what you will about this philosophy, but La Russa was dead on in terms of how the Pirates have recently approached the game, as Jeff Sullivan explored back in August. And when one of the teams that has become reliant on analytics does something new — and simultaneously has success — I think it's on us to listen, and to explore whether other teams should do it, too.
Check this out, courtesy of ESPN Stats & Info: 2014 batting average statistics for all lefty batters.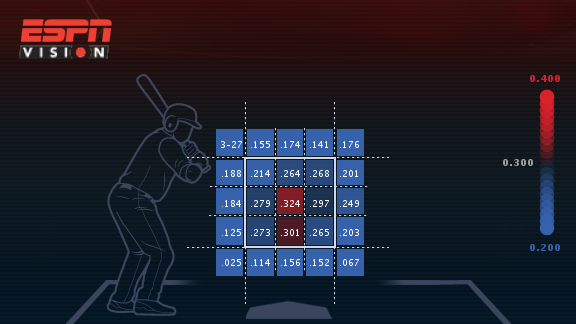 And all righty batters: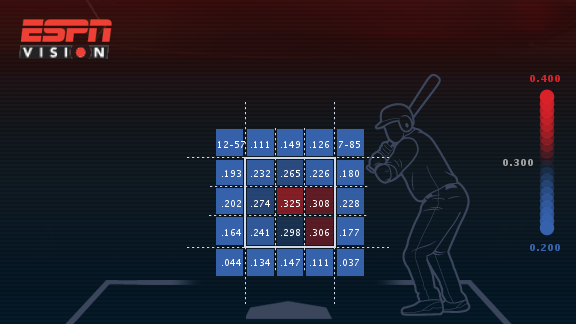 Note that in terms of batting average, the ninth of the plate at which batters from both sides did worst was up and in. Weirdly, up and away was a problem for right-handed hitters but not lefties; still, low and away was no picnic for anyone. One can't go after up and in without, as La Russa noted, occasionally getting a little too up and in. And the same thing goes in the other direction; sail just a little down, to inside middle, and you're in a happy zone for both types of hitters. That's flirting with disaster, and yet — up and in is the ninth of the zone that is most vulnerable. Maybe there's something to it.
The D-backs, though, haven't done much to take advantage recently. Here are their 2014 pitch count frequencies, against lefties on the left, and righties on the right: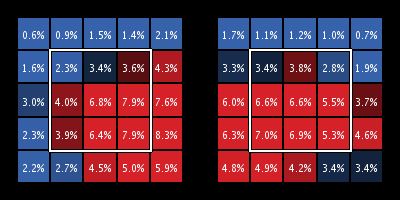 Compare that to MLB overall last season: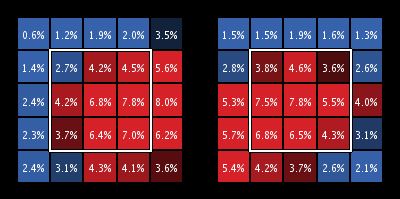 In terms of up and in, 0.5% and 0.8% may not seem like a lot, but we're talking about more than 13,000 pitches; 0.8% is over 100 pitches. The D-backs pitched down more than their rivals, but what they did much more than other teams was pitch away against lefties. Against righties, the plan was mostly down — and down and in.
And it's not just a question of batting average. Again from ESPN Stats & Info, the D-backs pitching staff gave up a Hard Hit Average of just 0.086 on pitches up and in; the league saw a similar HHAV of 0.089. That's less than half of the 0.188 HHAV given up by all MLB pitchers on pitches in the strike zone. Down and away came in second at 0.120 HHAV, which is nothing to shake a stick at, but third and fourth best? Those ninths of the zone were middle-in (0.117 HHAV) and up-middle (.178). In terms of getting tattooed by the opposing batter, throwing up and in was much more profitable than throwing down and away — and missing when throwing up and in was also much less costly.
Whether the team should pursue pitching up and in is still a question open for debate; few teams know as well as the D-backs that retaliation can be costly. Still, is this change in the works? Wade Miley had one of the smallest up-and-in pitch frequencies in baseball (1.3% to lefties, 1.8% to righties), and if the new fly ball staff is to succeed, it may need to throw more pitches at the top of the zone anyway. Exploring more of a commitment to the part of the strike zone up and in could be an important way forward.