It's projection season and as you may have noticed, we've already acknowledged the projections for the Diamondbacks' position players. Now it's the pitchers' turn, but one common thread remains: the outlook is mostly bleak. That's not news but rather a confirmation of what we already knew. 2015 is going to be a bit of a rebuilding year on the mound, no matter how you wish to look at it, and we should treat it as such. Now, on to the Steamer and ZiPS projections to discover who they like, dislike and what surprises may lie around the corner.
*If you are unfamiliar with projection systems, please read the disclaimer that accompanied this feature last year.
Rotation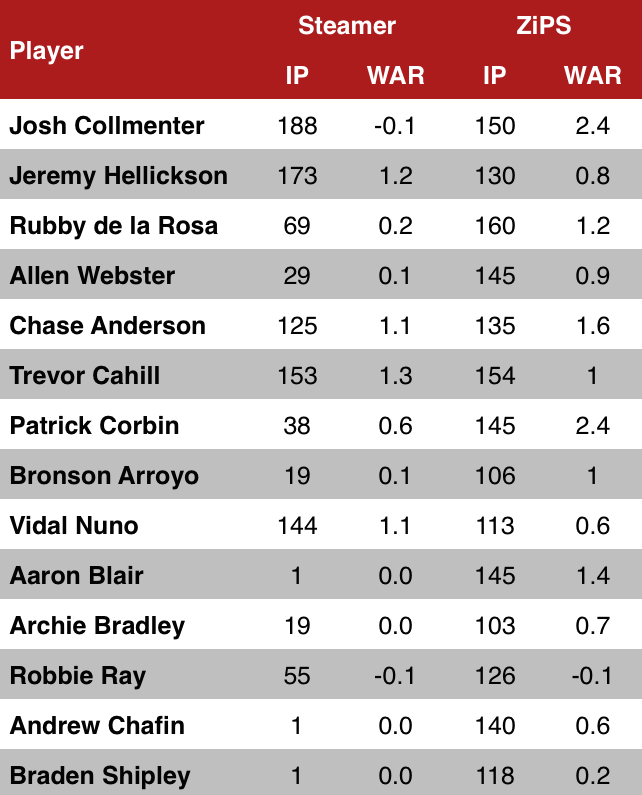 Who They Like
Patrick Corbin – kind of like how Goldschmidt stood head and shoulders above everyone on the position side of the equation, so does Patrick Corbin. Even post-Tommy John, Corbin is undoubtedly the most talented pitcher in the rotation. On a per-inning basis, he's a clear leader and the Diamondbacks will surely be in a better place when he returns in June.
Chase Anderson – while Dave Stewart has neglected to name a fifth starter, it looks like it should be Chase Anderson if we're to give any weight to Steamer, ZiPS and his 2014 campaign as a whole. While Anderson has a couple of changeups, he doesn't have any other truly plus pitches, making him quite the unique option. Regardless, it would appear that he should be the fifth starter on Opening Day at the very least.
Who They Dislike
Allen Webster – although he has one of the better changeups in baseball and rated well in Arsenal Scores, Webster is hardly considered anything more than replacement level by both Steamer and ZiPS. This is understandable given his walk rates in his major league stints and the fact that his strikeouts have fallen as he's climbed the ladder. Those things considered, his stuff is better than his results and it'll be up to the coaching staff to maximize them.
Bronson Arroyo – well, I mean, this is kind of low-hanging fruit. It's not like Arroyo was expected to be particularly "good." He's coming of Tommy John after finally breaking down (like everybody else) and is about to be 38. His stuff is pretty mediocre and his ability to return effectively is in question. No surprise here.
Robbie Ray – acquired in the trade that sent Didi Gregorius to the Yankees, Robbie Ray was considered a close-to-MLB-ready arm. In some brief stints in the majors, he struggled, then got hit around in AAA. At just 23, there's plenty of time, but Steamer and ZiPS aren't impressed with what they've seen thus far. Like Webster, this is likely a case of professional coaching needing to optimize Robbie Ray.
Surprises
Josh Collmenter – so, the first thing you probably noticed is that Steamer doesn't like Collmenter and ZiPS does. Maybe that's because you were looking at their WAR totals, maybe it's because he was the first person on the list. Either way, that's not the weirdest occurrence ever, it happens. In speaking with Dan Szymborski, the creator of ZiPS, he shared that his system is different than Steamer in that it gives credit to pitchers who have routinely beat their FIP's by means of a low BABIP. I'm agreeing with ZiPS here as I think Collmenter has shown that he's more than capable of being an average to above average big league starter.
Jeremy Hellickson – the man acquired for Justin Williams and Andrew Velasquez to kick off the winter is projected to be what we here at Inside the 'Zona have said all along: a 4th starter type who's above replacement level but far below impact. We didn't arrive at that conclusion by mistake. In fact, we used a lot of the same analysis as the projections systems did, albeit in a much less scientific way, to evaluate Hellickson. Will he become Dave Stewart's number two or remain a back-end type? We should know shortly and I'm already hedging my bets.
---
 Bullpen

Who They Like
David Hernandez – welcome back Mr. Hernandez! We were really excited for David to return last season before his torn UCL and other elbow trouble wiped 2014 away before it began. He hit some rough patches in 2013 but worked through them and made improvements at the end of the season. 2015 will be his coming out, again, party if ZiPS has anything to say about it, well, he's on track to do damage.
Brad Ziegler – the most talented reliever in the bullpen is projected to be solid once again. Yes, he's unorthodox and he did have offseason knee surgery (microfacture), but so long as he's able to take the mound again with relative comfort, there's no reason to think Ziegler will change. Ground balls by the dozens are just what the doctor ordered.
Oliver Perez – like Ziegler, Oliver Perez is a tried-and-true relief option on a friendly contract. Both Steamer and ZiPS see him as being worth the money he's owed and that's a great luxury for the Diamondbacks, a team that will be looking to convert as many leads into wins as possible in 2015 so as to avoid the NL West basement for a second year in a row.
Who They Dislike
Jake Barrett – he's been pegged for a while now as "the closer of the future," and that's about as precarious of a title as can possibly exist in baseball. Steamer neglected to project him, as it did with many prospects, but ZiPS sees very little in the way of production should he reach the majors. Given the way Barrett struggled at times in AA and AAA last season, this makes sense. The flame-throwing righty is still a little way off and in need of refinement.
Matt Stites – forever known as the prospect who was traded for IPK, Matt Stites struggled in his big league debut. He's got the heat and the slider to survive, but his ability to locate betrayed him. He's probably on the outside looking in at the offset of 2015 as there are more than enough relievers to go around. Still, if he doesn't make any kind of major improvements, he appears to be replacement level at best.
Surprises
Kevin Munson – wow, look at the projection for AAA reliever Kevin Munson! The guy is a bit old for a prospect, but he's done nothing but dominate in every bullpen he's ever pitched out of. His numbers would suggest that he's ready for a shot and the projection of ZiPS would agree. Keep an eye on Munson as a potential bullpen add in 2015.
Addison Reed – it's not a total surprise, I guess, but the WAR projections for Reed are modest and that's in large part to an expected high home run rate once again. As Ryan and I discussed on the latest episode of The Pool Shot, Addison Reed's home run struggles remain an issue, and while both projections systems agreed with me that his HR/9 would drop in 2015. With his arbitration case yet to be settled, it looks like Reed has a chance to be worth what he's paid, but unlikely to produce surplus value.
In Need Of Talent
The D-backs are still in need of talent on the mound, as they were last year. We know there are a boatload of guys coming back from injury (Corbin, Hudson, Arroyo, Reynolds, Hernandez) and even more young pitchers looking to prove they belong on the mound either immediately or in the very near future (de la Rosa, Webster, Bradley, Blair, Shipley, Ray, Stites, Barrett, Sherfy, Munson, Burgos, Fleck, Locante). So that talent is either going to have to be purchased or developed from within. It looks like, with the bevy of candidates, that the internal options will have to fill most of those roles and hopefully some impact talent unveils itself.
So while you don't see a lot of high WAR totals standout, what you do see is a long list of players with a chance to become the next impact Diamondbacks pitcher. How that all plays out is anyone's guess and I plan on addressing this here soon. But for now, we'll have to be content with a lot of names, a lot of question marks and a lot of potential that may or may not pan out. Keep your fingers crossed!