By now you've heard that the greatest pitcher in Diamondbacks history, Randy Johnson, has been elected to the Hall of Fame. The Big Unit received 97.3% approval to join baseball's Valhalla and, well, that's about as close as anyone's going to get to a unanimous selection in today's world of mixed up HOF voting. It's no wonder why, he was simply dominant. You've probably seen the standard numbers and they're impressive, but here at Inside the 'Zona we like to go a step (or sometimes two!) further, so I'm going to try to put Johnson's greatness into a little more of an advanced context.
Quick: what's the best way to record an out? If you said "strikeout," congratulations! You're right! And of course, Randy Johnson was the master of the strikeout. In the Expansion Era (1961-present), Johnson is second in total strikeouts behind only Nolan Ryan and ahead of Roger Clemens. But Nolan Ryan threw over 1,200 more innings than Johnson, meaning he had about five extra seasons worth of batters to strike out. If we normalize strikeouts on a per inning basis, well, Johnson stands alone.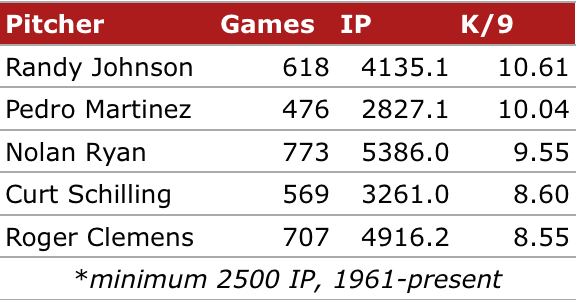 Take a look at that. Randy Johnson struck out two more batters per nine innings than the Clemens, one of the most dominant pitches to ever take the mound. That's incredibly impressive.
On a season-by-season basis, though, things might even get better for Johnson. Looking at individual seasons, no one crushed opposing lineups like The Big Unit. In the Expansion Era, Johnson owns 7 of the top 11 individual seasons in terms of K/9. Seven. Of eleven. Meaning that over the last 53 years, and all of the pitchers that have toed the rubber, Randy Johnson had seven of the best seasons on the mound in terms of recording outs.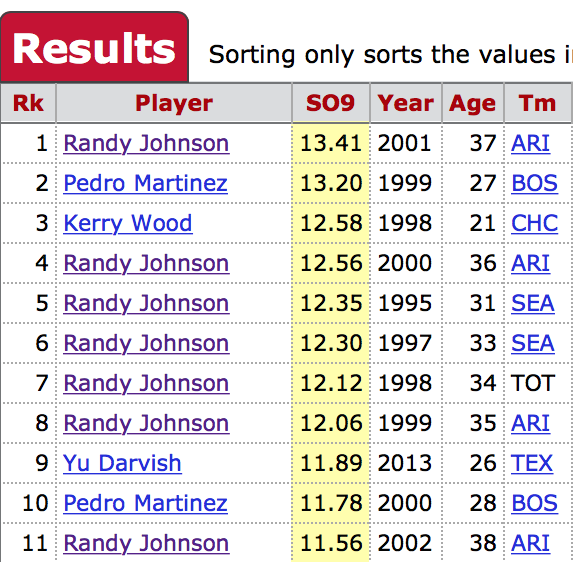 *image courtesy of the Baseball-Reference Play Index (you should subscribe to it!)
To rack up all of those innings, Johnson had to make his starts, and although he missed some time over his career, he threw a boatload of innings. His 4135.1 innings pitched ranks 15th in the Expansion Era, thanks to his 603 games started over his career (also 15th). Ahead of him are largely pitchers who pitched in a different era, one that was somewhat devoid of "the closer mentality." Nolan Ryan, Don Sutton, Phil Niekro, Steve Carlton, Tommy John, Gaylord Perry, Tom Seaver and Jim Kaat all began their careers in the 1960's, a time in baseball that was vastly different than it is today. Starters pitched longer and, sometimes, more often, thus creating more opportunities to compile results. Despite pitching in the "modern" era, Johnson still racked up the innings simply because teams just didn't have a better option to put on the mound than the guy who was already there.
As you're likely already aware, we don't tend to favor ERA at this website, simply because it's not a great indicator of true talent. Case in point, Johnson has the 22nd best ERA in the Expansion Era. I don't want to ruffle any feathers, and keep in mind we're talking about only best pitchers ever here, but there are some names above him that I just refuse to believer were better pitchers than Johnson. Claude Osteen? Wilbur Wood? Mike Cuellar? You see where this is going. Those guys pitched in an time when run-scoring was lower and if there were performance enhancing drugs (there were) they were nothing like the HGH and other factors boosting the performance of the hitters that The Big Unit faced every fifth day.
If we filter by Fielding Independent Pitching (FIP) instead, something I greatly prefer, Johnson jumps all the way to 8th all time. This sounds more like it, and maybe it's surprising he's not even higher. The factor holding him back is walks, which he was prone to, but he did more than enough to overcome them.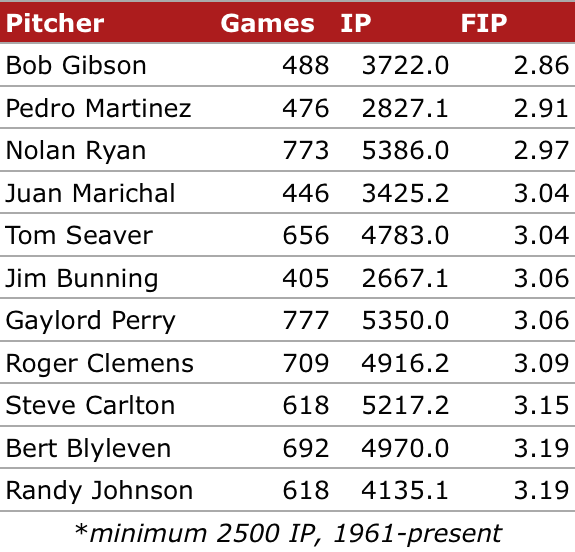 The names above Johnson's are the immortals, the true greats, and that's the company he belongs in. He was truly dominant and the company he's in when viewed through a more neutral context reveals this.
But even then, we're trying to compare players from significantly different periods in baseball. Just look at the table above, you see some significantly historical names there, names that pitched in a very different time. We have a stat for that, too (commence eye-rolling), and it's called ERA+. What this does is determine how much better a pitcher was compared to the other pitchers who pitched that season (league average) and adjust for ballparks. We know that not all run-scoring environments are equal and we should correct for that. If we do, here's what you get: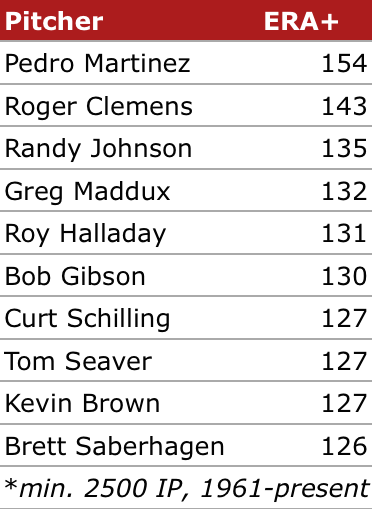 Here we see Johnson climb all the way near the top. By respecting the period in which he played the game, The Big Unit moves into truly elite company. He dominated the game during a period in which homers were hit at astronomical rates and run-scoring jumped significantly. Still, he did his thing and held the opponent down in a major way.
When we read the press releases, we'll hear that Johnson surpassed the 300-win mark, which is surely impressive, and how he took home five Cy Young awards over his 22-year career. That's clearly part of his story, but it doesn't tell just how dominant The Big Unit truly was. By placing is performance in a more appropriate context, we can see that he was more than just an award winner or a guy who scored a lot wins for his team. He was the one of the most dominant pitchers in an time when pitchers were getting crushed and taken deep at historic rates. Johnson stared that in the face every time he pitched and dominated nonetheless.
As a side-note, I grew up a Mariners fan and to have Randy Johnson pitch for my two favorite teams has been a pleasure to observe. Congratulations Randy, you earned it man.
*all stats courtesy of Baseball-Reference.com