The 2015 baseball season starts relatively soon. I mean, not soon enough if you ask me, but sooner than, say, it started a month ago, so that's good. I'm starting to go through withdrawals and football can only stem the tide so much. And no team has as much of a reason to be excited about a fresh start as our very own Arizona Diamondbacks because they get to try to not be last next year, and hey, that's a great thing to try not to be.
So with an exciting season right around the corner, on in which we're frankly pretty damn excited about, you'd think the Diamondbacks' roster should be nearly set. And in a way, I guess it kind of is. The team is still rounding things out (see: Punto, Nick) and adding some minor league depth via fringy free agents. There's even been some chatter that the organization may not be out on James Shields and that's exciting. But the biggest possible change revolves around a player already on the roster: Yasmany Tomas.
The team shocked just about everyone, including us, when they inked Tomas in the first place. It was the biggest move of the offseason for new GM Dave Stewart and one of the bigger moves anyone will make this winter. The follow-up news came as a bit of a footnote, but the Diamondbacks wasted little time announcing that Tomas would be played at third base, not the outfield as expected.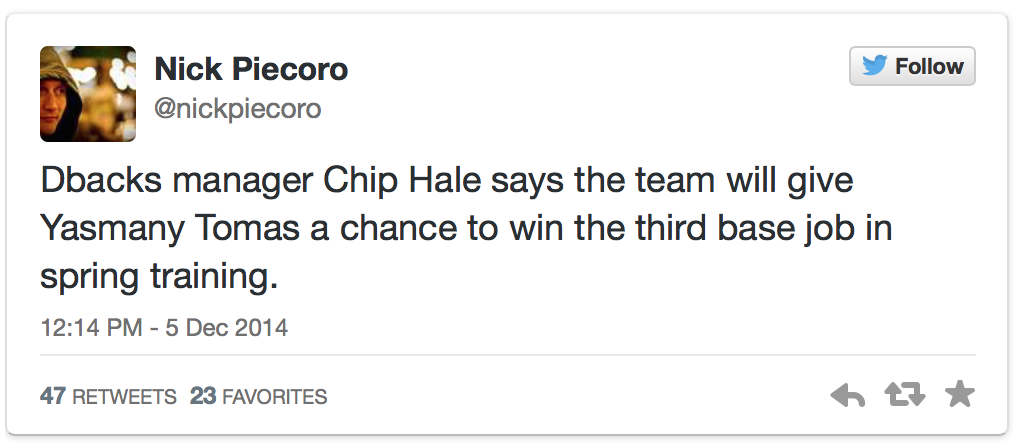 MLB.com's Jesse Sanchez, one of the foremost names in international baseball coverage, hadn't even listed third base as an option for Tomas when he covered him this fall. That wasn't out of neglect, it wasn't an oversight. Tomas was viewed as a corner outfielder all the way.
There's a reason for this, of course. Ben Badler, Baseball America's authority on all thing international and one of the few people who has actually seen Tomas in action, wasted little time in weighing in.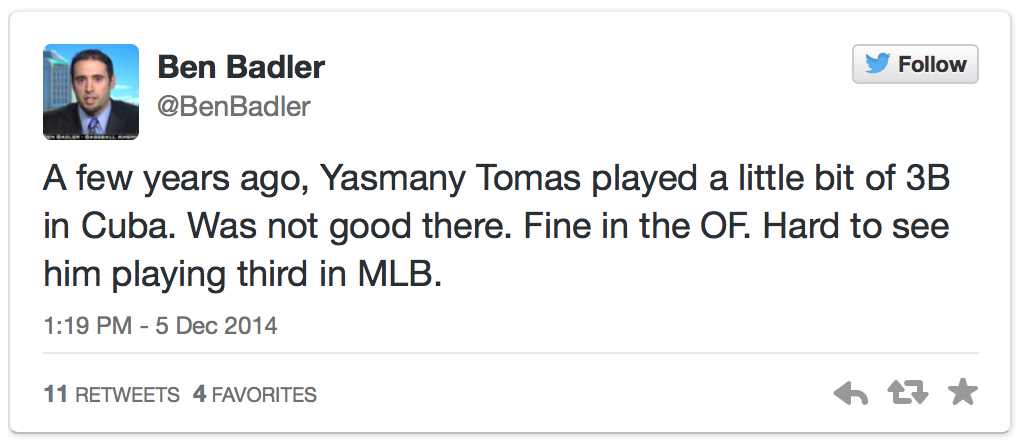 That wasn't exactly a vote of confidence. And Badler wasn't alone in his analysis of Tomas' defensive capabilities. ESPN's Keith Law spoke with KTAR Phoenix in a radio interview, and when asked if Tomas could play third, he responded, "I don't think there's any shot, at all. I think he's sticking in left, maybe right…" Again, not positive although the team had already made their announcement public, so it's not like they could backtrack easily. Plus, they clearly think they see something that other teams and scouts didn't (as him playing third would have increased his value, no doubt).
But I think something we covered on The Pool Shot a while back bears repeating: I have no problem with the Diamondbacks trying to make Tomas a third baseman. A guy with Tomas' projected production at third is far more valuable at the hot corner than it is in an outfield corner (although it's valuable anywhere). By starting him at the higher end of the defensive spectrum and giving it a shot, the team is giving themselves a chance to have his defensive value pay off at the highest rate possible. It's a gamble and one that I wouldn't bet on, but it's the right kind of chance to take. The downside is that he can't hack it at third and is forced to left or right field, where he would go anyways had they not pushed the issue at all. There are very few offensive third basemen in the game today as the position has withered. In the end, I don't think this experiment works but I love it that the team is conducting the experiment in the first place.
The questions become these: how good is Tomas at third right now, how quickly can he improve and what's his defensive ceiling? Third base is like shortstop to a (lesser) degree: either you can handle it or you get moved pretty quickly. One recent example to the contrary, however, is Nolan Arenado of the Rockies. Scouts weren't sure if he was a long-term third baseman and he backed that up in his first few months in the majors. But, with a tremendous dedication to the craft, Arenado defied conventional wisdom to become one of the best third baseman in the game in the span of two seasons. But the issue with Arenado was that he would often overextend and try to make plays that were unrealistic, leading to mistakes, and over time, he's learned to reel it in and play under control. Arenado is 6'2″, 205-pounds. Tomas is of similar height but at least 30-pounds heavier and has surely less range. So while Arenado had the gifts and had to learn to effectively use them, it would appear that Tomas has an athletic gap to make up in comparison. I don't like those odds.
But the Diamondbacks, as far as we know, remain committed to the plan, and as I stated, that's fine. This plan does, however, have massive reverberations for the rest of the roster, however. If he sticks at third, it leaves Jake Lamb in some kind of weird purgatory. Sure, Lamb could use some more time in the minors and it would be good for him to get some time in AAA Reno. What that does, unfortunately, is block the best third base and hitting prospect in the system, Brandon Drury. It's not unrealistic to think Drury could open the year back in AA where he raked last year, but by midseason, there's no reason to think he won't be ready for the Pacific Coast League. If Tomas is holding down the hot corner, Reno can't play two third baseman and the organization will have to make some sort of decision.
And that's not a bad problem to have. Maybe it makes Lamb or Drury expendable and the team has other needs that those trade chips might be able to address. But I still maintain that this isn't what actually happens unless the team is so stong-headed that they refuse to acknowledge the value of defense, something Chip Hale should fully understand from his time in Oakland. If that's the case, the Diamondbacks will have a real conundrum on their hands as they would have to move a corner outfielder to make room. Cody Ross makes no sense as he's not going to be a starter anyways, so it would have to be either Mark Trumbo or David Peralta. The Orioles are rumored to be looking for left-handed outfielders right now, but the D-backs may be unwilling to make a move at this point.
It's likely one of two options for Arizona: either take almost unplayable defense at third base or clog up an already clogged up outfield even further. But is that really a concern? Maybe not. While we're all chomping at the bit to see the D-backs back on the diamond, the team isn't going to be very good next year. The team appears content to hoard the assets they have, take some chances and figure the rest out later. And while it doesn't settle the roster, it's an entirely acceptable strategy given the expectations.
So while we'll all be watching Tomas at the plate, don't forget to watch him on the diamond. The way he does or doesn't work out at third will have an impact on a bevy of other players. The team has time to figure it out, but it won't be cut and dried and there will casualties.