After a season and a half of merely-well-above-average hitting statistics, Paul Goldschmidt posted an elite 2013 season, and matched that same elite pace in an injury-shortened season last year. How long can keep that up? If the D-backs are gearing up to contend for a few years starting in 2017, can Goldschmidt be part of that window? In 2017, Goldy will be on the "right" side of 30. In 2018, not so much.
It's impossible to know Goldy's future, but as is frequently in the case in baseball, we have enough information to make some educated guesses. In some respects, it doesn't really matter; Goldy will do his best and try to stay on the field, and production that doesn't quite match what he's done in the last two years could still make him well above average. Besides, given his place in the organization, he wouldn't just need to fall off a statistical cliff to get replaced — he'd need to fall off a real one.
But what about the more distant future? Goldschmidt has guaranteed salaries for the next four seasons, including 2018, when he will be 30 years old. The D-backs also hold a $14.5M option for 2019 with a $2M buyout. A lot can happen in four years, but it seems unlikely that that option would get turned down. It's far more likely that both player and team will have some soul-searching to do in terms of considering a contract extension.
The D-backs did well by talking to Goldschmidt early for his current contract — I don't think it's crazy to think that they may soon at least consider approaching him again in the near future, especially now that they have a much better idea of their future television revenue.
Player Peaks and Aging Curves
We have used "wrong side of 30" as a benchmark for when skills start to deteriorate for a long time, on the premise that up through a player's late 20s, they continue to improve at the plate. But as Jeff Zimmerman explored at FanGraphs just over a year ago, that premise may be wrong, or at least, it may not be as accurate as it once was.
Perhaps it is that, in the aggregate, teams are being more conservative with how they promote young players, only starting the service time clock when they think the players are ready. It's not related to the recent downturn in scoring — his use of wRC+, which is always keyed to league average, should eliminate that possibility.
Zimmerman's aging curve graph with wRC+ put players from 1982 through 2013 into four buckets, and in every bucket, the transition between players' age 25 and age 26 seasons was at peak. The main difference was that in the 2006 to 2013 bucket overall, players were right at their peak from age 21. They are who they are.
Players in all four buckets started to decline beginning with the age 26 to age 27 (again, this is on average for each bucket, not every player in each bucket). The differences between the four player buckets in terms of decline was a matter of degrees. Where in the 1990 to 1997 and 1998 to 2005 buckets players almost completely kept up their hitting prowess through their transition to their age 29 season, the players in the other two buckets — including the more recent 2006 to 2013 bucket — were almost 10 points off on wRC+ (a difference of 10 percentage points off league average in terms of the rate at which they created runs).
If Paul Goldschmidt were to exactly follow the aging curve of 2006 to 2013 players overall, we'd be looking at: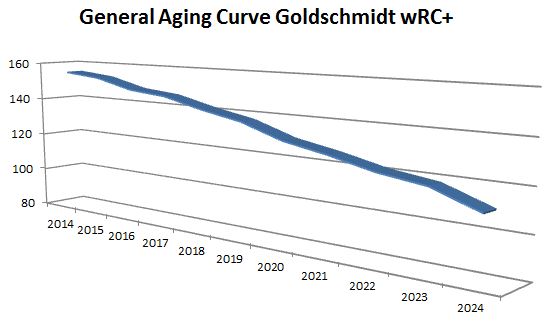 Now 27 years old, Goldy would expect to pretty much stay at his recent level of hitting prowess this season. But then there's a mini step down to a 148 wRC+ in 2016, maybe, slowing down gradually until putting up a 137 wRC+ in 2019, his age 31 season — which will also be his option year.
The chances that a 137 wRC+ would make Goldy the D-backs' top hitter in 2019 are, let's just say, very high. Of the 146 hitters who qualified for the batting title last year, only 16 created runs at a clip better than the one we're projecting for Goldy. Maybe we're not talking outstanding, but we're still talking very good.
If the curve holds true for Goldy, things might deteriorate a little more quickly from there. In 2020, the first season that is not currently covered by his current contract, Goldy will be 32, and, potentially, playing year 1 of a new free agent contract. But the above aging curve would have him creating runs at a 30% above average clip for a 130 wRC+, still very good (he would have ranked tied for 31st with that mark in 2014 with Anthony Rendon and Neil Walker), but not spectacular. And if that free agent contract covered five free agent seasons? He might post wRC+ marks of 126, 121, 118 and 110 in years 2-5 of that deal. Above average the whole way, but not worth the yearly salaries he might command were he suddenly made a free agent right now.
There is no reason to think that Goldy will come close to matching this aging curve, other than the evidence that that's what happens to players overall. But if you're trying to gauge what he might be worth to a team in Year X of a theoretical extension, I think that's a fair place to start.
A Cohort of Goldy Comps
Maybe, though, we can do better. When J.C. Bradbury did a study seven years ago that only included players with 5,000 PA and at least 10 years in the majors, he found that hitters peaked around age 29 (good news for Goldy), and as Mitchel Lichtman pointed out, that tilts the sample in the direction of hitters who have been above average. Maybe we can go so far as to say that better hitters peak later, although honestly I'm not sure about that.
Thinking about the type of hitter that Goldy is and whether that type of hitter ages differently led me to ask the intrepid and indefatigable Dan Szymborski for exactly that kind of information. Dan was kind enough to provide me with the 24 top comps spit out by his ZiPS projection system (thanks, Dan!), players whose careers and mixes of skills up to Goldy's current age most closely resembled Goldy's career and mix of skills to date.
Those players, in order, were: Derrek Lee, Tim Salmon, Jeff Bagwell, Jesse Barfield, Randy Milligan, Jason Bay, Joe Adcock, Max West, Sixto Lezcano, Andres Galarraga, Danny Tartabull, Manny Ramirez, Mike Ivie, Leon Durham, Norm Siebern, Nate Colbert, Gil Hodges, Bob Allison, Miguel Cabrera, Richie Sexson, Keith Hernandez, Jack Clark, Chet Lemon and Matt Holliday. Just two active players in the mix in Cabrera and Holliday, but there's a ton of good company here.
To see what extra information this group of players might tell us, I looked at year-to-year difference in wRC+ for each of these players, starting with the change for each player between their age 26 season and their age 27 season. For each yearly transition, I came up with the arithmetic mean of all of the players' differences in wRC+, excluding players if they didn't play at the age before or after the year transition in question (or haven't played at that age yet, in the cases of Cabrera and Holliday). Max West fell out of the cohort entirely, because thanks in large part to World War II, he never played in consecutive seasons once he was older than Goldschmidt is now. This had the effect of shrinking the sample size; although I started with 23 players, I dropped to 21 for the ages 30-31 transition, etc. By the age 35-36 transition, I had just 8 players left — so I stopped there.
As you might expect with a sample size this small, there was no clean curve. Things started to really go downhill when this cohort turned 32 years old, and for the age 33-34 transition, what remained of the group (15 players) fell off a cliff. Here's how the cohort stacked up against the "curve" from earlier (the cohort is the one in red):
This group's collective wRC+ was never as high as it was in their age 26 season, but on the whole, they kept up their value for a little longer. If he matched the ZiPS cohort exactly instead of the general one, Goldy would essentially delay the early part of his decline phase by one year. But by his 2019 option year, the cohort would have Goldy doing a little bit worse — and in 2020, he'd be a healthy 7 points worse (123 wRC+). There's a similar 6-point difference for 2021 (what might be his second year on a new contract, but then the cohort totally craters — there is a 24 point difference in wRC+ for 2022 (97 wRC+), and that discrepancy more or less continues through 2024 (82 wRC+).
There's a lurking variable in there for the cohort — by the time its collective wRC+ starts to crater, we start to get players' final seasons more represented. It's not a survivor bias per se (although there's that, too), but it could be misleading. I'm not sure, though. After all, if players who were similar to Goldy through his current age had seasons in their mid 30s that were bad enough that they stopped playing, that tells us something too.
Goldy's current contract is a bargain for the D-backs, no question about it — that would probably be true even if he never stepped on a baseball field ever again. But almost as big a benefit to the team is its length.
Even just that one extra year of club control with the 2019 option may make a huge difference. If the D-backs were to sign Goldy for more years, you'd want one of two things. It would be great to lock up some extra superlative years, hopefully without adding too many in his decline phase. But if you can't have that, you'd at least want to pay for who he's likely to be, not necessarily who he has been. If the D-backs wait until after the 2019 season to talk to Goldschmidt, maybe age will have already started to show signs of eroding his skills, and the team could sign him for a lesser salary than he might make as a free agent right now. At the very least, they might be able to extend him without extending him too long.
Of course, the very best possibility could be extending Goldy for an additional two years, even at salaries in excess of $20M. He's unlikely to be a great deal at that price in 2021, but not a terrible one if he's healthy (inflation, after all), and with Goldy so important to the business side of the business, it would help the team avoid signing him up to a new contract in 2019 for several years that they may start to regret soon later.
One thing seems sure, though: Goldy is a great bet to be a great hitter for the next three or four or five years. And that's plenty enough for now.