Things started slow this year for Aaron Hill, and he was not helped by being subbed in for Jake Lamb against the likes of Clayton Kershaw and Madison Bumgarner. Things only slowed down from there, however, as he now sports a 13 wRC+ (87% below league average at creating runs). That's a far cry from his career mark (98 wRC+), and quite a bit worse than the 78 wRC+ he sported last year en route to his current enhanced bench role. Combine that with declining if still steady defense and $22M or so left on the balance sheet, and Hill's future is looking a lot more Arizona shaped than it did even one month ago.
And not the smooth, sleek, fresh-from-the-new-state-store edge. In selling Trevor Cahill at the end of spring training, the D-backs ended up eating about $6M — and at this point, that still looks like a tremendous move by the front office. If that's what it took to shed some $6M of Cahill, what would it take to shed half of Hill, especially when he comes with two fewer letters at the front? That's a difficult question to answer, in part because it's not a real question.
Realistically, Hill has cemented himself on the D-backs roster — and yet, even with Lamb sidelined, it's not that clear how much he can help moving forward. Hill has always been a special kind of mystery. Defensive stats have maybe had some trouble trying to square his propensity for making tough plays with a lackluster record on routine plays and fairly limited range. Offensively, I'm not sure there are any players with a more extreme career in terms of either being solidly above average or solidly below average.
At the moment, Hill's 13 wRC+ is not the worst on the team — he's a hair ahead of Tuffy Gosewisch and some of the D-backs pitchers, and he's tied with Nick Ahmed (who may or may not be above the "Ahmed Line"). As with Ahmed, there is every reason to believe that Hill will do at least somewhat better, if just by accident. Unlike with Ahmed, Hill has a solid track record of being more than serviceable at the plate. But on the other side — where Ahmed's defense (and the enhanced defense at second base with Chris Owings there) make below average offense completely defensible, Hill doesn't have that kind of claim on playing time.
We can't take too much from the team's apparent decision to install Yasmany Tomas as the starter at third base with Lamb out; the team probably would not have kept Tomas up with the team if he didn't begin to start most days, and if starting Hill and having Tomas back him up wasn't going to work for that reason, it would have meant covering third with the same four players that are also covering short and second. The team is also still dealing with the same 40-man pressures that led to Tomas's call up in the first place; both Lamb and Archie Bradley have been replaced by players already on the 40-man.
Still, we seemed to have crossed some kind of Rubicon in terms of Hill's transition from starter to bench player.If he were hitting, he'd probably play more; as it is, he'd have to improve in a big way for a showcase of Hill for potential trade destinations to even start to make sense.
It's too early to say the sky is falling, but the news actually gets worse. Baseball Prospectus produces a statistic called True Average, which, like wRC+, weights offensive feats according to how much of a difference they make in terms of scoring runs. True Average is set so that it looks like batting average; .300 is really good, .200 is really bad, etc.
Hill's True Average is a paltry, small-sample-fueled .163. But Baseball Prospectus also tracks something like expected True Average — they track the difficulty of the pitchers that each hitter has faced, putting it in the same terms. Hill's True Average isn't just really bad; his .271 oppTAv tells us that Hill has faced the easiest competition of any D-backs hitter (other than Josh Collmenter and Rubby De La Rosa).
Things just haven't been going too well recently. From ESPN Stats & Info, Hill's batting average heat maps for the last few seasons: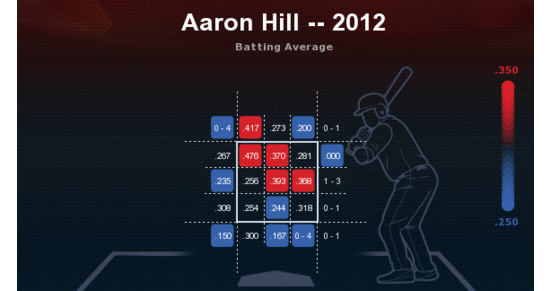 Hill hasn't been unlucky, exactly; the average batted ball speed tracked off of his bat so far this year is a mediocre 85 mph, and his line drive rate of 7.7% is extremely low, even in a very limited sample of 52 PA. Maybe we'll see Hill bounce back in some kind of meaningful way. At this point, bouncing back may just be a matter of being good enough to warrant some playing time as an extra player, a lot like what Jordan Pacheco's role was expected to be at the outset of the season. If he's getting cheated, though, he's only getting cheated by Father Time.