The Diamondbacks have been playing Mark Trumbo pretty much every day. Scratch that, Mark Trumbo has played every day. He's a perfect 18 for 18 in games started thus far, whether we like it or not. And why not like it? He's hitting .324/.343/.559 through Tuesday. That's good for a 144 wRC+, putting him among the league leaders. While that's perfectly deceiving thanks to a 4-4 night on Tuesday and a small sample size, there's one thing to note: he's only got a 21-point split between his batting average and his on-base percentage. Okay, he's been hitting some, but he's not working counts, and that could be problematic.
Now, we've always known that Trumbo is not an on-base guy. It's not as if that's a surprise. When I set out to write this post earlier in the week, he had one walk all season long. That's changed; he now has two. In 70 plate appearances, he's taken exactly two walks. That's a walk rate of 2.9%, which is incredibly low. And as we know, getting on base leads to scoring runs. We'd be foolish to think Trumbo will keep hitting .324, so maybe mixing in some walks is a good idea. In fact, let's take a look at the walks he has taken. Here are where those fourth balls have been located: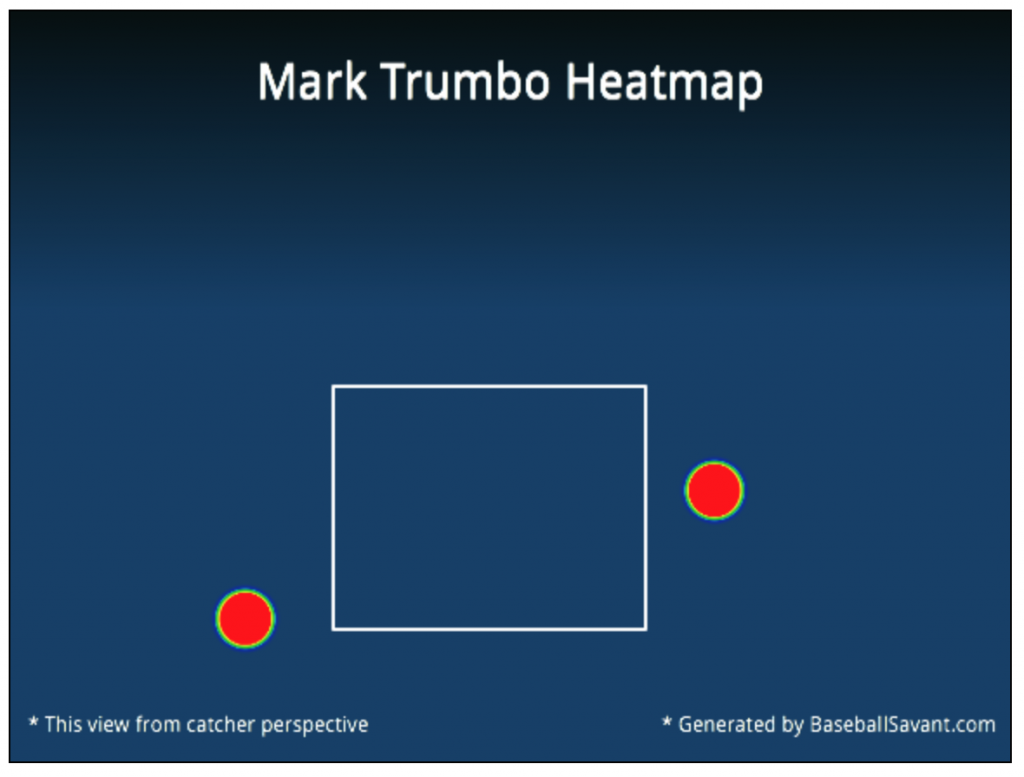 Okay, those are good pitches to take with three balls. One way inside, one way outside. Not exactly close and definitely pitches you don't want him swinging at. What about in other three ball counts? Here are all of the pitches he's seen with three balls.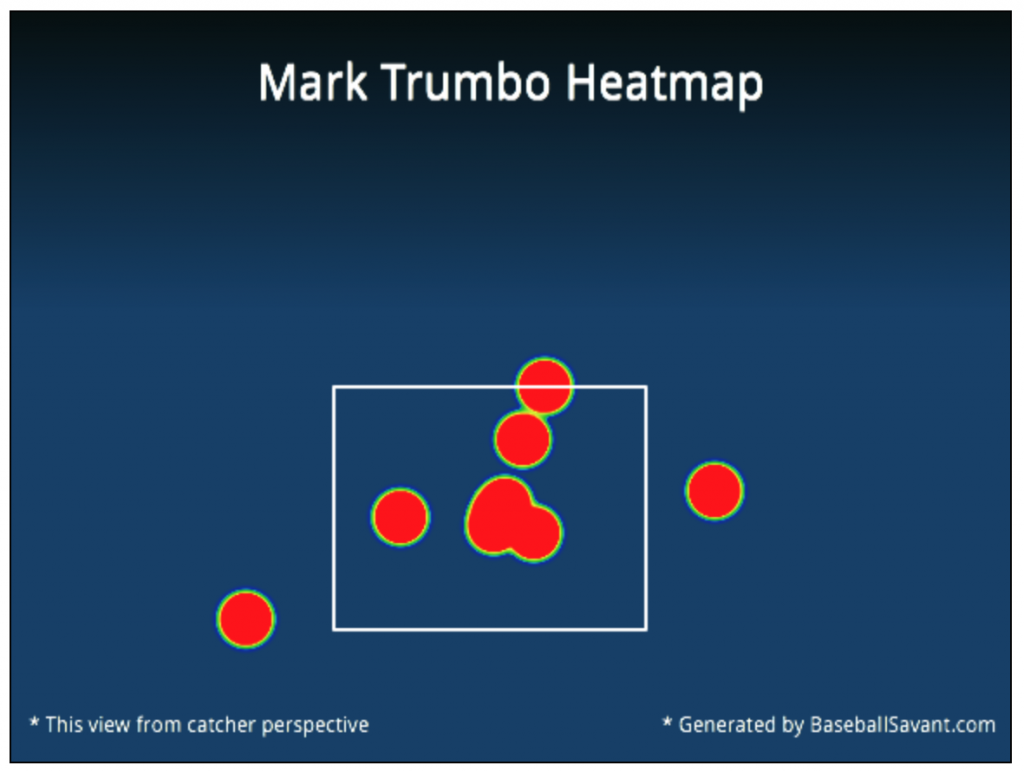 Wow, pitchers aren't exactly shying away from him with three balls. Yes, they don't want to walk him so they're throwing strikes. That's to be expected. And it doesn't look like there were necessarily a bunch of walks out there for him to take; of the nine pitches he's seen in three-ball counts, seven of them were probably strikes.
But wait, I just mentioned something that piqued at least my interest. He's only been in a three-ball count nine times in 18 games. Nine, total. That seems low, and when you compare it to other hitters, it is low. Why has Trumbo only worked himself into nine three-ball counts? Because he isn't exactly trying to work counts. In fact, he ranks 32nd in swing percentage among 188 qualified batters at 53%. Yes, he swings the bat at over half the pitches he see. That's going to make it hard to get on base via the free pass.
Now, that doesn't really seem like a great strategy. Yes, Trumbo has as much raw power as anyone in the game, but perhaps he'd be better served to work counts and get into more hitter-friendly counts to increase his odds of seeing the types of pitches that he can best handle. He's seen only 48% of pitches in the strike zone, good for 96th most, but thanks to all of the swings, he ranks 173rd in strike rate (again, out of 188 batters). In essence, he's giving a ton of strikes away. Only 48% of pitches are in the zone but he's racking up strikes nearly 70% of the time. That's a discrepancy of nearly 22%, 19th most in baseball. I could be wrong, but I'd like to think that some of those balls could be useful.
The fact of the matter is, Trumbo is not a discerning hitter. At Brooks Baseball, they classify him as having an "exceptionally aggressive approach at the plate with an above-average likelihood to swing and miss." Against fastballs, they describe him as having "an exceptional poor eye." He's noted as being slightly better against breaking and offspeed pitches, but most of that is just because he's not swinging at them as often. Mark Trumbo is hunting fastballs and everybody knows it.
But there's a clue in there. If he's better against secondary offering by swinging less often, maybe he'd be better against fastballs by doing the same. Because even though he's got a nice line at the moment, this approach of hacking at everything is will not work over 162 games. It's been a detriment to his overall offensive output for years now, and with guys like Nick Ahmed, Chris Owings, Aaron Hill and Tuffy Gosewisch in the lineup, more production would be nice.
And if that comes in the form of a few more walks, that's cool. If it means he works more three-ball counts where he's likely to get a fastball over the plate, that might be even better. I'm not in love with him walking when the guy behind him is Aaron Hill, but I'd rather see him try to get good pitches to hit than giving away strikes early in the at-bat. Sometimes less is more, and in the case of Mark Trumbo, that's been evident for a while now. Will it change? I'm not so hopeful, but if it does, well, I think there's a strong chance we'd all be pleasantly surprised.